RSA roundup: Big trouble in not-so little China
Another year over and what have you done?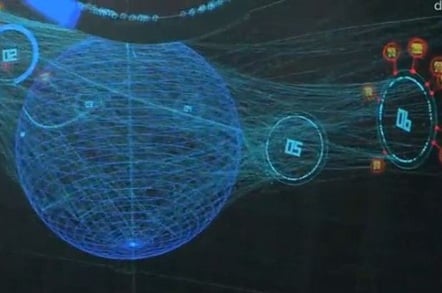 RSA 2013 This year's RSA conference is winding down. The expo hall is closed, most presentations are getting only sparse audiences, and there's only the jokey keynotes left to run this Friday afternoon.
Once again Dr. Hugh Thompson (a man described by one delegate as "irrepressibly perky and with a face made for punching") is doing his usual shtick on stage, talking about the latest trends in the business. He'll be followed by the now-traditional mainstream politician's slot.
In days of yore the last keynote of the day was traditionally reserved for quirky but relevant speakers, such as reformed ex-hacker Frank Abagnale. But in the last couple of years the choices have been political – and the results haven't been good. Bill Clinton bored and a smug sermon from Tony Blair wasn't welcome.
Thankfully this year it's Condoleezza Rice, who has a wealth of knowledge on the subjects of security and the internet. It's a good way to end what has been one of the busiest and brightest RSA conferences in ages. Compared to last year's more somber performance, there was a lot more optimism among attendees.
The San Francisco conference was blessed with sunshine after the torrential downpours (by local standards) of last year, and the Expo hall was packed with vendors who reported a lot more business done without the usual gloomy expressions. Sadly, booth babes are back in force: gentlemen, the 1960s called and want their attitudes back.
But the real meat of the conference is the technical sessions, and entry to most was rationed to a one-in-one-out policy unless you got there early enough. There were a lot of talks on Big Data (understandable, given RSA's scene-setting), not much on mobile, some interesting ideas on encryption, and everyone mentioned China.
Mandiant's report accusing China's People's Liberation Army the week before the show caused a lot of interest, and El Reg should have some more news for you on that front later. But what's really scaring people is the possibility of China building the hacking of trade secrets into industrial policy.
Nation states have always stolen secrets from each other, and it's something that no one should get on too high a horse about. But speaker after speaker warned that unless the industry gets its act together, all the latest research, business plans, and other corporate secrets in the Western world are up for grabs. China's complaints that it is more sinned against than sinning got short shrift.
White House cybersecurity coordinator Michael Daniel told delegates that the government is here to help. President Obama's recent executive order showed that the government is firmly committed to both privacy and security, Daniel said, and he called for the industry's support to tackle the threat. Meanwhile, former DHS czar Michael Chertoff was pushing CISPA, saying it was vital for the national infrastructure.
As in recent years, the Feds were at the conference in force, holding special sessions to brief the security industry and look for new ideas. The NSA expo booth – a concept unthinkable not that long ago – was actively recruiting on the show floor, even luring geeks by having an original Enigma machine on display.
Boeing, a company with a long history of government work, said that it was throwing its hat into the security ring with a rebadged spin-off company, Narus. Its nSystem suite promises to use machine learning to lock down threats – expect more details in August.
It's clear that if you want to get a good-paying job in the industry, security is the way to go. Keeping it, considering all the threats currently out there, might be a very different job, however. ®
Sponsored: Minds Mastering Machines - Call for papers now open