Splines, of the reticulating variety
Before all that, however, it was essential to get your city off to the best possible start and, as I've already said, this was a far tougher task than it was in the original SimCity. So-called 'Reticulating Splines' were first introduced here as a means to calculate an entirely random landscape canvas upon which your city would be crafted. Wright coined the term, which would eventually be adopted as a catch-all for any environmental randomness algorithm used within game development.
What such grandiose a description for a simple premise actually meant was that you could never be sure how much water and land relief would be present on your claim from the start. Just as well then that the SimCity 2000 engine allowed you to spin your viewpoint around through four set perspectives.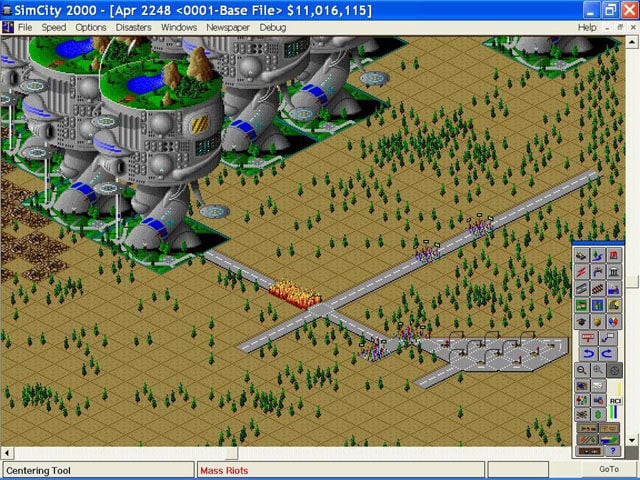 Raiders of the lost arcologies
Such natural features meant there was scope to sculpt your city in new and ever more gorgeous ways too. The lay of the land and areas of water allowing for studiously designed takes on Venice, or else the chance for wholesale terraforming according to personal taste.
Replaying the game before writing this, I was also surprised by quite how tough it was to initially get Sims moving on in. Those most fussy of virtual people turning their collective nose up at any conurbation that had inadequate power and water supplies, a lack of a prerequisite amount of residential, commercial and industrial zones; not to mention something approaching a road network with links to surrounding towns.
Read all about it
Cater to their whims, however, and your people will let their love be known, throwing parades in your honour - all of which are reported in the dependable local newspaper. Indeed the periodical was something of a triumph, the yearly editions offering an insight into the opinions of your people with such nuggets of advice as 'Naysayers say nay', among others.
As before, natural – and not so natural – disasters would be unleashed upon your city to test the mettle of your emergency services, while scenarios appeared once again to push your mayoral skills to the limits, but it was the richness of your city that really made SimCity 2000 shine.
Maxis added so much variation into the game's residential, commercial and industrial zones, as well as specialised structures, that above all else it was just a sheer joy to watch your city grow. The ebb-and-flow of gentrification mesmerising the player, particularly if you played on llama or cheetah speeds which would have the years flashing by.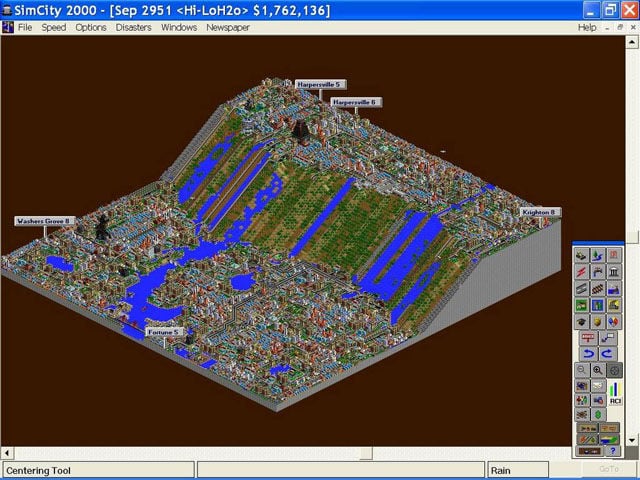 Specific heights
In writing this, and going back to SimCity 2000 - by way of the ingeniously programmed DOSBox - I've been reminded of a time when sequels really were a genuine step-up, not like the glorified expansions that can qualify as follow-ups these days. SimCity 2000 encapsulated all that made its predecessor great and took it up a notch, and though it's a tad dated today, it still provides the purest form of Will Wright's build-'em-up for my money. ®
Release 1994
Developer Will Wright
Publisher Maxis
Platforms Mac, Amiga, DOS, Windows, SNES etc
COMMENTS
Given the less than impressive state of the last couple of Sim Cities, I'll certainly not be buying the latest unseen. EA are still the masters of sucking the life out of a creative dev team and then reanimating the corpse of the franchise to shamble through another few releases to wring the last few pennies out of it.
I found that if you put down strips of ornamental water and surrounded them with pumps you could have an enormous water supply. That wasn't meant to work, I don't think, but it did... Same as getting effectively free electricity by putting ornamental water on a slope and then putting hydroelectric dams on it. So I had little hillocks dotted around my cities with water tiles surrounding them, coated in hydro dams, and with a park on top that no-one could realistically get to because there were hydro dams in the way.
This was all nice and green but about the only nice and green thing about the smog-ridden industrial behemoths with police stations on every corner that I tended to build. I would have hated to live in those cities. No bus stations, no train stations, no subway, precious few parks except hidden behind hydroelectric dams, police stations everywhere and a military base that the mayor has a track record of calling on whenever people protest in the streets. Making cities *nice* always seemed a bit too much effort :) (Except the patch in the middle of woods and marinas over on the far side of the map where the mayor had his mansion and his statue and some luxury residences around.)
I haven't personally confirmed this, but I have heard the new Sim City has much smaller maps than Sim City 2000. Likely because they are trying to simulate a whole city at the individual-car level.
What was nice about sim city 2000 was the map was so big you could build 4 separate towns in different parts of the map and link them later. Building a town felt like harvesting a crop. You'd lay down some initial town and then hope/wait for the money to come in so you could afford to expand it. And it was always fun to have some big construction project to save up for, eg an expensive tunnel to build or expensive bridge across a river to construct in order to link two separated settlements, or to get the cash to replace that polluting coal plant with a nuclear one.
Now these games seem to be more focused on flashy graphics and having a "the sims" level of detail where you can follow individual citizens around. I guess most people like that kind of stuff.
I would have preferred if the series instead went down the "bigger maps" route, and made the later game more challenging with a more complex economy where things like recessions could naturally emerge. Having a map large enough to build a dozen huge metropolises miles from each other, linked by super highways with various smaller settlements along the way, would have been really cool.
Try a 386 SX-25
Only took me 6 months to figure out how to make a boot disk and get it running. Not all that bad for an 11 year old though.
The cynic in me wonders whether you guys are trying to hint at me to buy something today..?
:)