SimCity 2000
Spline of the times
Antique Code Show The summer of 1995, I remember it well. I was but a slip of lad at the time, slightly console obsessed perhaps, but about to embark on a period of PC gaming that would put me at the forefront of cutting-edge videogame technology, nearly bankrupting my parents as I went.
It was my birthday and I'd just finished hooking up my brand new Pentium 60 – oh yes indeed; take that, 486 – and was looking forward to a day spent on my new purchases: Star Wars: Dark Forces, Ecstatica and, ever late to the party, the game having released in 1994, SimCity 2000.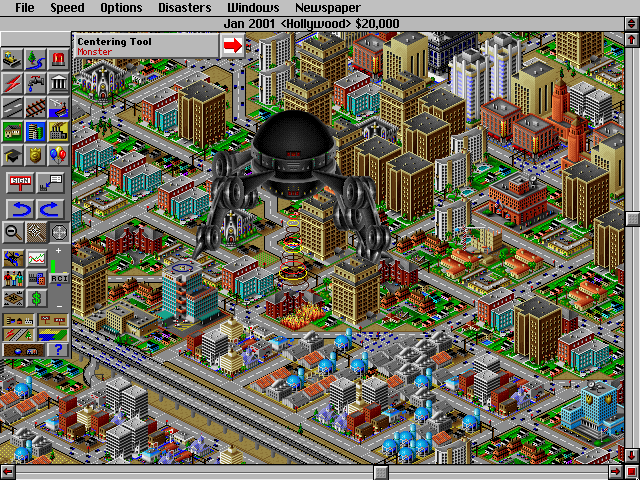 Monsterville: SimCity 2000 present new alien hazards to tackle
Looking back, I'm still unsure as to how I convinced my dad of the 'educational' benefits of my ninja rig. Perhaps he'd long since given up hope of having a child who was captain of the school football team? But regardless, here I was, only a boot disk away from gaming nirvana.
As a veteran of SimCity, I was confident of donning my mayoral crown once more ahead of creating yet another model town. What I hadn't reckoned on were the changes – every one an improvement – which would mean re-learning the art of city design all over again.
SimCity evolution
Before getting to the gameplay, however, perhaps a history lesson is in order. After designing the surprise success story that was 1989's SimCity, developer Will Wright and publisher Maxis next looked to expand the 'Sim' series still further, so spawning the likes of SimEarth, SimFarm and SimAnt, each of which was greeted with less enthusiasm than its forebear.
Keen to rekindle that previous level of success, Wright and Maxis looked to bring out the big gun once again, and so SimCity 2000, the true successor to SimCity was born. Wooing fans with a much larger area to develop, a vastly more diverse range of building types and an infinitely more interesting visual engine designed to better replicate the look and feel of a real city.
Starting up the game immediately presented you with two options, the first being to select a time period – one of 1900, 1950, 2000 or 2050 – while the second asked you to pick a difficulty setting which directly affected your initial capital. It was the former option, however, which was the most eye-catching, particularly when it became obvious that a 1900 city would actually move through the years, modernising and evolving as it went.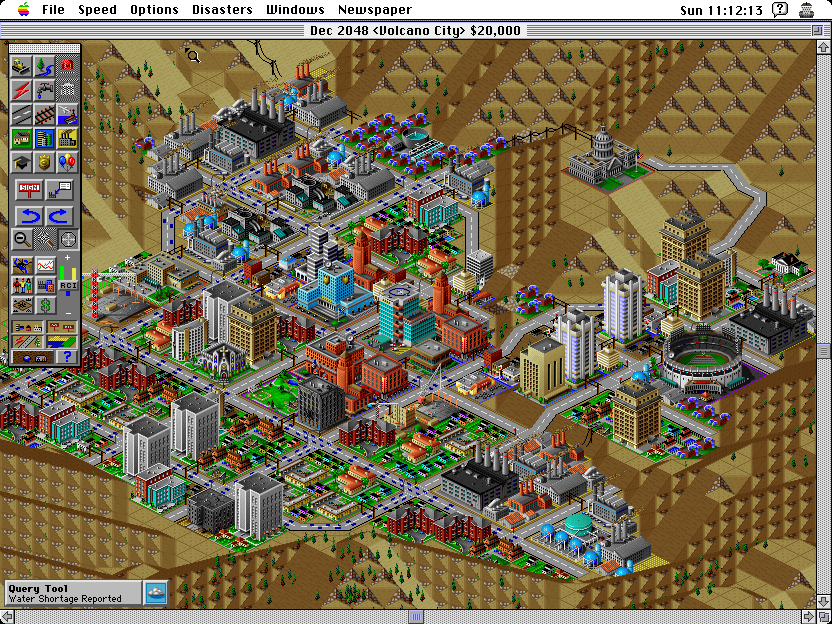 Mac metropolis
Brilliantly there was even a constant stream of new one-off building purchases which evolved along similar lines. First the chance to zone airports becoming available as you reached 1950, next a nuclear power plant unlocking at around 1980, before eventually the entirely sci-fi microwave power plant and 'arcologies' made their presence known.
It was the latter which was to offer some kind of endgame to the standard SimCity experience. Arcologies essentially consisting of residential domes grafted onto rocket blasters that would launch huge chunks of your population into space, as your citizens rushed off to explore the final frontier. A scenario somewhat comparable to winning the Space Race in a game of Civilization.
COMMENTS
Given the less than impressive state of the last couple of Sim Cities, I'll certainly not be buying the latest unseen. EA are still the masters of sucking the life out of a creative dev team and then reanimating the corpse of the franchise to shamble through another few releases to wring the last few pennies out of it.
I found that if you put down strips of ornamental water and surrounded them with pumps you could have an enormous water supply. That wasn't meant to work, I don't think, but it did... Same as getting effectively free electricity by putting ornamental water on a slope and then putting hydroelectric dams on it. So I had little hillocks dotted around my cities with water tiles surrounding them, coated in hydro dams, and with a park on top that no-one could realistically get to because there were hydro dams in the way.
This was all nice and green but about the only nice and green thing about the smog-ridden industrial behemoths with police stations on every corner that I tended to build. I would have hated to live in those cities. No bus stations, no train stations, no subway, precious few parks except hidden behind hydroelectric dams, police stations everywhere and a military base that the mayor has a track record of calling on whenever people protest in the streets. Making cities *nice* always seemed a bit too much effort :) (Except the patch in the middle of woods and marinas over on the far side of the map where the mayor had his mansion and his statue and some luxury residences around.)
I haven't personally confirmed this, but I have heard the new Sim City has much smaller maps than Sim City 2000. Likely because they are trying to simulate a whole city at the individual-car level.
What was nice about sim city 2000 was the map was so big you could build 4 separate towns in different parts of the map and link them later. Building a town felt like harvesting a crop. You'd lay down some initial town and then hope/wait for the money to come in so you could afford to expand it. And it was always fun to have some big construction project to save up for, eg an expensive tunnel to build or expensive bridge across a river to construct in order to link two separated settlements, or to get the cash to replace that polluting coal plant with a nuclear one.
Now these games seem to be more focused on flashy graphics and having a "the sims" level of detail where you can follow individual citizens around. I guess most people like that kind of stuff.
I would have preferred if the series instead went down the "bigger maps" route, and made the later game more challenging with a more complex economy where things like recessions could naturally emerge. Having a map large enough to build a dozen huge metropolises miles from each other, linked by super highways with various smaller settlements along the way, would have been really cool.
Try a 386 SX-25
Only took me 6 months to figure out how to make a boot disk and get it running. Not all that bad for an 11 year old though.
The cynic in me wonders whether you guys are trying to hint at me to buy something today..?
:)