Spies in the sky: The leaps and bounds from balloons to spook sats
A brief history of aerial surveillance around the globe
We can thank the CCD for the today's high-resolution satellite imagery, but until the 1970s, everything shot from above had to be recorded on physical media.
No doubt Gaspard-Félix Tournachon struggled aloft with a glass plate camera for his first shots of Paris over 150 years ago, and by the Great War aerial photographers were still grappling with cumbersome devices, albeit a little more user-friendly.
By 1917, the British Williamson P7 camera packed a handy magazine of 24 glass plates of 5in x 4in, but the same manufacturer's WW2 F.24 had embraced roll film, offering up to 250 5in x 4in exposures.
The F.24 system offered interchangeable lenses at focal lengths of 5in, 8in, 14in and 20in, but the image format lacked detail at even the longest of these when photos were taken from high altitude.
The larger F.52 used a 8.5in x 7in film format, with up to 500 exposures available in a single magazine. Optional longer lenses of 36in and 40in focal lengths addressed the resolution from altitude issue.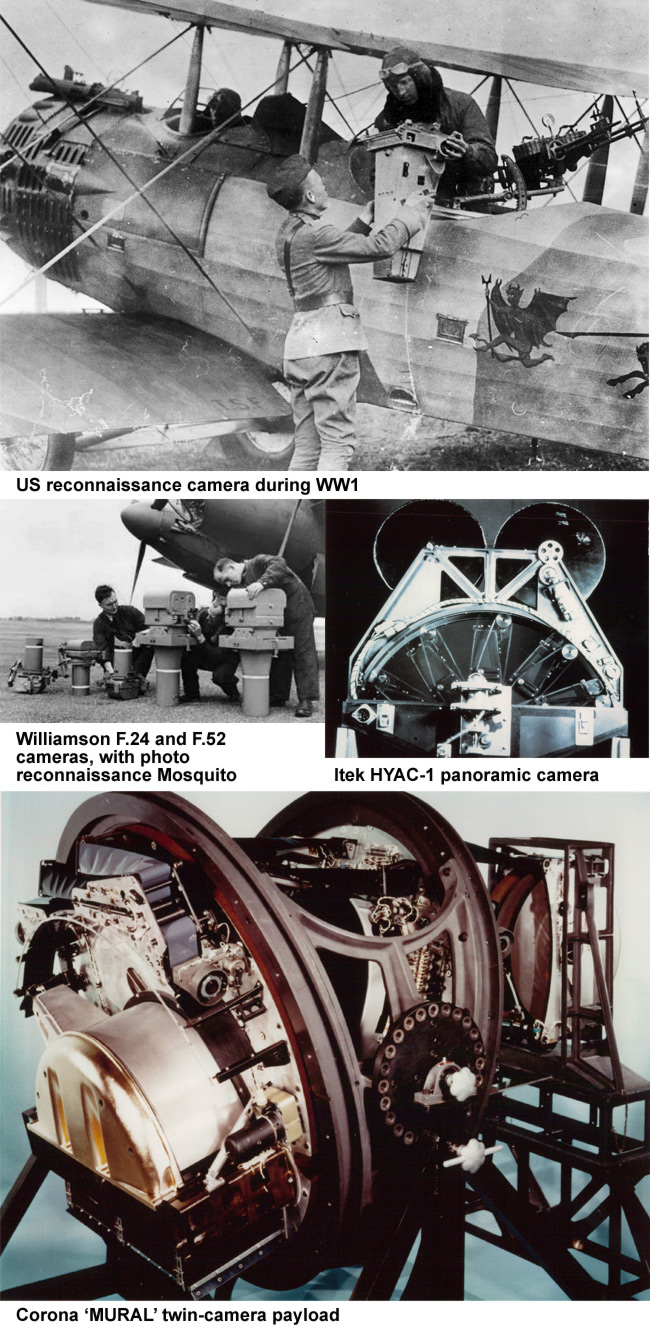 Post-war surveillance programmes saw the design of increasingly complex roll-film cameras, with many of the US's needs met by the Itek Corporation. The company's HYAC-1 panoramic model, used in the Genetrix balloon missions, led to 70mm film stock models for Corona.
The first Corona launches used a single camera, quickly replaced with a twin-camera set-up dubbed "MURAL" (see above). The cameras' 24in (610mm) focal length lenses - ultimately supplied by 4,900m of film each - could initially resolve objects on the ground of 12m in diameter.
Improvements in the system allowed later Corona satellites to resolve objects just 1.5m in diameter.
By contrast, the folding optics telescope design of the KH-11 satellites' cameras, with a primary mirror of around 230cm and an 800 x 800px CCD, could - based on analysis of leaked photographs - resolve down to 14cm.
While the prospect of photographing a grapefruit from space is a delicious idea, high-altitude fruit surveillance is sadly beyond the pockets of mere mortals.
Next week, we'll have a look at the thriving DIY spy-in-the-sky scene - from UAVs to High Altitude Ballooning (HAB), and give a few pointers as to how those with less than multi-billion dollar budgets can mount their own aerial reconnaissance mission.
In the meantime, we'll leave you with this montage from our Paper Aircraft Released Into Space (PARIS) mission, demonstrating how a balloon, a tank of helium and a $100 camera can provide breathtaking bangs for not many bucks...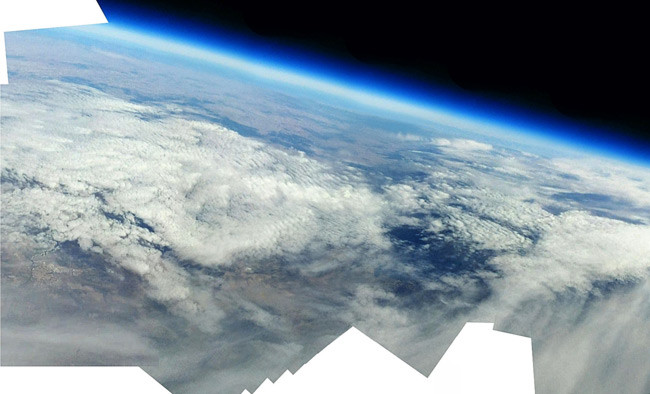 ®
Sponsored: Minds Mastering Machines - Call for papers now open