Spies in the sky: The leaps and bounds from balloons to spook sats
A brief history of aerial surveillance around the globe
Before the SR-71 took to the skies, and as the U-2 plied its trade over hostile lands, the US was attempting to get off the ground with its most ambitious aerial reconnaissance programme - a satellite system codenamed "Corona".
Spurred by the Soviet's early lead in space with the launch of Sputnik in 1957, the ultra-secret Corona proposed the use of a Thor ballistic missile first stage and "Agena" second stage to lift a photographic payload into Earth orbit.
The project gained extra urgency following Gary Powers' capture by the Soviets in 1960, which prompted the US to cease U-2 missions over the USSR. After 13 failed mission attempts in 1959-60 - mostly revolving around launch vehicle malfunction - a Corona launch in August 1960 finally returned footage covering 2,655,000 square kilometres of territory.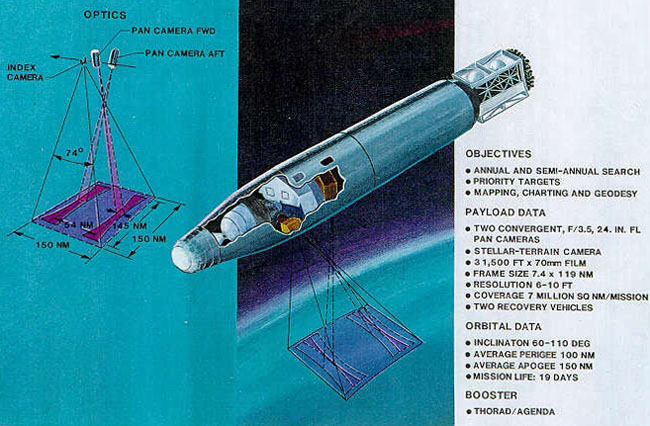 To retrieve the precious film, Corona used the same airborne recovery system developed for Genetrix. The US Air Force's "Samos" satellite programme (1960-72), experimented with cameras which could scan and transmit images to Earth via radio, apparently to poor effect.
The considerable effort required to obtain Corona images paid off with results that were of sufficiently high definition to pinpoint key installations: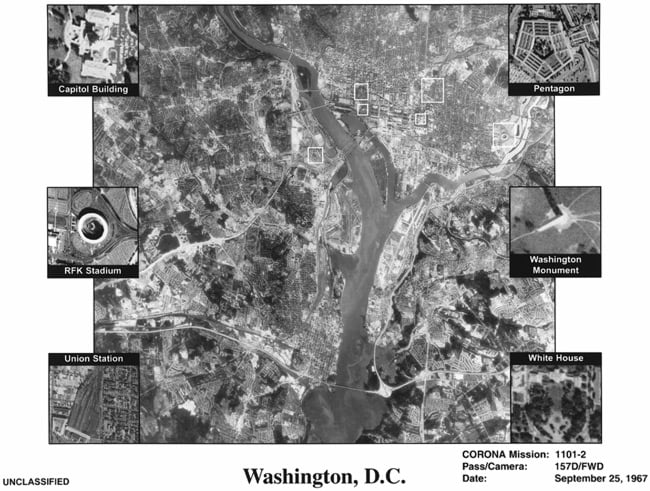 US satellites continued to use recoverable film stock until until the development of the KH-11 series of satellites in the 1970s. These were the first to boast electro-optical digital imaging and, accordingly, provide real-time footage of their targets.
In 1984, a former worker at the US's Naval Intelligence Support Center leaked several KH-11 images of the Nikolaiev 444 shipyard in the Black Sea to Jane's Defence Weekly. One, showing construction of a Kiev-class aircraft carrier, demonstrated the impressive capabilities of US spy satellites: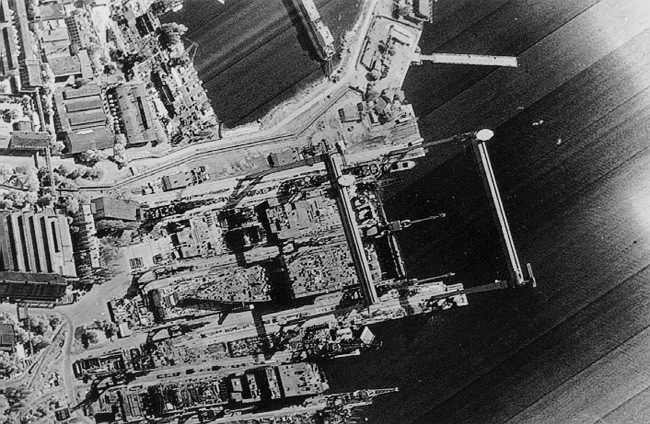 Satellite imaging continues to advance, both in the military and civilian arenas. As commercial companies offer high-resolution snaps to the public and services such as Google Earth, the spooks are still busy with classified ops, such as last year's NROL-36 launch.
As an example of just how far the technology's come, compare a Corona image of the Sputnik launch pad at Baikonur Cosmodrome, obtained at vast effort and expense on good old-fashioned film back in the 1960s, and the same site today, available free at the click of a mouse to anyone with an internet connection: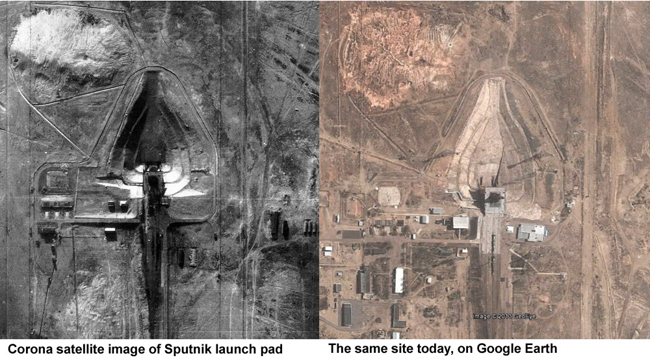 Sponsored: Minds Mastering Machines - Call for papers now open