EMC intros self-service VMAX CE for cloud-slingers
New model prods service providers to move that AAS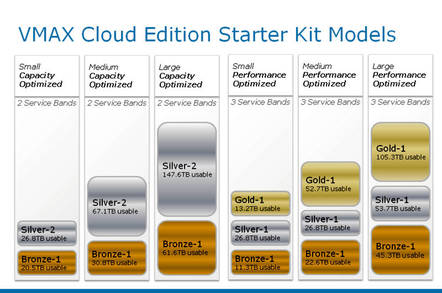 In May last year EMC rolled out a VMAX for service providers, the VMAX SP. Now we have its successor, VMAX Cloud Edition, which provides tenant self-service provisioning and pre-organised storage service classes to make life easier for cloud storage slingers. The upgrade provides a new payment model, too.
The big VMAX CE addition is a concept of storage classes, mixes of capacity and performance (IOPS), software and data protection. The general assumption is that performance will scale up with capacity. The slide shows sets of capacity-optimised and performance-optimised storage classes with various bronze, silver and gold service bands within them. The bands can be extended and new ones added.
Pricing is on a $/TB level and storage service classes come as bundles or starter kits. It is envisaged that service providers will offer public cloud storage AAS (as-a-service) with VMAX CE and enterprises will offer private clouds. Clients or, rather, tenants, who want storage services can self-provision through a service catalogue or modify the storage facilities they already have. VMAX CE software automates the provisioning process, including switch zoning.
VMAX CE comes with a REST API so that a service provider's provisioning engine can be integrated or so that VMAX CE operators can create their own workflows or ways of presenting the facilities.
There is storage usage metering at the tenant level, role-based admin rights with multiple levels, charge-back and a linear cost model to you don't get invoice shock at the end of the quarter or year.
One tendency for private cloud providers to watch is that users could over-provision and your storage capacity usage go up because the discipline imposed by storage admins is lessened. Get your internal pricing right to stop this happening.
Thoughts: could we see VMAX CE in vBlocks? Could we see cloud editions of other EMC storage arrays? In a cloud storage environment you are providing capacity and data access performance in bits for tenants. Other things being equal the bigger the chunk of storage array you start with the simpler it is to partition it up for tenants. You really don't want a fleet of small arrays to do this, because having to manage lots of separate boxes is harder than managing a single big box.
Clustered smaller boxes would do: they would then be logically in a single storage facility - as long as it's managed as a single facility. So a clustered NetApp ONTAP facility could, were NetApp to do it, form the basis of an ONTAP CE equivalent.
Cloud deployment would seem to favour very large or clustered arrays with smaller, non-clustered arrays not being seen as suitable at all.
EMC global marketing CTO Chuck Hollis blogged about the VMAX CE announcement here. ®
Sponsored: Learn how to transform your data into a strategic asset for your business by using the cloud to accelerate innovation with NetApp