WTF is... Miracast?
The AirPlay alternative for streaming video, games from your Android to your telly
Brand together
Standards are are very well but you need someone to ensure that different vendors' implementations work together as well as you would expect them too. That's the Wi-Fi Alliance's job, building on the work it already does certifying Wi-Fi products for 802.11 interoperability. Adding a go-to-market brandname, Miracast, not only helps prevent compatibility being masked behind competing vendors' own brands in order to imply it's a single-vendor technology - what happened to HDMI's Consumer Electronics Control (CEC) specification, in other words - but also makes it more clear to punters that it's a broadly supported technology. Want to see at a glance that your new phone streams to your TV? Look for the label.
The use of standards allows similar systems to tap into Miracast. Intel, for instance, quickly announced Miracast support for WiDi after last September's launch - easy to do since they're essentially the same thing - promising to roll it into its WiDi 3.5 firmware, which was subsequently released alongside Windows 8.
Android gained Miracast after Google's 29 October 2012 announcement that the technology would be supported in 4.2 Jelly Bean. A given device will still need to be certified for Miracast compatibility, of course, but OS support makes it a much easier for gadget makers to tick the extra box and get the Wi-Fi Alliance to asses their offerings for Miracast as well as general Wi-Fi.
LG's Optimus G and Samsung's Galaxy S III were the first smartphones to gain Miracast certification, back in September 2012, but others have followed in the intervening months, among them more LGs and a handful of upcoming HTC handsets. Sony's Xperia Z has been shown supporting the technology - though the phone isn't yet listed on the Wi-Fi Alliance site. Google's LG-made Nexus 4 can mirror its display this way too.
Booming support
Likewise, there was a burst of pre-Consumer Electronics Shows (CES) TV certifications for Sony, Samsung, LG and Philips, along with a number of the USB Wi-Fi adaptors these vendors offer for older, wireless-less tellies. Netgear's Miracast adaptor, the Push2TV, has been certified too, as has the Miracast-based Wireless Display Adaptor Panasonic showed off at its annual European dealer convention last week.
Nvidia's upcoming Project Shield handheld games console, being a wireless Android device, will offer Miracast-based dual-screen gaming. CES was a launch not only for Shield, but for dozens of other devices, from TV adaptors on up, that are currently or will shortly be seeking Miracast certification.
Meanwhile, the world's key wireless chip makers - Broadcom, Qualcomm Atheros and Ralink among them - have ready-to-go Wi-Fi adaptors with Miracast support that can be built into a wide range of devices. Expect to see these in laptops, finally allowing machines that don't meet Intel's WiDi requirements to offering WiDi-like functionality.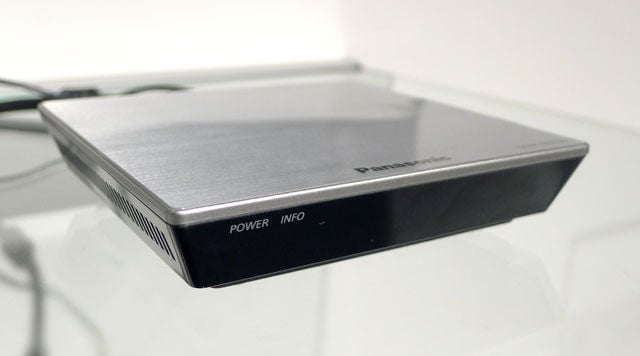 Panasonic's media adaptor is one of dozens of Miracast-enabled devices coming to market in 2013
IHS iSuppli, a market watcher, expects more than 1.5 billion devices to ship in 2016 with this technology on board. "Nearly all Wi-Fi chip makers are on board with Miracast, and host platform providers should find it fairly simple to find Wi-Fi silicon to enable Miracast products once the specification is released," it says.
ABI Research agrees: it thinks that come 2014 over 66 per cent of connected CE devices that aren't phones, tablets or other mobile computing devices will support Miracast or, at the very least, Wi-Fi Direct.
A Christmas Miracast
With such momentum, it's hard to imagine Miracast functionality not being touted by all future tablets, phones and TVs, especially as we near next Christmas' sales season. Not that there aren't nominally rival technologies, most notably Netflix and Google's DIAL (DIscovery And Launch) system. DIAL allows mobile devices to initiate playback on a TV, but it's the big screen itself that pulls the content down from the internet and plays it. DIAL simply tells the TV to launch a player app and call up the content at the URL it's about to send across.
DIAL may sound redundant in the face of established display streaming technologies, but unlike Miracast and AirPlay it leaves your mobile device free for other tasks. Or to power down because its batteries are just about empty. It's also about streaming content from the internet rather than from a local device, which makes sense when you think that, over time, less material will kept locally and more pulled down from the cloud. Why stream to a tablet in order to stream on to a TV, when you can get the TV to reel in the footage itself?
That means there's room for all three technologies. Miracast and AirPlay are clearly competitors, inasmuch as they will be favoured by certain, rival vendors, but DIAL will work with both. NextMarket Insights, another market watcher, forecasts display device shipments with DIAL, Miracast or AirPlay on board to grow from 7 million in 2013 to 129 million by the end of 2017.
"There is interest among consumer electronics manufacturers, content providers as well as consumers to enable second-screen and TV interaction," says Michael Wolf, NextMarket Insights' chief analyst. "Both software technologies will be widely adopted to enable a variety of different use-cases such as content mirroring and streaming from the cloud." ®
Sponsored: Minds Mastering Machines - Call for papers now open