Apple updates iOS, does not fix passcode-bypass hack
Version 6.1.2 should fix battery-draining Exchange bug, however
Apple released iOS 6.1.2 on Tuesday, an update that it says will fix the battery-draining Exchange bug — which it very well may do – but the update does not fix the finger-dancing hack that allows you to bypass an iPhone's passcode, launch the Phone app, and access all of its contacts, phone-history information, and the like.
Apple had said that a fix for the passcode-avoiding hack was in the works, and so we were understandably curious as to whether the Tuesday's 6.1.2 update would do the trick, even though Apple didn't mention that fix in its description of the update's contents: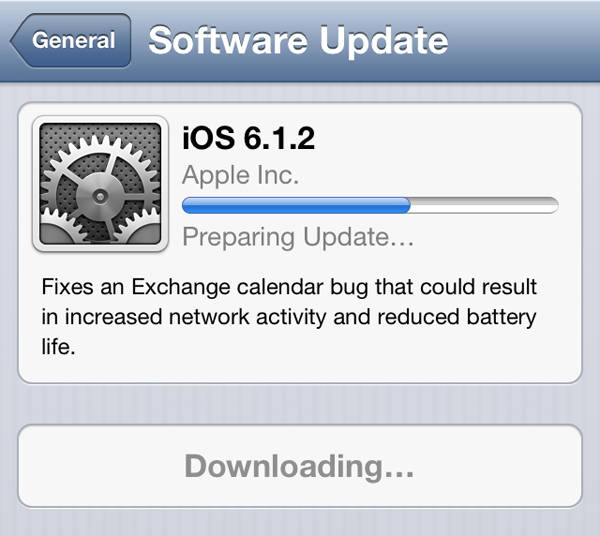 Wel, you can't fault Apple for overstating the iOS 6.1.2 update's capabilities
After installing the petite 12.8MB update onto our iPhone 5 after accessing it at Settings > General > Software Update, we crossed our fingers and tried the passcode-bypass finger dance as outlined in the video by Jailbreak Nation that surfaced last week.
Nope. Not fixed. The Phone app and all its contents and capabilities – such as running up the owner's phone bill, emailing contact info, sending text messages, accessing voicemails, et cetera – are still accessible on any passcode-locked iPhone you might get your hands on. Not that any Reg reader would ever think of invading someone's privacy, of course.
We're unable to test whether the 6.1.2 update does, indeed, solve the Exchange over-polling bug that drained users' iPhone batteries — but if you, dear reader, can verify or refute that improvement, we'd love to know in Comments, below.
The iOS 6.1.2 update, by the way, is available for any iDevice that can run iOS 6.X, meaning the iPhone 3GS and later, the iPad 2 and later (including the iPad mini), and the fourth-generation iPod touch and later. ®
COMMENTS
Re: I don't understand
It's quite straightforward. There's a bug on iPhones that bypasses the lock screen, Apple announced they were working on a fix, the Register thought that this update might include the fix, it doesn't.
Apple are notoriously tight lipped about what's in their updates so the fact the fix isn't mentioned in the press release doesn't mean they haven't fixed it. Bugs that Apple don't like to talk about tend to get silently fixed without mention in the release notes, which is why you need to try the update to find out what's changed.
Erm ... read the update description
I don't understand the slant of this article at all. The update says that it fixes the Exchange issue, it has no mention of the passcode-bypass hack. Why would anyone expect it to fix it?
Perhaps El Reg would rather Apple wait to include all fixes in a single update. Oh, that would mean that they were holding back fixes that were having a real impact on users. Dammed if they do, dammed if they don't. Personally I'd rather they release updates as and when a fix is available.
Why is it?
That I used to be all excited when an update came through for my Mac 5-10 years ago because all this cool new stuff was going to happen, but now I dread an update and wait months to install it because all this nasty crap happens?
I used to be able to say that "it just works" about my Apple stuff but not so much these days.
Re: Why is it?
It has grown up.
Once upon a time things used to be simple, feature-list short and dependencies easy to manage. No longer the case. Classic case of "mature platform" with "legacy". A new developer comes along, touches something he does not fully understand and all hell breaks lose in an area that is perceived as completely unrelated.
It will now take some seriously fascist release management and architecture to put that under control and based on what Apple has been releasing I do not quite see that one happening.
I jumped from Apple to Android and I swapped one set of problems for another. Don't get me wrong, I loved my iPhone and I love the Droid I replaced it with. But the fact remains these devices are the bleeding edge of technology. When you're pushing the boundaries of known capabilities things will always be a little flakey.