Alibaba takes ANOTHER swing at Google with search engine launch
Round two of the Android - Aliyun ding dong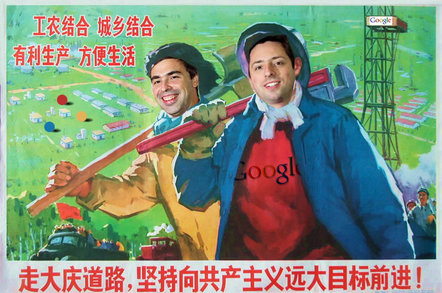 Google's odds of clinging onto market share in the hugely competitive China search market just got longer after local e-commerce giant Alibaba entered the fray with a search engine under the banner of its Aliyun cloud division.
Responding to an El Reg request for more info on breaking news reports, an Alibaba Group spokeswoman sent the following rather brief statement:
Aliyun Search is a product developed and maintained by the Aliyun Business Unit under Alibaba Group.
A quick peek at the home page shows it covers the usual suspects of web, news, images and maps – the latter rumoured to be provided by Chinese mapping firm AutoNavi.
It also features staples such as auto-suggest, related searches and – as a brief English language search for "Tiananmen Square protests" from outside the Great Firewall reveals – is actively censoring certain content which "does not comply with the relevant laws and regulations" inside China.
The sight of yet another entrant in the crowded search market is not good news for Google, which as of November 2012 saw its share drop to less than 5 per cent.
Things have become so bad for the Chocolate Factory in China that it was rumoured earlier this month to have struck a search advertising deal with local rival Qihoo - which has managed to grab second spot and around 10 per cent of the market, despite being handed an official government warning for unfair competition.
If Alibaba also manages to trump Google in China it would be sweet revenge for the firm given the very public dispute between the two following Aliyun's attempts to grow its eponymous Linux-based OS.
Google prevented handset maker Acer from running the OS on a planned new device and extended the ban to all members of the Open Handset Alliance, with mobile SVP Andy Rubin slamming the firm in a hard-hitting blog post.
He claimed that "Aliyun uses the Android runtime, framework and tools" and its app store contains Android apps, adding: "If you don't want to be compatible, then don't expect help from OHA members."
Alibaba will also be competing with Jike, a search engine backed by the state-run People's Daily news organisation and led by former Chinese ping pong star Deng Yaping.
Former Google China boss Kai-Fu Lee was recently kicked off Sina Weibo - where he has 30 million followers - for three days, it is thought because of his outspoken criticism of censorship in the PRC and of the government-run search engine.
Jike has indeed being doing pretty abysmally as Lee argued, so shouldn't present too much of a hurdle to Aliyun Search. As China Media Project explains here, Jike is also prone to "playing political ping-pong" with search results. ®
Sponsored: Minds Mastering Machines - Call for papers now open