The cheap 3D craft pen that scribbles over 3D printing hype
$75 tool turns doodles into actual things
How many printers do you have in your house? And how many pens? I would bet the ratio is at least a dozen pens to every printer, if not more. So is there any reason the ratio of 3D-pens-to-printers is going to be significantly different?
A US startup has come up with a 3D-model-making pen that allows you to "draw" plastic shapes in the air, and will retail for just $75. A Kickstarter appeal to fund the manufacturing of the pen starts today.
The 3Doodler is pitched as a creative tool, rather than an existential threat to industrial society, the latter being how the 3D printing hype has been sold. Or rather, oversold. But once you've seen the 3Doodler in action, it isn't hard to imagine it becoming as ubiquitous as Lego in family households in the near future.
The 3Doodler takes the head of a 3D printer and attaches a DC motor and a cooling system. The plastic is cold to the touch when it comes out of the pen, although the nozzle is still too hot (at 270°C) to be a child's toy, restricting it to a 12+ age rating at the moment.
At 180mm by 24mm, it's perfectly portable, but future iterations are expected to be much smaller.

A selection of models produced by the pen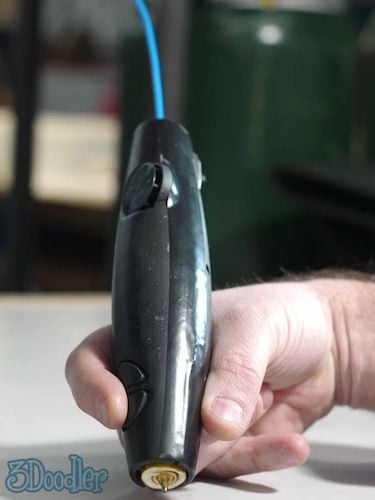 Not quite biro sized, but a lot smaller and cheaper than a desktop 3D printer
And here it is in action:
The 3Doodler's founders have experience in toy design and consumer electronics, particularly low-cost manufacturing. Peter Dilworth was inventor of the WowWee toy, and Maxwell Bogue launched products including the Rovio bot and RS Media robot. Clearly both skill sets have been employed here. Decent 3D printers cost between £1,000 and £2,000 to run, and require the user to master complex professional software. The 3Doodler uses ABA, or a corn-based bioplastic PLA, priced at about $30 per kg.
The team envisage a range of accessories for the pen, including a pantagraph that allows tracing of objects, and an XYZ positioning accessory that plugs into a computer. The Kickstarter page is here.
3D printing has received plenty of mainstream press coverage, much of it utopian with highly improbable and fantastic claims made on its behalf. (Yes, we're looking at you WiReD and The Economist - and here's where you can replace your marbles.)
Perhaps the real legacy will be more subtle - an everyday craft tool? ®
COMMENTS
> This pen would be a pain in the butt to use
I think you're holding it wrong
Printer to pen ratio?
You've got to be fucking kidding me. Several pens per printer? Not a chance in my place, home or office. Pens disappear within minutes, sometimes seconds of discovery or purchase, every time. What I have is an effectively infinite printer:pen ratio, because I have two printers and zero, count them, zero pens. Printers at least are too big to disappear into pockets, handbags or microscopic invisible black holes!
There are basically two types of people on the world....
....those that buy pens, and those that have them.
Re: Printer to pen ratio?
"Somewhere in the cosmos along with all the planets inhabited by humanoids, reptiloids, fishoids, walking treeoids, and superintelligent shades of the color blue, there was also a planet entirely given over to ballpoint life forms. And it was to this planet that unattended ballpoints would make their way, slipping away quietly through wormholes in space to a world where they knew they could enjoy a uniquely ballpointoid lifestyle, responding to highly ballpoint-oriented stimuli, and generally leading the ballpoint equivalent of the good life."
-Douglas Adams
Mine's the one with a copy of Hitchhikers Radio series in the pocket
Re: Printer to pen ratio?
"When one day an expedition was sent to the spatial coordinates that Voojagig had claimed for this planet they discovered only a small asteroid inhabited by a solitary old man who claimed repeatedly that nothing was true, though he was later discovered to be lying.
"There did, however, remain the question of both the mysterious 60,000 Altairian dollars paid yearly into his Brantisvogan bank account, and of course Zaphod Beeblebrox's highly profitable second-hand biro business."