WTF is... IEEE 1905.1?
Hybrid, multi-media home networking made easy
Networks at the push of a button
That will begin when the latest version of the specification is formally ratified by the IEEE. Right now, the specification is done and has been placed in the hands of the standards organisation's pre-publication vetters, who will determine whether it can be published or needs revision. Since the specification has got to this stage in a mere two years - a positively brisk pace for a process that has a reputation for unhurried deliberation - publication of the standard seems likely, which takes us to April.
Kit will follow in May or June, reckons Rajkotia. After all, the spec has been effectively finished since December 2012, and some silicon vendors have already started talking up the technology, most notably Qualcomm Atheros. QA has been promoting what it calls 'Hy-Fi' since 2011. Hy-Fi combines QA's own hybrid networking technology with a draft version of 1905.1, and the chip maker is pitching the system as a mechanism for easy network installation and set-up: the technology is centred on one button the user can push on any compliant network device to allow it to authenticate and configure itself for secure communication with other devices, however they connect to the wired and wireless "hybrid" network.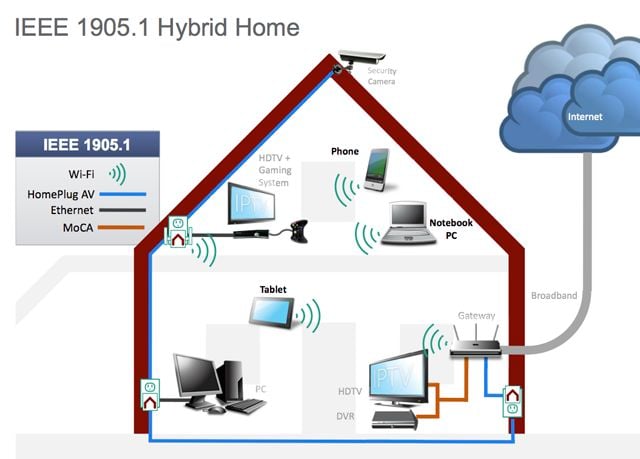 Think of a powerline-connected Wi-Fi extender. Plug it in, push the Hy-Fi button and the unit not only automatically establishes both a secure link to the powerline adaptor in your wireless router, but it also sets its SSID and WPA 2 settings to match the router's own WLAN set-up details.
Other chip maker backers include Broadcom, ST Micro and Taiwan's MStar, while device makers such as Cisco, Huawei, ZTE, Sony and Panasonic have voiced their support for 1905.1 and presumably have compatible kit in the pipeline, though they have yet to go public with their roll-out plans. D-Link has Hy-Fi kit out, as does Europe's AVM, maker of the Fritz! line of home networking kit. More will follow, now that Hy-Fi taps into 1905.1 so it'll work with rival hybrid networking products and that 1905.1 is near to becoming an official standard.
Then there are the service provider supporters and they, perhaps more than the OEMs, have been setting the 1905.1 agenda. For example, the specification incorporates provision for remote network monitoring and management, added at the behest of a number of service providers looking to be able to handle tech support work more cheaply. Rajkotia insists this kind of access is voluntary, but service providers are increasingly out to sell complete home networking packages - an extension of supplying a wireless router or a set-top box, say - and will like the idea of configuring and, later, repairing them without having to pay for an engineer to go out.
Doubly so if they can sell this management to less technical users as an optional extra: don't worry about whether you can set up and run a network, we can do it for you, for a price...
Internet of things
In a similar way, 1905.1 could be viewed cynically as an equipment seller's charter. Clearly, the specification can't do its stuff unless there are multiple media connecting devices to the network between which the technology can select the best at any given moment. So are consumers to be now encouraged to go and buy Ethernet or co-ax cabling and powerline adaptors for new, 1905.1-compliant devices which they can almost certainly be able to connect wirelessly?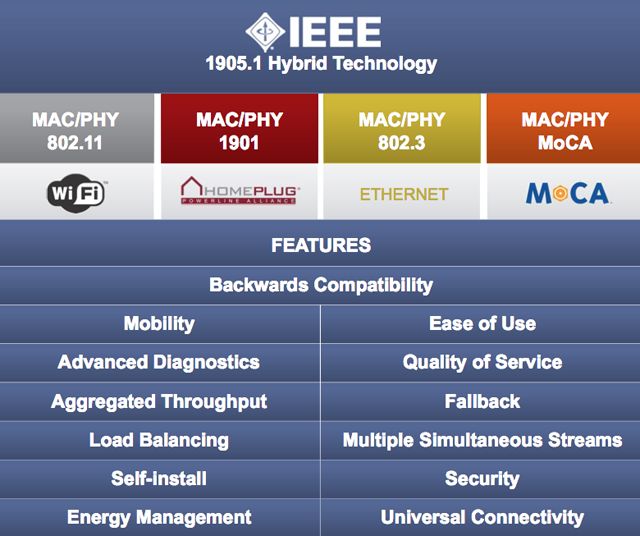 That's why 1905.1 perhaps is a solution seeking a problem: unless your devices maintain more than one network connection, its value is more limited, more so if you're happy setting up devices' network settings yourself. But as network adaptors containing Qualcomm Atheros and Broadcom chips are built around 1905.1 compliant silicon, more and more devices will be able to support push-button auto-configuration and hopping between multiple connections.
And it's important too to think beyond the devices we've traditionally networked. Installing a wireless router, setting up a WLAN and then logging in a laptop, a tablet, some phones and maybe a set-top box and a TV is one thing; hooking up a host of appliances and sensors, all forming part of what's called the Internet of Things, and it's another matter altogether. Techies like us might welcome the challenge of putting all this in place, but most folk will simply want to plug it in and have it work. IEEE 1905.1, if it works as well as its proponents claim, will be the technology that makes possible extending home networks from a handful of devices to dozens of them. ®
Sponsored: Minds Mastering Machines - Call for papers now open