Cisco wins tax battles with Uncle Sam, posts big bump in profits
Big John 'cautiously optimistic' about networking, ecstatic about servers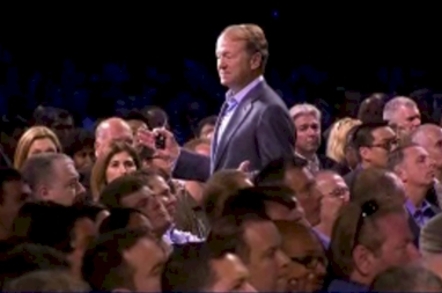 Networking giant and server upstart Cisco Systems is feeling pretty good about the financial results for its most recent quarter, and not just because business is stabilizing in some of its key markets but also because some battles with the US Internal Revenue Service have ended in its favor to the tune of nearly $1bn.
In the second fiscal quarter ended in January, Cisco's revenues were up 5 per cent to $12.1bn, and net income rose by 44 per cent to $3.14bn. That net income was bolstered mightily by a settlement with the IRS over audited financial results going back to fiscal 2002, and Cisco booked a $794m benefit after prevailing in its interpretation of US tax law.
The company also booked a benefit of $132m in the quarter relating to the reinstatement of the US research and development tax credit for fiscal years 2012 and 2013, and when you add it all up, that was an extra $926m of cash before taxes, and after paying the $563m in taxes it owed on the $2.78bn in income, Cisco booked that $3.14bn in net income.
Had it not been for all of the tax bennies, net income would have been flat as a pancake at around $2.22bn, and CEO John Chambers would not have been able to brag that this was the fifth quarter in a row that net income grew faster than sales.
A fortunate coincidence, clearly.
In the quarter, Cisco's product sales were up only 3.5 per cent to $9.44bn, while services revenues rose by 22 per cent to $2.66bn. Chambers said on the call with Wall Street analysts on Wednesday that the company's long-term goal was to get services to be around a quarter of total revenues each quarter, and it is within a few points of reaching that goal. Many of the recent acquisitions that Cisco has made (such as virtual WiFi network provider Meraki and cloud management tool maker Cloupia) have a recurring revenue stream because their products are sold on a subscription basis.
It makes you wonder why Cisco's goal is not to simply rent routers and switches to customers and get damn near all its revenues this way. That would be like the IBM punch card and mainframe sales models from days gone by, which gave IBM tremendous account and product control and profits. And landed it in hot water with the Justice Department twice.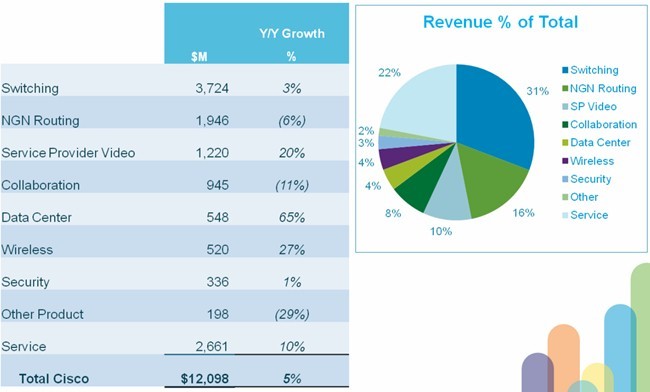 Revenue breakdown by product line in Cisco's second quarter ended in January
The switching business that accounts for nearly a third of Cisco's sales was up 3 per cent in the quarter, to $3.72bn. Chambers said that both fixed and modular switches were up in the quarter, and the top-end Nexus converged switches, which are designed to deal with both server and storage traffic, had more than 20 per cent growth.
But, warned Chambers, "we do see the overall switching market as relatively flat," and he later qualified that to mean over the next quarter or so. Part of the problem is that Cisco has a disproportionately large market share in switching at the US Federal government and among European enterprises – both of which are not spending as they normally do.
The data center business at Cisco, which is its blade and rack servers and related management tools, had $548m in revenues in the quarter, up a still impressive 65 per cent nearly four years after the networker launched itself into the server racket.
The UCS server customer count is now north of 20,000 and is up 87 per cent year-on-year, according to Chambers, and the business is building not only thanks to the VCE partnership with storage and virtualization partner VCE, but because of the 3,000 other channel partners that are peddling UCS iron.
That said, the VCE partnership has "a demand surpassing a $1bn run rate," said Chambers. And for fun, he said that if you add up the UCS servers, software, and services to the Nexus 2000 and 5000 top-of-rack switches that are often paired with them, then this combined data center business had a $3.5bn annual run rate at the moment.
The reason is that customers are coming back for more. To make the point, Chambers trotted out the example of a customers who did pilots after the UCS launch, and then it eventually did a deal for $3m. In this quarter, a year and a half later, it closed $35m in UCS sales to that customer.
The router business is less fun for Cisco, declining 6 per cent to $1.95bn in the quarter. The timing of some large deals, which were pushed out to fiscal Q3, didn't help matters, but there were some high points. The ASR 9000 routers grew at above 30 per cent in the current quarter, and the ASR 5000s were up in the high teens.
The wireless business also continues to be a bright spot, and the converged wire/wireless switching and routing products that Cisco has in its Catalyst line are helping to give it differentiation in the market. WiFi product sales at service providers more than doubled in the January quarter, and video product sales at services providers was up 27 per cent as well.
Chambers said he was particularly confident in spending among US service providers. "We are going to get our fair share of spend – and then some," bragged Chambers.
Cisco ended the quarter with $46.4bn in cash and investments, with $7bn in that cash in the US where it can be deployed to do acquisitions, pay dividends, and do share buybacks. Cisco blew $500m on share repurchases in the quarter and another $743m on dividends. This did not dent its operating cash flow of $3.35bn in the quarter and is consistent with Cisco's goal to distribute about half of its cash flow as dividends and share buybacks.
Looking ahead to the third quarter of fiscal 2013 ending in April, Cisco thinks overall sales will rise by 4 to 6 per cent, with non-GAAP earnings per share of between 48¢ and 50¢, and you need to shave off 8¢ to 11¢ per share from that to take off restructuring, amortization, divestiture, and other charges to convert that to GAAP earnings. That puts profits back in the normal range in recent quarters of 40¢ a share, plus or minus a penny. ®
Sponsored: Minds Mastering Machines - Call for papers now open