Review: HP Spectre XT TouchSmart
The Ultrabook that reckons it's meant for bigger things
Thunderbolts are go
It's only when you turn the Spectre XT TouchSmart around to access the ports on either side that you are reminded that it's an Ultrabook – it's barely over 2cm thick at its fattest point. The slimline case is achieved by dispensing with any optical drive, of course, but HP has used the 15.6in format to pack in three (not just two) USB ports, Ethernet (not gigabit, unfortunately) and even a Mini DisplayPort-compatible Thunderbolt port.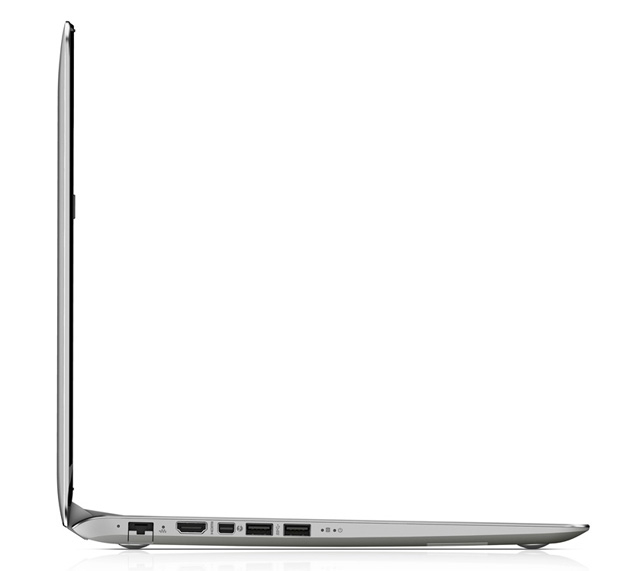 HP's provision of a Thunderbolt port could be a gamble... or forward-thinking
Since almost nobody outside Apple's reluctant and overpriced ecosphere has clapped eyes on let alone bought any Thunderbolt peripherals, I do wonder what HP has in mind. It took years before peripherals manufacturers began supporting full USB 3.0, so I estimate that my teenage son will have moved on to his second wife before Thunderbolt goes mainstream. That said, the two of you that own Thunderbolt devices today might be overjoyed to read that HP is so forward-thinking with the Spectre XT TouchSmart.
Another component that has gone large since the 13in Spectre XT is the hard drive – 500GB compared with the earlier model's 128GB – although this half-terabyte of space sits on a conventional spinning disk rather than in solid state. Otherwise, the 13in and 15.6in models are fitted with the same processor and RAM.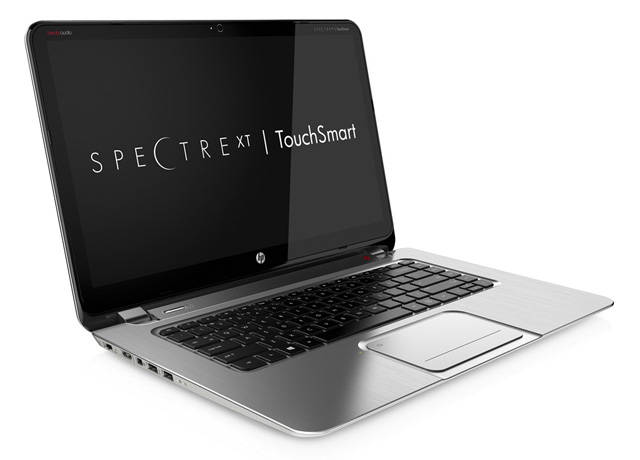 Everything about the Spectre XT TouchSmart looks wide and generous, which is odd for an ultrabook.
What you don't seem to get, however, is longer battery life. The Spectre XT TouchScreen is not a poor off-mains performer by any means, especially compared with conventional notebook PCs, but I struggled to keep the computer going on battery power alone for much longer than three hours. That said, this was three hours of constant use involving plenty of network use, processing and hard disk thrashing. If I just sat quietly watching small videos or mindlessly surfing the web, I feel confident that I'd be able to keep the Spectre going for longer, but I can't imagine buying a £1,200 ultrabook for this purpose.
Another concern is the lack of rigidity in the case material backing the display: it tweaks too easily for my liking. Bendy displays are not unusual among plasticky notebooks but it is unexpected in one with a metal case. If you are a brute or compulsive fidgeter, be warned.
As a final swipe, I'm a little disappointed by the sub-megapixel webcam. It does the job but its image and video quality and resolutions are decidedly ordinary for such a stylish computer.
The Reg Verdict
In terms of thickness and weight, this is unquestionably an Ultrabook. But once you open up the Spectre XT TouchSmart and switch it on, it feels like you're working with a larger, beefier notebook that suffers few of the obvious Ultrabook compromises. Connectivity is good, avant-garde even, and the combination of quality keyboard, large trackpad and ultra-responsive touchscreen display makes for very flexible handling. Sure, it's expensive, but quality costs. ®
Sponsored: Minds Mastering Machines - Call for papers now open

Review: HP Spectre XT TouchSmart
A full HD 15.6in Ultrabook featuring a 1.7GHz Intel Core i5-3317U, 4GB RAM, a 500GB HDD and Windows 8. This meatier touchscreen version of the classy Spectre XT has ports aplenty, including Thunderbolt and Ethernet, so there's less of a feeling of compromise about it.