Paper computers: Not mere pulp fiction
That's torn it
IT printing
Now let's put these issues together – the evergreen potential of microscopic, high-resolution printing, the biological sustainability of managed (but unfarmed) plant life, and our increasing dependency upon short-life electronics whose components are largely unrecyclable.

21st century paper tech: El Reg's own space programme in 2010
To my typically confused mind, I think there may be a way of using embarrassingly obsolete technology such as print-on-paper to save the Earth. Instead of printing circuits onto plastic, print them onto paper.
According to research engineers in the Nanoelectronics Lab at the University of Cincinnati, paper has a lot going for it as a substrate for electronics: "It's lightweight, flexible and biodegradable, and it comes from a renewable resource." You can do a lot to customise the surface properties and strength of paper and, of course, it can be made stiff or flexible, as you wish.
Getting down to the detail, there are seemingly endless challenges to keep the manufacturing cost down, even though the material cost should be much lower than plastic. Another problem is trying to gain commercial backing for a concept that sounds like the kind of nutty idea you'd giggle at on Tomorrow's World: "Five years from now, we will be wearing paper pants and eating meals extracted from dragonfly buttocks."
Possibly the most obvious limitation of paper-based electronics – paper deteriorates quickly – is its most attractive proposition. Given that tablets, smartphones and other gadgets tend to get ditched and replaced in a nine-monthly cycle, built-in biodegradable obsolescence should be a boon to both manufacturers and consumers alike. Make use of organic materials to form the semiconductor 'ink' and you have the ultimate in recyclable, disposable electronics.
The only drawback is that it'll be difficult to sell the things on eBay when you're bored of them. By then, they won't be worth (he he) the paper they're printed on. ®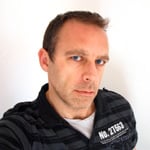 Alistair Dabbs is a freelance technology tart, juggling IT journalism, editorial training and digital publishing. He is worried that ten years from now we'll be laughing at how people who ought to have known better seriously believed that there was a big future for tablets – like William Woollard's paper pants.
Sponsored: Minds Mastering Machines - Call for papers now open