Bioshock Infinite, Devil May Cry, SimCity
The latest videogame releases reviewed... and more
Some people call me the space cowboy
PC gamers of a certain vintage will no doubt recollect LucasArts' games of the late 1980s to mid-1990s with the kind of reverie usually reserved for film makers at their pomp. Not only was the studio busily churning out brilliant point-and-click adventures, but it was also cashing in on Star Wars in a manner fully befitting the original, proper trilogy.
Of those Star Wars titles it was always TIE Fighter that most appealed to me, a game that set you on the dark path of the Imperial pilot. So much fodder for Luke and his chums you might think. Except, brilliantly, LucasArts thought nothing of letting you decimate the Rebel fleet single-handedly, even acting as bodyguard to a certain fallen Jedi with respiratory troubles.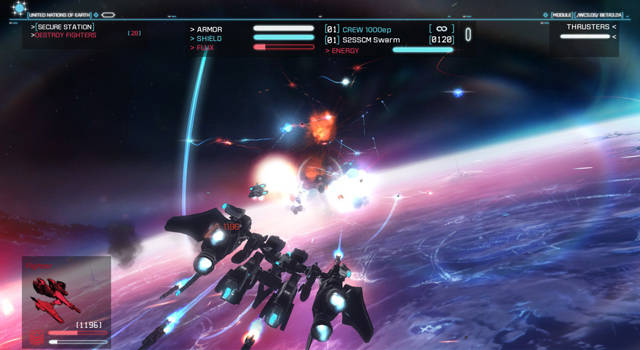 Plasma bolts away
Back then, the space combat genre was at its height, as galactic dog fights, spiraling plotlines and the fact gamers knew no better, had us happily replaying missions - yep, from the start, imagine the horror - ad nauseum in a bid to stop that last Imperial corvette from getting blown apart and so ruining our secondary objectives score.
All at once, however, the space combat genre died a death, with only a few exceptions – the X series and Freelancer most notably – carrying the torch into the 2000s. Crowd funding site Kickstarter looks to have changed all that, with not only a reprisal of Elite on its way, but also such projects as Strike Suit Zero, Born Ready Games' attempt at making space combat games relevant in an industry singularly obsessed with first-person shooters.
After such a build-up, I really want to say they nailed it. Trouble is they haven't… at least not quite. While Strike Suit Zero - out on PC, via Steam - does bring space combat kicking and screaming into the modern era, it hones neither visuals nor implementation to the required standard.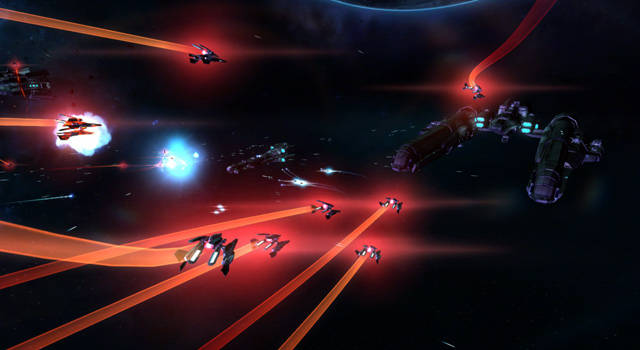 Hex wing
Graphical shortcomings are dismissible if the other ingredients are right, but reviving antiquated mission types – particularly that old chestnut known as 'escort' missions – doesn't really demonstrate an attempt to push the boundaries of the genre. Particularly when the gigantic craft you're escorting is some kind of Mecca for missiles.
At least the ability to transform the titular Strike Suit into a craft reminiscent of mech suits from Japanese anime is something a little different but, again, the game falls short. Not least because the suit's main reason for being – a supposed tactical advantage when facing waves of foes – falls flat through a targeting system which is sluggish at best.
Not quite a reprisal of all that was grand about TIE Fighter then, but perhaps a wake-up call to Disney that its freshly acquired Star Wars franchise might be worth investigating thoroughly for more than simply inspiration for more films.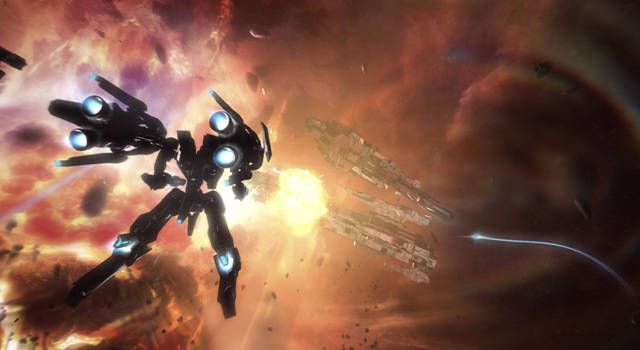 Suits you, sir
Also appearing...
And that just about does it for this look at 2013's games so far. I've not mentioned The Cave (not bad), Anarchy Reigns (pass) and the just delayed Scribblenauts Unlimited (fun if simplistic) but you can't have everything. Stop-by next month for Dead Space 3, Aliens: Colonial Marines, Crysis 3, Metal Gear Rising: Revengeance and the tiny matter of Sony's PS4 announcement... ®
Sponsored: Minds Mastering Machines - Call for papers now open