Review: Seagate Wireless Plus Wi-Fi hard drive
A terabyte of portable storage for your Android or iOS device
File-association football
Android isn't a great deal better. Tap the AVI and it'll automatically start playing in a suitable media app if you have one. On my Nexus 7 I have VPlayer, and Seagate Media hands it any AVI I tapped on - it plays H.264 files natively. I also have Perfect Viewer installed, but Seagate Media would only tell me it didn't know how to handle CBZs. At least I could manually download the files and open them from within Perfect Viewer. An Android bug, a Seagate Media error or an issue with Perfect Viewer? Whatever, it makes for a less than satisfactory experience.
Incidentally, there's a version of Seagate Media for the Amazon Kindle Fire too, which I couldn't test, and Seagate is promising to release a version for 2012 and newer Samsung Smart TVs.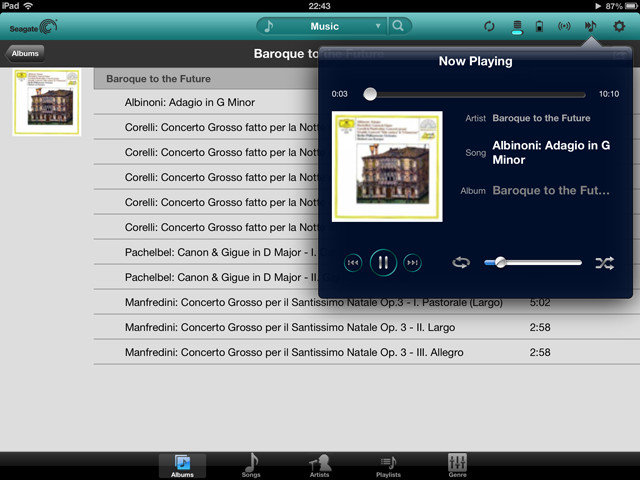 iTunes metadata is supported
Fortunately, the Wireless Plus server software supports SMB/CIFS so it's easy to tap its storage through any app or operating system that supports these protocols, which is not only handy for uploading files as well as downloading them, but gives the Wireless Plus some Linux friendliness. "Linux is not supported by Seagate... When connecting via USB, the drive may go to sleep and cause errors if Linux does not wait for it to wake up. There is no tool available to disable the sleep feature under Linux," the manual says.
But, then, the Wireless Plus' role is to be a media server not a file server. It has a DLNA (uncertified) server on board, and supports Apple's AirPlay to stream movies and music through an Apple TV.
The unit itself is a robustly constructed 127 x 89 x 20mm, 256g piece of work that's more solid-feeling - and better looking - than the GoFlex Satellite. It's a little more compact but it uses the same Sata-based GoFlex clip-on adaptor system. Seagate bundles a USB 3.0 module, but you can buy Firewire and Thunderbolt ones too. Got your media stored on another drive, like network storage? Just set up and run an rsync script to keep the Wireless Plus up to date.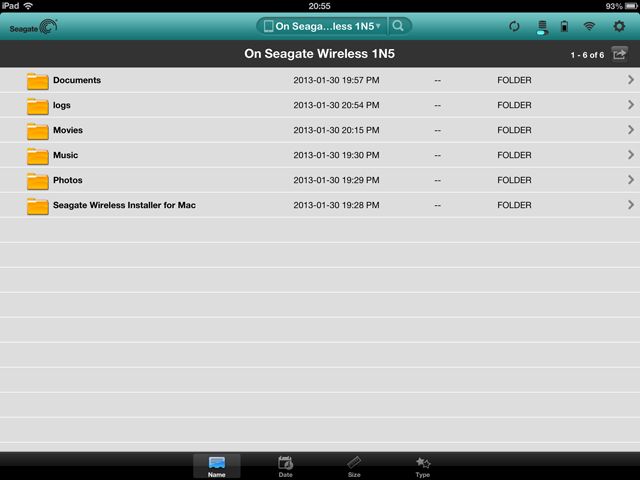 Seagate Media has a straightforward folders 'n' files view too
Seagate supplies a USB 3.0 cable - and a separate USB lead with a power pin on the end to charge the Wireless Plus' battery. There's a compact AC adaptor in the box too.
Battery life seems decent enough. Seagate claims it'll run for ten hours, but that's clearly with the caveat that this depends on how many client devices are wirelessly connected to the Plus and how far away from it they are. I saw nothing to suggest Seagate is significantly overestimating the battery life, which is reasonable for a gadget of this kind.
The on-board wireless adaptor only runs to 54Mb/s 802.11g, but it will tap into a local hotspot to provide connected iOS and Android devices with internet access as well as the contents of the drive. It's not as fast as talking to a router directly with 802.11n, but it's certainly usable. Seagate says eight devices can connect to the Wireless Plus for media access and eight more for internet access - it's one or the other at the client not both. Devices without the Seagate Media app can access the Wireless Plus' files through a browser.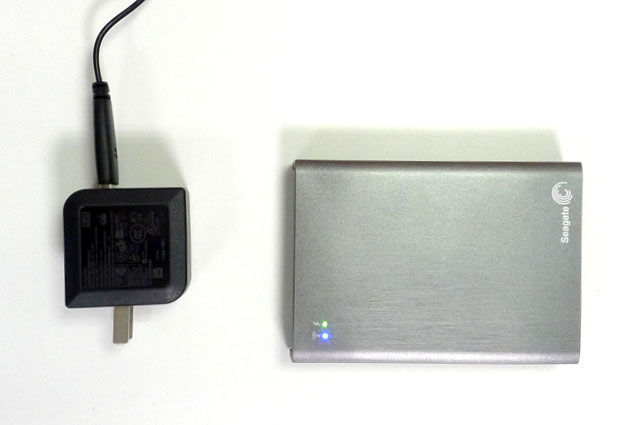 Seagate bundles a wee AC adaptor to top up the Wireless Plus' battery
Seagate says don't expect the Wireless Plus to host more than three simultaneous HD streams. I had no bother streaming two, either separate 1080p and a 720p videos, or the same 1080p footage sent to my two devices. While the Wireless Plus has no bother streaming, be prepared for a short wait while it gets the second stream cued up, or if you start jumping chapters in a streamed film.
Competition? There's Kingston Technology's WiDrive, of course, which is more compact because it's Flash based. That makes it more expensive and the capacity peaks at 128GB - which will set you back around £120, £50 less than the Seagate product - until such time as Kingston decides to re-release it with an SD slot too. Even if it does, you'll pay a pretty penny to get anywhere near the Wireless Plus' 1TB.
The Reg Verdict
I found Seagate's GoFlex Satellite and accompanying app to be a little to inflexible for my needs so when I upgraded my tablet, I bought one with a higher storage capacity. Had a I waited for the Wireless Plus, I could have stuck with a cheaper, lower-capacity slate and put the difference toward one of these boys. With its improved app and more broadly accessible storage - not to mention 1TB of space, twice as much as the GoFlex Satellite - this is a more sophisticated product than its predecessor. It's a great way to keep your mobile devices - all your tablets and phones; we have six in our house and at least three are always taken on holiday - fed with content when you're out and about. ®
Sponsored: Minds Mastering Machines - Call for papers now open

Review: Seagate Wireless Plus Wi-Fi hard drive
A 1TB external USB 3.0 hard drive with integrated Wi-Fi, battery and a server for transferring media files and documents to iDevices and Android gadgets. A portable, basic NAS, in other words.