Review: Living with Microsoft's new Surface Pro
Is it a tablet? Is it an Ultrabook? It's up to you
And the verdict is ...
So the Surface Pro is certainly good enough to act as a system that can be plugged into a home or office setup and used as a primary computer. But is it a fully functioning laptop? Well, sort of.
As has been mentioned, you'll need a keyboard to use the Surface Pro to use it as a laptop, and the keyboard's magnetic mounting and flexible hinge is designed to keep the unit very light indeed. But that comes as at a serious design cost for the truly mobile worker.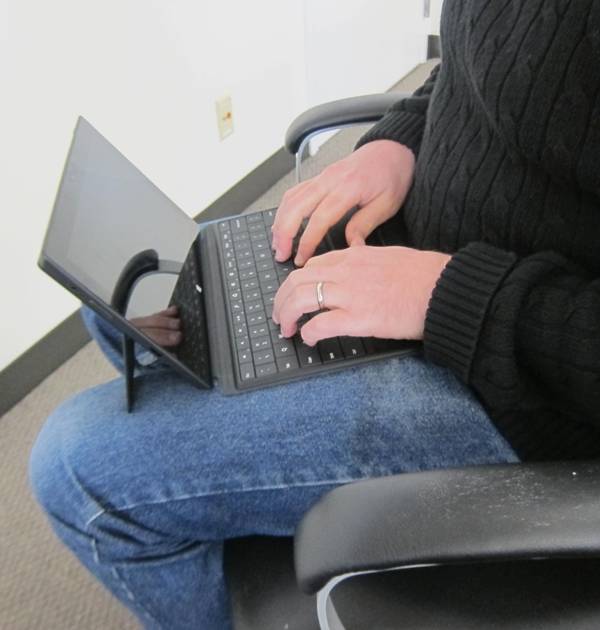 Usable, but only just
As a journalist I do a lot of writing on the move, usually by having a laptop on my knees in press conference chairs or on the train to and from meetings. While you can use the Surface in this way with the kickstand keeping the screen upright and the keyboard maintaining balance, it's an unwieldy solution, particularly if you're swiping across the screen a lot. So consider how the Surface design fits in with your working style.
While we're on the topic of design, Microsoft has made some very odd choices in port layout for the Surface Pro. The stylus, for example, clicks into the same magnetic lock as the power cord, meaning you can't have the pen mounted and keep the Surface powering up. That's not a major issue if you're sipping power as needed, but with the pen clipped in place you can't use the DisplayPort socket either.
Simply shifting the power port, and thus the stylus, a centimeter higher on the side would have eliminated this issue, but – presumably for internal space reasons – this wasn't done. In day-to-day use we found it was easier to remove the pen completely and stick it in a pocket, or just lob it onto the hinge of the machine. Getting a new one will cost you $29.99, and we expect Surface Pro owners will have to buy a fair few.
That magnetic mounting for the stylus is also not suitable for carrying the tablet around in a bag. The stylus invariably fell off when we put the unit into a rucksack, and the keyboard covers also became detached if the unit was thrust into a bag – although keeping it in a laptop pouch solved that problem.
The future of the Surface Pro
We've been having a lot of discussions with sources at Microsoft about the future of the Surface. Is the hardware just Microsoft trying to seed a market with Windows 8 machines, or is Microsoft making a serious play as a hardware vendor?
On the face of it, the Surface Pro has limited prospects. Despite ploughing billions into the Xbox and selling some very nice peripherals, Microsoft is still, in its heart, a software company. It probably always will be – some firms are just wired that way. But nevertheless, one gets the impression that Microsoft really is serious in making the Surface the go-to brand for Windows 8.
Redmond folks tell us that the company is gearing up for a whole new generation of Surface Pro devices, and Microsoft's move to buy into Dell could prove very handy if it's as serious about the Pro as it seems. That said, the Surface Pro isn't intended to become the number one Ultrabook and sell by the multi-millions – at least from what we can make out – but instead to be a showcase and a premium system that gets people used to paying more for premium PCs.
Given the price point and specifications, Microsoft has a toughish sell. Not including a keyboard in the Surface Pro bundle feels cheap and ensures that almost everyone who buys a unit will spend at least $1,000 on a functioning mobile system.
For that kind of money we're not going to see too many field engineers using them – not with with IT budgets beng as tight as they are. The Surface Pro looks more like an executive system based on the current price points and use cases. Even then, the small screen size is a concern – the Surface really needs an external display.
A reviewer has to ask themself, "Would I buy this if it were my money?" For the Surface Pro the answer is, for this hack, a firm "No." The tablet is lovely, a beautifully engineered bit of kit with an excellent touchscreen, but it's not stable enough for safe knee-top use with the kickstand. That said, if I were working in a Windows office and just wanted something I could occasionally use in transit, I'd be tempted.
While Intel can sound off about how Ultrabooks should be priced at around $699, the fact remains that they are not. To get a touchscreen model with a decent amount of power under the hood, you're going to pay around the same price as the Surface's base-unit prices without the accessories, but you'll get a bigger display.
Apple fans will tell you that the 128GB iPad is only $799, and thus gives better value for money, but that's not comparing like with like, and even comparisons with the MacBook Air are not totally fair. The Surface Pro is a fully functional PC that you can load up with whatever software or operating system you like, and you can dual-boot Linux on there as well, once you've disabled Secure Boot. Try that with an iPad and see how far you get.
But if you're stacking the Surface Pro up against other Ultrabooks, then the system's cost is within the bounds of sanity. If Windows is your thing and you're not often working on the go, it's worth taking a look at the Surface Pro. ®
All non-cat photography by Rik Myslewski
Sponsored: Minds Mastering Machines - Call for papers now open