Review: Dell XPS 10 Windows RT tablet and dock
The convertible that Microsoft's Surface should have been?
Windows RT: unholy fondleslab abomination or clever integration of a grown-up desktop and touch-friendly tablet UI? Opinions veer wildly and violently between one and the other extreme.
The newest and first non-Nvidia Tegra 3 receptacle for Microsoft's alleged problem child is Dell's Asus Transformer-esque XPS 10. On paper, and in the flesh, it looks like the pick of the current RT crop.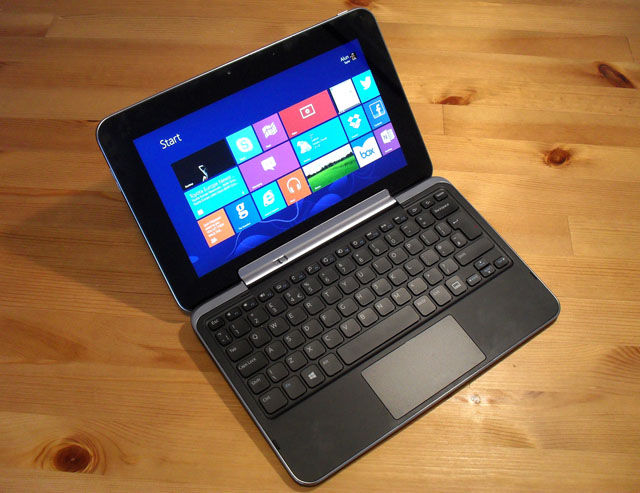 Dell's XPS 10: tablet, docked
Externally, the XPS 10 is a smart, solid and very well made if rather anonymous affair. The black and silver colour scheme gets a thumbs up as does the matte, rubberised coating on the back of the tablet, underside of the dock and the keyboard deck. It may start to look greasy rather easily but it makes for a warm, comfortable hold and a secure grip, which is more important.
Weighing in at 635g and measuring 275 x 177 x 9.2mm the tablet part of the package is near enough the same size and weight as Microsoft's Surface or any of Asus' Android-running Transformer offerings. Attach the dock and the weight increases to 1.3kg while the thickness doubles, but that doesn't take it beyond laptop proportions.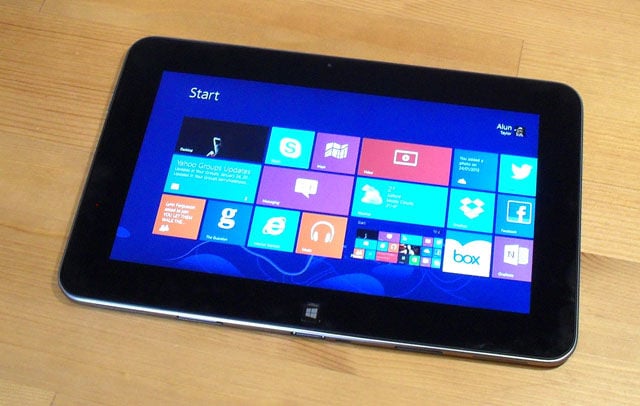 Tablet on its tod
A quick perusal reveals a decent array of connectivity. On the bottom, long edge of the tablet you'll find a micro USB port and dock connector-cum-charger, while the power and volume controls and a 3.5mm audio jack are dotted around the top and left side.
There is also a Micro SD slot on the top edge, tucked under a long, hard-to-open and none-too-solid flap. I'm guessing in due course a Sim card slot will appear under here too, hence the length. The box may say the XPS has a 64GB SSD but after Windows 8 and associated apps have grabbed their share, there's only 40GB free, so the memory card slot may come in useful.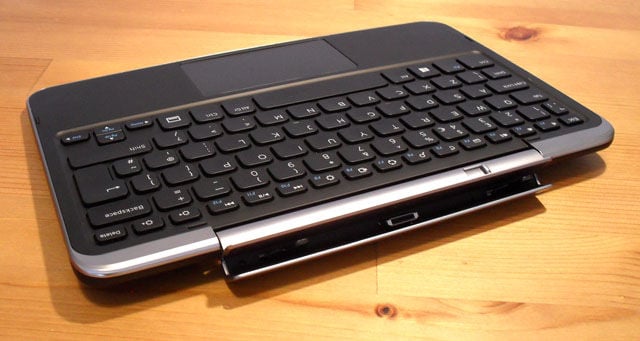 Dock alone
The dock adds two USB 2.0 sockets and a mini-HDMI port though when the tablet is docked you lose the micro USB connector because it's becomes hidden from view and access. Dell bundles micro USB-to-full USB and mini HDMI-to-full HDMI adapter cables, a move which deserves a round of applause. Wireless connectivity comes in the form of dual-band, 2.4GHz and 5GHz 802.11n Wi-Fi, and Bluetooth 4.0.
To dock the tablet you have to remove two plastic infills from the tablet then simply slip the two bits together until they literally click. I suspect the infills will be lost or discarded in short order - surely no one will keep putting them back after undocking the screen? Separating tablet from dock involves sliding a catch below the screen to release it. It's a solid and robust arrangement that should survive the test of time.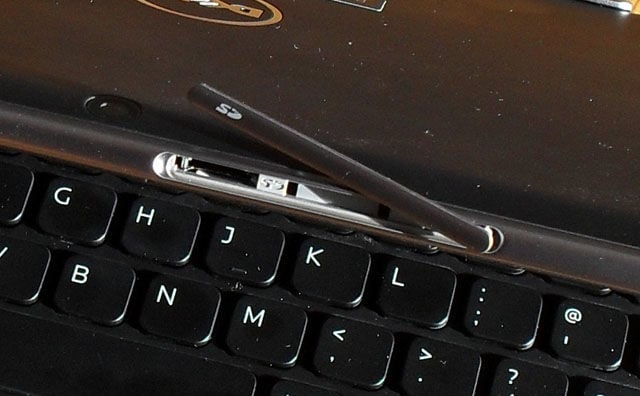 Room in there for Dell to add a Sim card slot in due course, you reckon?
The tablet's usefully loud loudspeakers fire out of the bottom of the frame safely away from accidental muffling by your hands. The dock obviously has a speaker or two of some description built into it because once docked sound quality goes from good to excellent.
If you are a compulsive webcam user or snapper you are well covered with a 5Mp main, rear-facing and 2Mp secondary, front-facing cameras. In terms of quality they are nothing to get excited about, but the resolution is a handy improvement over that offered by the Surface, both of which are sub-1Mp jobs.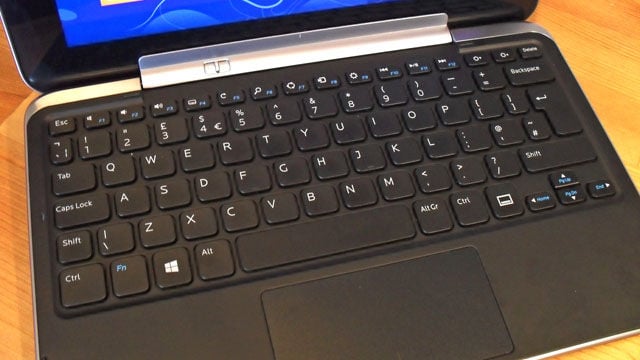 A decent notebook keyboard
The XPS 10's chiclet keyboard is a more impressive affair. Key travel is short but the action is precise and the base solid. All the expected keys are present, including the Windows Start and context menu buttons. There's even a Caps Lock light. Nothing wrong with the gesture-enabled touchpad, either, which is big and perfectly calibrated.
Unlike the Surface with its 10.6-inch panel, the XPS has a more traditional 10.1-inch IPS LCD screen, but the resolution is the same: 1366 x 768. The resulting 155dpi pixel density is mundane, to say the least, but the UI and its contents still look agreeably sharp and clear. It's not the brightest IPS panel I've seen but colour saturation is good and the viewing angles robust.
COMMENTS
Spend half of that money on a Nexus 10 & the other half on i5 Inspiron laptop. Job done.
Junk
I telephoned Dell, and they tried to offer me this as a replacement for a netbook, at £600 without the keyboard.
I laughed at them. This really is a joke of a product.
@Eadon Re "- Microsoft are paying you well for your ill-informed FUD, I trust?"
Ah yes Eadon. You are at it yet again are you not hmm? Anyone who says something you don't like is a villain or a shill. You expose your own pathetic bigotry with everything you post.
Re: @dogged
@Eadon how many times do you need to be told to stop accusing people of being shills?
Please stop it. It's immature and drags the whole site down with your level of discourse.
Thanks dogged, I was feeling terrible today, I needed a good laugh.