Socket to 'em: It's the HomeGrid vs HomePlug powerline prizefight
Rival mains LAN standards go mano-a-mano for a place in your home network
Silicon support
Then there's Broadcom. It hasn't formally announced a G.hn product but its 2012 acquisition of Gigle, a chip designer that was working on HomeGrid products, gives it the resources to do so. Certainly G.hn is one of the company's key areas of R&D investment, it says. So, though, is HomePlug AV2, and HomePlug cheerleader the HomePlug Alliance is keen to talk up Broadcom's enthusiasm for its latest technology. Indeed, during the time this article was being researched, Broadcom quietly airbrushed the word 'G.hn' out of its presentation, implying it's now all for AV2. So is Qualcomm's networking subsidiary, Atheros, which is also sampling its 500Mb/s AV2 QCA7450/AR1540 chipset ahead of mass production. Taiwan's Mstar is an AV2 supporter too.
While Broadcom appears to be shifting toward AV2, Sigma Designs seems to be moving in the opposite direction. It's a member of the the HomePlug Alliance and has developed and released HomePlug AV products. But since its G.hn chipsets are marketed as being "fully backward compatible" with HomePlug AV to ensure "every service provider who uses G.hn will have a smooth and seamless migration from these legacy deployments", it would seem to have hopped off the fence when it comes to which next-generation powerline technology it's going to back.
The two rival standards, then, both have big-name supporters who can punch out the chips that makers of network adaptors, home broadband routers, set-top boxes and even TVs can add to their own products. Both deliver essentially the same level of performance using similar frequency ranges: 1.8-80MHz for G.hn, 1.8-85MHz for AV2. And they both have the scope to boost throughput with MIMO and associated techniques if a given user's mains wiring can support it. Both incorporate Quality of Service (QoS) provision to favour streamed video content and have the bandwidth for multiple HD streams. Both have AES 128 encryption to secure the data flowing through the power cabling, and techniques to mitigate interference from other powerline LANs running on the same wiring - neighbours in apartment buildings with common cabling, for instance.
Given the close similarities, can either establish a clear lead over the other? Backers in each camp say they can. The HomeGrid Forum, for instance, claims G.hn has found favour with many of the world's communications service providers, big suppliers of powerline based kit to go with the broadband routers and set-top boxes they supply to subscribers. John Egan, the HomeGrid Forum's VP and also a Marvell executive, points out that the technology's developer, the ITU, is the organisation service providers look to for technology guidance and that many of those service providers were involved in defining G.hn as a standard.
Service provision
One in particular, he says, is already cracking the whip to encourage silicon vendors and kit makers to ensure their various offerings work harmoniously, the quicker it can begin conducting G.hn field trials in a programme Egan claims will take in "thousands of homes". He won't say who this service provider is, of course, but since the Forum's membership list reads like a who's who of the big names in global communications services, it's unlikely to be a nobody.
Of course, as Rob Ranck, President of the HomePlug Alliance, points out, there are a fair few service providers in the HomePlug camp too. Many of them have long been putting HomePlug kit into punters' hands through their home networking initiatives. For these folk, HomePlug AV2 represents a natural upgrade path from AV, or even older versions of the standard: the 14Mb/s HomePlug 1.0 and the 85Mb/s HomePlug Turbo. Let's not forget, he says, HomePlug AV, like G.hn, is a formal standard, this one set by the IEEE and called 1901.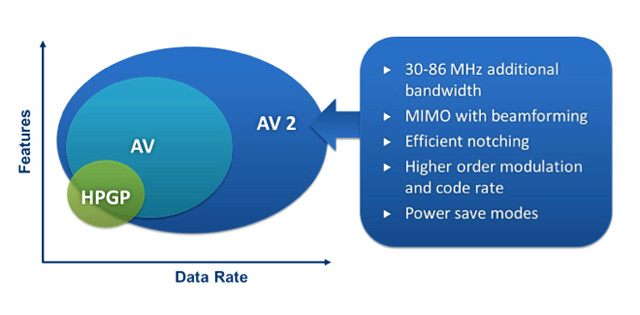 The benefits of HomePlug AV2 over AV
All the time the HomeGrid folk were extending their specification with MIMO and other additional features, HomePlug AV kit was getting into the marketplace. That was when G.hn had its chance, says Ranck: to come in and offer faster performance than AV. It didn't and now with AV2 imminent, it hasn't a chance, he insists. He also says HomePlug has the advantage when it comes to taking powerline to the next level: from being a network extension product to becoming a device-embedded alternative to Ethernet and Wi-Fi. At last month's Consumer Electronics Show (CES) in Las Vegas, the HomeGrid Forum demo'd a smart TV equipped with its favoured powerline technology. So did the HomePlug Alliance, in partnership with Chinese electronics company HiSense. The important difference: HiSense's TV is actually on sale - you can buy it China today.
To be fair, it uses HomePlug AV, not AV2. Kit based on the new technology won't be out until later this year, says Ranck, after the chips, many of which are sampling now, have gone into volume production and the products that use them undergo the Alliance's interoperability certification programme. So right about the time that G.hn kit comes to market, then. Ah-ha, he says, but our chipsets require fewer separate chips, so they'll be cheaper. Except Qualcomm Atheros' AV2 chipset is a two-part set, as is Sigma Designs' CG5200 series of G.hn chipsets. Marvell's 88LX3142/88LX2718 G.hn chipset too.
Sponsored: Learn how to transform your data into a strategic asset for your business by using the cloud to accelerate innovation with NetApp