Socket to 'em: It's the HomeGrid vs HomePlug powerline prizefight
Rival mains LAN standards go mano-a-mano for a place in your home network
Feature "Two standards, both alike in dignity,
In fair Vegas, where we lay our scene,
From ancient grudge break to new mutiny,
Where civil blood makes civil hands unclean."
The backers of rival next-generation in-home mains power networking standards may not have come to physical blows in defence of their favoured technologies, but each is no less dismissive of the other for that. Both camps - one in favour of the ITU-T standard, G.hn; the other siding by the HomePlug AV2 specification - claim they are in the ascendant and the natural choice not merely for the now established network bridge market but also for a new role as embedded networking in 'smart' devices.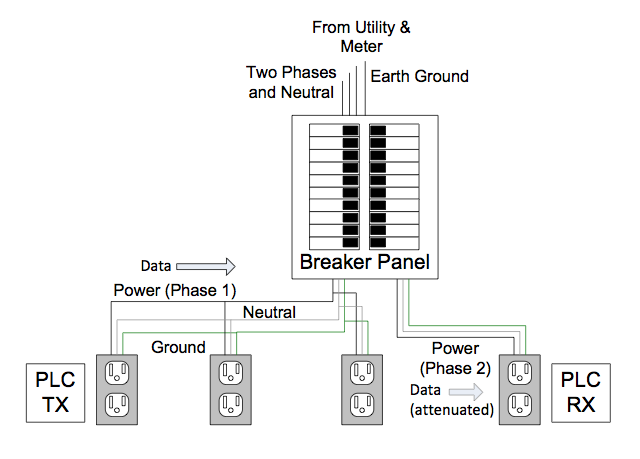 Powerline in the home
One of the two, G.hn, was finally fully approved by the International Telecommunications Union in June 2010; part of the standard, the PHY layer, had been ratified the year before. Thirty months on, G.hn has yet to arrive in products that people can actually buy and install. The organisation established to promote the standard and ensure interoperability between devices based upon it, the HomeGrid Forum, insists kit will be available in plenty of time for Christmas.
According to Forum President Matt Theall - who is also a Technology Strategist at Intel; the chip maker is very keen on HomeGrid technology - getting G.hn to market has been slowed by the accretion of new features since the standard's ratification. So, rather than release first-generation kit based in vanilla G.hn, chip makers held back - and, in turn, restrained adaptor makers. They waited for the additional, but optional technologies to come on stream first. A case in point: HomeGrid backer and silicon vendor Sigma Designs announced its first G.hn chipset back in October 2010; late last year, the Forum welcomed the company's second-generation offering, this one bringing on board the technologies introduced in the intervening period.
The most important of these is MIMO (Multiple Input, Multiple Output), a technique borrowed from the wireless world. It allows extra signals to be sent and received, in this case down the third power wire, Earth or Ground, if it's present. Current powerline technology uses single transmitters connected to the Live wires, with the Neutral line completing the circuit. G.hn MIMO adds a second transmitter/receiver pair, this one on the Earth wire, with the Neutral line common to both: two logical circuits on three wires.
Multiple Input, Multiple Output
The upshot is greater signal range and performance: a non-MIMO peak PHY rate might jump from 959.12Mb/s to 1918Mb.ps with MIMO turned on, HomeGrid supporters claim. It also gives G.hn adaptors the ability to cope with surge-protection devices, which usually considerably impede or, at worst, kill powerline signals. Surge protectors sit one the Live wire; if that's compromised, MIMO's use of the Earth link allows data to get through.
There's a benefit even when the MIMO-enabled kit is talking to a plain G.hn adaptor without the extra transmitters and receivers. The powerline signal sent out by the single input, single output (SISO) adaptor on one line is picked up and propagated by adjacent wires. The MIMO receiver can use these induced signals to better deal with with transmit errors, reducing the need for data to be re-sent, increasing the effective throughout.

MIMO, G.hn style
But G.hn's rival, HomePlug AV2, can take advantage of MIMO too. Like its opponent, AV2 also deliver better speeds than previous generations of powerline technology by extending the frequency range over which the data-bearing signals are modulated. In HomePlug AV2's case, that takes the theoretical maximum bit-rate from HomePlug AV's 200Mb/s - running in the 1.8-28MHz band - to 500Mb/s using extra frequencies made possible by an optional extension to the technology. The option, part of the IEEE 1901 standard, extends the operational bandwidth to 50MHz. HomePlug AV2 extends the frequency range further, right up to the FM band at 86.13MHz, to lift the theoretical PHY rate to 1Gb/s. The consequences of these higher frequencies we'll consider in a moment. MIMO raises AV2's peak speed from 1Gb/s to 2Gb/s. G.hn sees very similar gains for the same reasons.
In addition to Sigma Designs, there is G.hn silicon coming from Marvell, a big HomeGrid supporter. Marvell's latest, MIMO-enabled chipset, sampling now, was the first to be formally certified by the HomeGrid Forum. Taiwan's Metanoia has a chipset in the works that's due at the end of Q1 or early Q2. Israel-based Tangotec, a G.hn specialist, is working on a chipset too, as is China's Xingtera, a maker of silicon for ADSL products.
COMMENTS
Re: Crud generators.
The difference is that PLT devices prevent innocent radio amateurs and short wave listeners from persuing their hobby, but short wave listeners and radio amateurs don't stop computer users from enjoying their activities. PLT is by definition destructive and selfish. A kind of 'I'm alright Jack' device.
Re: Crud generators.
These PLT crap RFI "terror"-generators needs to be removed from the market because they create a huge amount of RFI-problems for all radio users, including blocking DAB and FM. They are basically illegal devices that do not meet the essential requirements of the EMC-directive. Also, they do not comply with EN55022 class B limits. Regarding amateur radio as a hobby (as some like to point out as a reason that makes it less important than streaming data or watching a RFI generating Plasma-TV etc.) does not mean that the essential requirements of the EMC directive 2004/108/EC is cancelled. All electronic devices must follow responsible EMC design and meet the essential requiremets of the EMC-directive. And using a CAT-5/6 (preferably shielded) for your "hobby" data-network will solve the problem with RFI on HF completely. PLT is a totally unnecessary device creating nothing but troble (same story with Plasma-TV's). The final decision for FprEn50561-1 is held back by the EU commission EMC-expert that refuses to approv it, because it allows higher levels of RFI than any earlier standard. FprEN50561-1 is basically a flawed proposal that wants to allow 1000 times higher levels of RFI on HF. I say remove PLT from the market permanently ! We dont need it.
Re: Crud generators.
Which "hobby" is more deserving?
The one that requires considerable technical study and examinations in order to obtain a licence from the government; plus the ability to set-up emergency communication-links during local/national/international disasters. My radios and aerials can cover anything from 20km around my home, to 2000km away in another country. Can your precious PLT answer the call for help?
Re: FprEN50561-1:2012 is not a standard!
Moving towards an inadequately regulated electromagnetic environment in the home where things can no longer be near guaranteed to coexist in harmony doesn't seem very wise to me. Throwing RF around unbalanced and unscreened cables is a wholly flawed idea, requiring an equally flawed specification. Has anyone seem adaptive notching in a product? No? I didn't think so because the cost of implentation would be too high.
What is good for the goose is good for the gander. If I was in the business of manufacturing LED lighting, SMPSU wall-warts etc, I'd be clapping my hands because I would design to EMC levels laid down in prEN50561 and argue that it is just as relevant to my products as PLT and save a shedload of cash by not fitting supression components. The upshot? No more EMC.
People can navel-gaze and whitter on about EMC and PLT being a problem for radio amateurs, but they fail to understand the real scenario. These things have been demonstrated to knock out FM and DAB radio and are of concern to the CAA and GCHQ. A colleague had an issue with LED lighting killing his DAB radio and in the early days of BT's peddling of PLT, they were seen to knock out their own users 27MHz wireless keyboards!
I have had to replace a number of switching PSU's supplied with equipment for linear ones because of interference to HF. Set Top Box PSU's are particularly awful. This is the tip of the iceberg and I am watching with great interest, waiting to hear the whines of fail from people whose radios, TV's or whatever begin to suddenly stop working.
Caveat emptor :)
Re: Crud generators.
Five so far. Coming across auto accidents in areas where there was no cell coverage. One was a rollover accident where 4 of the 5 passengers were ejected. Resulted in 1 fatality and 3 airlifted to the hospital. The other was a head on collision with 1 fatality and 2 severely injured. In both cases ham radio cut the medical response time by 20-30 minutes. Look up "golden hour" to see how effective that can be.