BlackBerry 10: Good news, there's still time to fix this disaster
The Z10 is hard work, a fair bit is missing, but not a write-off. Yet
Something positive: The hardware doesn't suck
The Z10 device itself is actually fine. It's not heavy but not too light. That goes for the design of the hardware, too. There's no evidence of skimping, and there is no serious omission for an early 2013 phone - except, perhaps, HD voice calling, which isn't supported. LTE and NFC are all present and correct. The screen and imaging are very nice, just not best-in-class. I got the sense that BlackBerry has left room for a higher-quality model in its product range; the company has done a nice job differentiating its premium Bold designs from the Curves, and a Bold surely awaits later this year.
BlackBerry also offers a few particularly strong features of its own. The on-screen keyboard is excellent, although it's a little disconcerting to see it always showing capital letters. The gimmick feature, first shown a year ago, of spraying word prediction suggestions onto the keyboard itself takes a little getting used to. It makes for a eye-catching demo to then "throw" one of these word suggestions up into the text entry field with a flick gesture.
In practice, I found it breaks the rhythm of typing. However, the word prediction is very good, and the first-choice suggestion is overlaid on the space bar in bold blue, so it actually integrates very nicely. Several reviewers consider the BB10 keyboard to be the best on the market, and it probably is.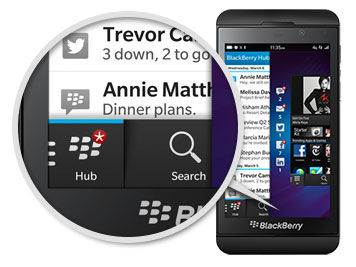 You have to move things out of the way to see your messages
The user interface also makes use of a popup menu, typically giving a wider range of options. The invaluable "Mark Prior Read", a BlackBerry favourite, is there.
In 2010, BB OS gained universal search that, allied to a sturdy physical QWERTY keyboard, transformed the use of the at-the-time ageing system. Users could give up filing away data and sorting their apps into folders, for it was pretty instant to find any app, email or setting from the home screen. This is carried forward to the new operating system. Is it similar to Apple's Spotlight, you ask? Yes, but it's either visible, or only one gesture away at all times. Searching emails is also much more sophisticated than rivals can offer.
Long-time BlackBerry users may miss one or two features. One is the decision to drop BIS (BlackBerry Internet Service) which transported messages between consumers. This may be a legacy system, and one that harks back to the days of 2G and similar low-bandwidth connections, but it had some significant advantages. BIS ensured users always had secure, up-to-date inboxes without draining the battery as the email traffic was encrypted and compressed ideally for lower-power networks. Now BlackBerry uses IMAP IDLE and ActiveSync to sync - or polling. This taxes the client device much more, and removes a BlackBerry USP.
One can argue that in an LTE world BIS had to be sacrificed to widen the appeal of BlackBerry's devices to the general public. The company is sacrificing considerable revenues from BIS to widen the appeal. It's a reasonable argument, but I can see stalwarts are already missing it - BIS was one of the things that made a BlackBerry unique. In fact, it's debatable whether a QNX-powered BlackBerry without BIS is any more a "real" BlackBerry than if RIM had chosen to build BIS into stock Android.
Stalwarts are already ruing the absence of the extreme customisation possible on BB7 today, particularly sound profiles, custom alerts, and shortcuts. Text expansion (typing 'sc' can expand into 'St. Custard's', for example) isn't implemented. I'm told the forthcoming BlackBerry Q10 - which has a physical QWERTY keyboard - will have shortcuts. Saving a search to a hotkey is very useful, and I hope that makes the release. But 'Berry owners who can today set up different colour indicators based on the type of incoming message will be disappointed to find BB10 doesn't implement that.
Evernote users should steer well clear. The system deeply integrates Evernote (and other freeform data managers) into the system - which is a nice idea. No separate Evernote application is needed, in theory - each Evernote notebook becomes a folder in the Remember app. However, the implementation is a disaster. All I could see was untagged notes, puked into an un-sortable alphanumeric list. I couldn't see my tags, let alone apply them for sorting. If you rely on Evernote, use another phone.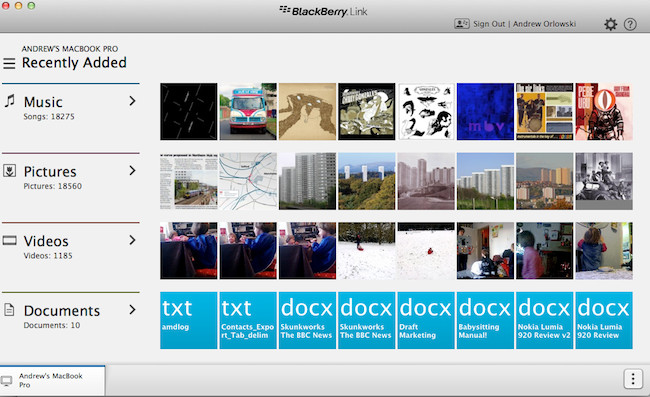 The new BlackBerry Link app - how reliable is it?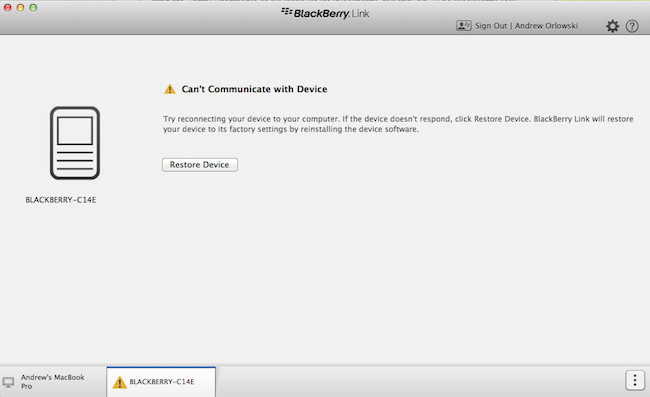 Ah.
On the plus side, BB10 shamelessly uses the idea of linking together multiple identities for a person, and bringing in their online activity updates that rivals, such as HTC, offer, and that Windows Phone does particularly well. It's a little clunkier on the Z10, I found. It's one of the few times I experienced a "wait" icon.
I also found the new Webkit-based web browser to be much better than anticipated. It displays pages very fast indeed, and includes a nice distraction-free reader mode. It's not perfect - while rendering after loading many pages, areas of the screen go black for a fraction of a second. I only encountered one crash, and it offered to selectively restart my tabs, much like Firefox.
Battery life is acceptable (particularly if you turn off 4G) and call quality is fine, if a little tinny. The latest Apple and Nokia devices all support HD voice, and so really, should the Z10
It's a strong smartphone - but strong enough?
While I was very impressed with the QWERTY-fied Q10, the Z10 highlights the immaturity of the new platform. I am surprised that for all the focus on usability, the Hub - in the state it's in today - makes you work far harder than you should. BB10 is a work in progress, and seems some way short of being complete. ®
Bootnote
This is a roundup of a few first impressions after a few days with BB10, not a device review. If you have specific questions about the Z10, I'll try and answer them in the comments below.
Sponsored: Minds Mastering Machines - Call for papers now open