US IT services sector takes some job hits in January
Ousted tech guys may be able to get jobs down the mines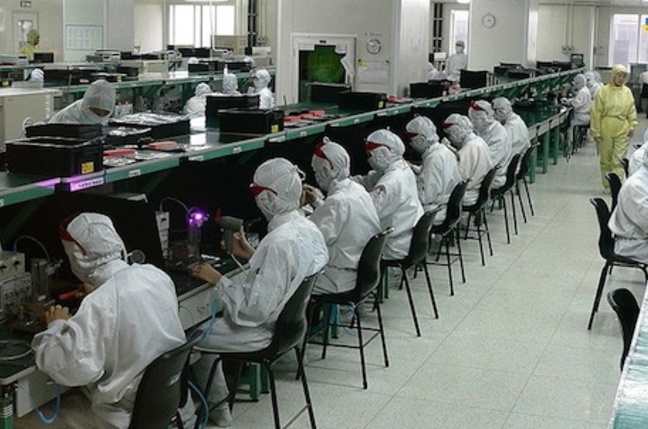 An expected, a slowdown in job creation in the United States in January with the Fiscal Cliff looming was massively offset by revisions in the job creation rate for November and December - according to this morning's report from the US Department of Labor.
Like clockwork, the Bureau of Labor Statistics issues its monthly jobs report on the first Friday of the following month, and as usual, it has gone back and done some revisions in data reported in prior months. This time around, the good news in the revisions has far exceeded the bad news that the creation of 157,000 net new jobs in the economy was a bit lower than the 166,000 that economists had been projecting.
And the much more aggressive job creation as 2012 came to a close will also offset the news that the unemployment rate actually ticked up a tenth of a point to 7.9 per cent. That unemployment rate could continue to increase as workers who had left the labor pool when they stopped looking for work start to come back. The important thing would be for companies to create jobs faster than these people, who are ignored from the official unemployment rate once they stop seeking jobs, get back out there and start looking again.
At the moment, this doesn't seem to be happening, but we are getting closer with the economy now averaging the creation of 200,000 non-farm jobs on average over the past several months. The BLS has revised the number of jobs that it thinks the US economy created in November last year to 247,000, up from a revision last month to 161,000 and an initial figure of 146,000 when the November jobs report came out on the first Friday in December. The December jobs figure was boosted to 196,000 net-new workers, up from the 155,000 reported in the first week of January. It is generally held that the US economy has to add around 200,000 jobs per month just to keep up with population growth.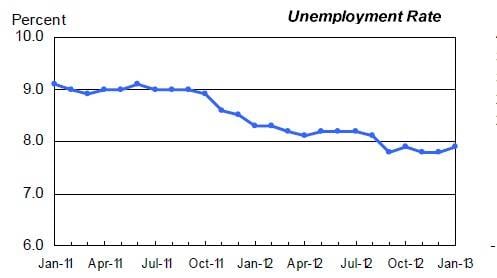 The US unemployment rate bumps up in January
The unemployment rate bumping up has an interesting side effect. The US Federal Reserve has basically promised to hold interest rates low and to inject capital into the money supply by borrowing until the unemployment rate falls to a level that is lower than now. The Fed has not specified a rate at which it would start tightening the money supply, but chairman Ben Bernanke has been clear that getting the unemployment rate down is job one for the Fed and low interest rates are the main lever by which it can (hope to) achieve it. Not everyone agrees with this theory, of course. But they don't run the Fed, and Bernanke does, and more importantly the interest rates the Fed sets affect many aspects of our lives. Like what rates you pay on mortgages (although not in a linear fashion because banks suck).
You can argue that the jobs report itself is suspect – we think the government could do a better job actually counting real jobs by title so we could actually understand the jobs market as opposed to the employers market as it is diced and sliced currently by industry, for instance. We should be able to ascertain how programmers and system administrators are doing in the real economy, not based on samples from headhunters.
Despite its many flaws, the BLS jobs report has an effect on the US economy, which means you need to pay attention to it. When the numbers are good, the economy tends to loosen up a bit. Companies certainly freak out when their peers are shedding 700,000 or 800,000 jobs a month as happened during the Great Recession a few years back. The good news is that you can't see that negative data in the current BLS data because the charts only go back two years. It is almost like it never happened – unless you lost your job three or four years ago and still can't find one.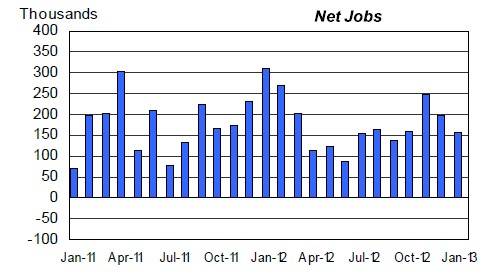 The US has added an average of 200,000 jobs per month over the trailing three months
In January, retailers added 33,000 workers and wholesalers added 15,000 people, according to the BLS, while construction companies added 28,000 workers. The construction industry is about 2 million workers lower than the peak set in April 2006. Healthcare companies added 23,000 employees last month, and mining companies added 6,000 workers. Transportation and warehousing companies shed 14,000 employees, as expected following the holiday shopping season. Employment at manufacturers was more or less unchanged.
Looking at the raw (and not seasonally adjusted) data, manufacturers who make computer and electronic products cut 3,300 workers, to a pool of 1.08 million people. Within this category, those making computer and peripheral equipment added 400 workers to 159,300 people, according to the BLS, but those making communications equipment cut 1,100 workers to 107,600. Semiconductor and electronic component makers cut 400 workers, to a total of 382,600 people.
Within the information sector of the economy, which covers all forms of media and communication, telecom companies actually added 4,000 workers to a pool of 856,500. Data processing and hosting services companies cut 2,500 people last month, so this wasn't helping the overall job market.
In the services sector proper, companies engaged in computer systems design and related services firms cut 10,800 workers, and management and technical consulting companies cut an even deeper 16,300 workers. Combined, these areas employed nearly 2.8 million people in the United States. So a tiny wiggle in terms of percent of the labor pool ends up being a fairly large number in terms of absolute number of jobs gained or lost in a month. ®
Sponsored: RAID: End of an era?