Ball-gazer on 2013: More like Crystal Maze for channel biz
BYOD, buyouts, VDI - Will you start the fans, please?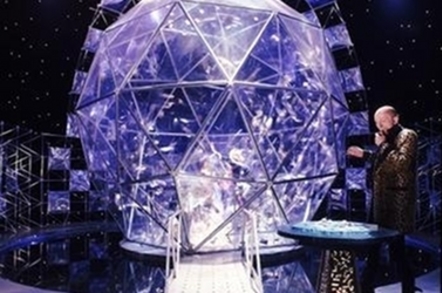 Well, it's that time of the year again: time to engage in some belated amateur crystal ball gazing to pick out the channel trends of the next 12 months. In all honesty, I think 2012 went better than any of us could have hoped, given the continued macro-economic slump throughout Europe.
Considering the less-than-glorious forecast for the coming year many will fear the worst, but there is definitely success to be had as long as channel players don't get sucked into a price war.
According to analyst Canalys, at the halfway point through 2012, UK distributors grew their business by a negligible amount, vendors did a bit better, while resellers topped the lot with around 10 per cent growth.
Vendors could have done better but as competition grew for the best resellers many were caught giving away margins to bag business. This short-term strategy to keep the wolf from the door is simply not sustainable for any length of time especially if the economy gradually recovers, and could well lead to a few casualties next year.
There has definitely been more stability in the reseller world than in vendor sphere or in distributor land, which has helped their success in 2012. When it comes to generating sustainable success going forward however, those that follow the path of value rather than price and look to offer managed service packages or bundled solutions rather than cheap point offerings will prosper.
This has already been happening to an extent in 2012, for example in the sphere of virtualisation security. It's been one of the key growth areas for Trend Micro while more traditional segments such as AV have barely increased at all. We've seen huge increase in project-based virtualisation, and there is optimism that VDI rollouts, especially among government customers, are going to be in huge demand next year.
Virtualisation is one of those areas where resellers can really provide that value-add - that expertise and know-how to offer customers a holistic solution to a business problem. It's good for them, for the vendors and the channel as a whole if we move towards these kinds of deals and away from the high-volume, low-value contracts which can only end in a destructive race to the bottom.
Another benefit of virtualisation for the channel in this time of economic cutbacks is that it perfectly fits the CIO agenda of consolidating and cutting infrastructure costs.
Looking ahead, Advanced Persistent Threat technology is another area where resellers and vendors have a great opportunity to work together to respond to huge customer demand for a solution to their security problems. Again, we've seen the larger customers - including public sector bodies and some big name banks - looking at this area in 2012. We're likely to see more next year, with the mid-sized market following suit as market awareness grows.
BYOD and mobilisation
Mobile and consumerisation is another area where the channel can tap a growing industry trend to provide solutions to business problems. With BYOD snowballing in 2012 and set to continue next year there's an opportunity for resellers to use their expertise to knit together different but complementary technologies into effective mobile device management/security solutions. Mobile products from Good Technology and Trend Micro fit together well, for example, but are sometimes thought of as non-complementary – it's the resellers' value-add that will bring such offerings together in a compelling solution.
This year also saw a fair amount of consolidation in the distributor world, and given these things tend to run in cycles, 2013 could well see more of the same but in the reseller space. SecData has already acquired Quadrant, so expect more deals of this nature. However, if this does set off a domino-like acquisition spree it is likely to lead to a return, in the short term at least, to more low-margin deals as the acquiring firms try to generate RoI from their purchases. Let's hope for the channel's sake that this doesn't become the norm again. ®
Sponsored: Minds Mastering Machines - Call for papers now open