Fusion-io nosedives as Facebook, Apple finish scoffing flash and chips
Shares tumble on weak Q3 outlook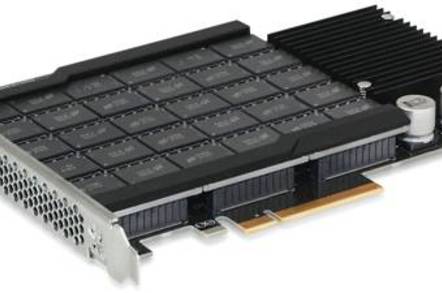 Flash memory maker Fusion-io's revenue is forecast to decline by 30 per cent from last quarter to the next, ending its meteoric growth.
Sales in the company's Q2 of fiscal 2013, which ended on 31 December, rose 43 per cent year on year to $120.6m, an 8 per cent rise on Q1 and a record for the company. Profits of this latest quarter were just 1.4 per cent of revenues at $1.7m. The company is building up its infrastructure and products rather than amassing profit. The year-ago net income was a $5.7m loss so the annual net income comparison is positive.
The kicker is the outcome for the next quarter: revenue of about $80m, a 33.6 per cent fall, in a booming market. There's likely to be a loss, possibly a substantial one, rather than a profit next quarter. Back in the second fiscal 2012 quarter revenue was $84m and Fusion-io made a $5.7m loss.
With more employees now, the loss next quarter could be between $10m and $15m, according to the company's chief financial officer Dennis Wolf. What's going on?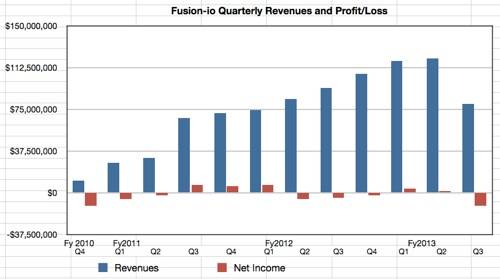 Fusion-io revenues and net income to Q2 fiscal 2013 with dismal third quarter outlook added
To reassure us that the long-term picture is good, Fusion-io said it expects full fiscal 2013 year revenues to be between $420m and $440m; they were $359.3m in fiscal 2012. The implication is that the fourth quarter will see a substantial revenue jump back up to somewhere between $101m and $121m.
The problem is that Fusion-io's sales are highly susceptible to order rates from its top customers, namely Facebook and Apple. Wolf referred to this, initially saying how great they were as long-term customers: "Our two largest customers have purchased nearly half a billion from Fusion-io since 2010, representing robust adoption of our technology. There is a lot of potential with these key customers, and the change in our guidance reflects a two-quarter shift in the timing of their bulk purchases."
He added that the flash chip biz has $365m in "cash and equivalents". Investors took heart and the stock initially rose 3.3 per cent overnight to $20.09 a piece - then fell by as much as 24 per cent in extended trading.
The earnings call - a transcription is available from Seeking Alpha - revealed more information as financial analysts quizzed bosses on this forecast growth reversal. Specifically, the callers were concerned that just two customers can cause a 33 per cent quarterly revenue drop by altering their buying patterns.
Co-founder, president and CEO David Flynn talked of "broadening the base of the core business", and said: "We had 10 customers place orders in excess of $1m, including a large Chinese gaming and social networking company, a rapidly growing cloud-based company, and two of the US's largest telcos. EMEA orders nearly doubled year over year and Asia-Pac orders grew more than 130 per cent year over year."
But Fusion-io is still confident that Facebook and Apple will order lots more Flash NAND gear to keep applications' hot data in faster-than-disk memory and thus earn a performance increase. Flynn said other web companies were facing the same "hyperscale" computing problems and "five of the 10 orders over a million dollars this past quarter were for ioScale," Fusion-io's superdense flash card for dealing with this.
Wolf added that "Facebook, Apple, and HP combined represented 69 per cent of total revenue, and 34 per cent, 16 per cent, and 19 per cent respectively".
Analyst Katy Huby of Morgan Stanley asked a key question: "Is there any risk that those customers are taking a step back and rethinking their architecture and maybe considering or inviting new competitors in to bid for their next round of business?"
Flynn replied: "We don't see a risk from the competition from that point of view. We see the point where the elasticity tips to where, even for sheer capacity, performance aside, that Flash will ultimately displace disks. And we expect to be at the forefront of that in how we structure our product offerings for this market."
As for Facebook and Apple, Flynn is confident that "when they decide to build new data centres or moving to new apps, that it will be with Fusion-io". ®
Sponsored: Minds Mastering Machines - Call for papers now open