Dell control freaks its own hardware stacks, VMware and Microsoft hypervisors
New SAP HANA appliances based on 'active infrastructure'
The ownership of Dell, the company, may be in flux, but Dell's aspirations in the software business are clear, and with the launch of a new control freak for Dell Active Infrastructure integrated systems, Dell wants companies to use its system and hypervisor management tools instead of alternatives from hypervisor makers such as VMware, Microsoft, and some day Red Hat.
Dell has wanted to do more than just resell other's technology for some time, and that is why it bought Scalent in July 2010 after partnering with it in September 2009. That gave Dell the capability of provisioning physical PowerEdge servers as well as provisioning Hyper-V, XenServer, and ESXi hypervisors and their virtual machines running atop the physical servers.
Dell licensed self-service provisioning tools from DynamicOps – a chunk of code called Cloud Automation Manager by DynamicOps – to be the front-end for its Virtual Integrated System (VIS) management tools that have subsequently been mashed up with Scalent to create what Dell calls Active System Manager.
The problem is that Dell doesn't own that DynamicOps code, which makes it tough to tweak, and an even bigger problem is that VMware snapped up Dynamic Ops back in July last year right under Dell's nose. That left a software hungry Dell, both the company and the man as it turns out, looking around for an alternative set of control freakage to peddle instead of giving up and just reselling VMware's and Microsoft's respective vCenter/vCloud and System Center tools.
Dell expects customers to have mixed environments, and has said so for years, and moreover is under the gun to get more sales and profits from software. And so to solve all of these problems at the same time, Dell inhaled upstart cloud control freak Gale Technologies last November for an undisclosed sum and now has an alternative product that will actually let it sell its own hardware and software stack, complete, using a mash-up of Scalent and GaleForce tools with a smattering of the DynamicOps code.
Ben Tao, director of global product marketing for converged infrastructure systems at Dell, did not want to get into the exact composition of the new Active System Manager 7.0 tool, which can be thought of as an upgrade to the prior GaleForce 6.1 that had been shipping before Dell bought Gale Technologies.
But what is clear is that Dell wants to mix up the best of Scalent and GaleForce and will be moving away from the DynamicOps portal over time because it does not want to be beholden to VMware.
Gale Technologies was founded in June 2008 and uncloaked from stealth mode in March 2011. It was formed from two companies that sold virtual machine "lab management" tools for test and dev environments and network management tools, and the idea was to expand beyond this and allow for the provisioning of virtual and physical servers as well as their servers and networking. Unlike VMware's vSphere/vCloud stack and like DynamicOps, GaleForce can provision just about anything you can put on a network.
It cost $50,000 to license GaleForce 5.3, which became available when the company uncloaked, on a cluster of servers with 60 virtual machines under management, which is what has Dell excited.
The early GaleForce tool had resource adapter agents for a wide variety of servers, storage arrays, and switches, but initially only supported VMware's ESXi hypervisor and Citrix Systems' XenServer and Amazon's EC2 cloud and Rackspace Hosting's eponymous cloud out there on the public fluffery.
In January 2012, Gale Force added support for the KVM hypervisor from Red Hat to GaleForce as well as adding a slew of adapters for new servers and storage.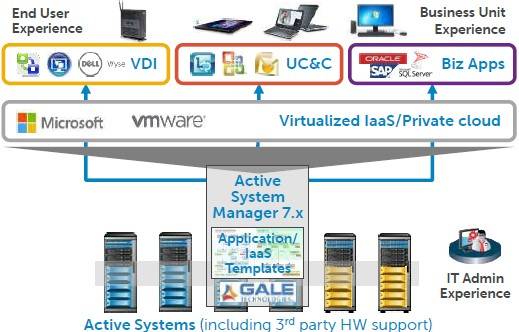 Dell is weaving the acquired GaleForce into Active System Manager
It is hard to say, but it looks like most of the Active System Manager 7.0 announced today is actually the GaleForce tool, and some features, such as KVM support, have been deprecated for reasons Dell has not explained.
With the 7.0 release of the mashed up control freak, Dell is running Active System Manager inside a virtual machine appliance. It can be in VMDK format and run atop VMware's latest ESXi 5.1 hypervisor and can provision that hypervisor and its virtual machines.
The 7.0 version of the Dell control freak can also be deployed in a VHD format and run atop Microsoft's Hyper-V 3.0 hypervisor, but ironically, it will not be able to provision and manage Hyper-V and its VMs until a 7.1 update is available at some point in the future.
It is not clear what Dell's plans are for supporting XenServer and Hyper-V, which were already in the GaleForce tool but have not made the jump into Active System Manager yet, and neither has support for Amazon and Rackspace public cloud infrastructure, or the Dell Cloud, for that matter.
Active System Manager 7.0 will ship in the US in late February and will be available to customers in the late spring in EMEA. Eventually, third party switches and storage arrays will be supported, and presumably non-Dell servers, but Tao was not at liberty to discuss the plans for servers.
The whole point of the Active Systems is that they are integrated stacks of Dell hardware, so this would be counterintuitive at one level. But what Dell might be thinking is that companies buy Active Systems for a specific workload and then bring non-Dell iron under management, thereby obviating the need for customers to blow dough on other management tools.
Pricing for Active System Manager 7.0 was not announced because it was not yet shipping.
HANA and her six PowerEdge sisters
Commercial software maker SAP is over the moon with the initial success it is seeing with its HANA in-memory database, which was created to speed up analytics and is now a database that can support the company's Business Suite applications.
The HANA database is not just an appliance – meaning a software stack that SAP and its server partners certify to drop into their existing environments like a firewall or a router – but one that SAP is very tightly controlling.
For instance, if you want to create a HANA appliance, you have precisely two processor choices, and they come from Intel. They include the Xeon E7-4870 for four-socket servers and the Xeon E7-8870 for eight-socket servers. Those are top-bin, ten-core "Westmere-EX" parts that run at 2.4GHz and that cost $4,394 and $4,616, respectively, when purchased in 1,000-unit trays from Intel. The Xeon 7560 was certified in earlier generations of HANA appliances, and SAP probably would have been happier had a "Sandy Bridge-EX" Xeon E7 part had come to market last year as expected.
The important thing is this: All of the server makers are restricted to using the same engines for HANA appliances, so it is a bit like a NASCAR restrictor plate race where all drivers are given the same horsepower to play with and therefore it is a test of skill, not a test of iron.
This runs counter to the server business, where you want to tune up the iron as much as possible, but what can you expect from people who love software more than hardware.
The top-bin Xeon E7 parts have plenty of CPU oomph, memory capacity, and I/O bandwidth, and if you are deploying software from SAP the odds are that if you want in-memory processing, a few extra tens of grands for a server node is not going to break you.
But you may have HANA processing needs that extend beyond a single box – particularly if you are going to run the Business Suite ERP stack on top of HANA. It is for these cases that Dell is rolling out new PowerEdge clusters with Compellent storage arrays as part of the Active Infrastructure preconfigured system lineup.

Dell is expanding its SAP HANA appliance configurations
Dell has been peddling single-node HANA appliances based on its PowerEdge R910 server since last May, with three configurations as shown above. The machines have PCI-Express flash storage cards to boost their I/O bandwidth into main memory; they scale up processor, memory, processor count, and disk storage more or less in lockstep, doubling from one machine to the next.
With today's clustered HANA appliances, Dell is sticking with the R910 server using the Xeon E7 processors and is clustering together multiple nodes with Compellent SC8K disk arrays. Dell is taking the flash out of the servers and putting it into the arrays, but the effect is the same: speeding up data coming off spinning disk and getting it into main memory as fast as possible.
The base scale-out HANA configuration has two PowerEdge R910 servers in the Active System stack, with one standby server for high availability. Each node has four Xeon E7 processors and there is a total of 1TB of usable memory across the two active nodes.
The base configuration has one Compellent SC8K array with three storage trays. The storage setup has one 24-bay SC220 tray filled with 13 SSD drives that have 200GB of raw storage capacity mated with two SC200 trays (each with 24 bays) and that have them full with 600GB 10K RPM disk drives.
That gives you 48 disks with 28.8TB of storage and 13 SSD drives with 2.6TB. This ratio of disk to flash meets HANA's stringent appliance guidelines.
If you to double up the memory on the HANA cluster, you add two more PowerEdge R910 servers to the rack for a total of 2TB of memory across the cluster, and if you want to expand up to 4TB, you have a total of eight PowerEdge R910 nodes and you double up the disk and flash.
For those that fancy going beyond this, you can add four R910 servers and one Compellent array for every 2TB of additional memory you want HANA to romp around within. SAP currently puts a ceiling on HANA of 8TB of main memory across a single system or cluster.
Pricing for the HANA appliances was not announced, but they are available now. ®
Sponsored: Minds Mastering Machines - Call for papers now open