Iran develops working ICBM: Intercontinental Ballistic Monkey
Simian shoots off to heaven … and back again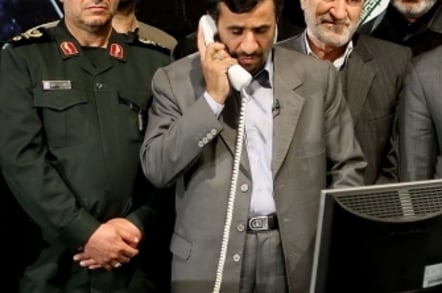 Iran's first monkey astronaut successfully completed its debut mission into space on Monday in what the Islamic republic said is a prelude to manned expeditions within the next few years.
The courageous simian travelled in a bio-capsule aboard the Pishgam (Pioneer) explorer rocket and orbited the planet at an altitude of 120km before returning safely to Earth, according to the government-affiliated Fars news agency.
Iranian President Mahmoud Ahmadinejad wants to send humans into space by 2019 and the republic has been ramping up its human space flight efforts in recent years. It fired its first satellite, Omid, into the heavens in 2009 and a year later launched a capsule carried by the Kavoshgar-3 rocket containing a rat, turtles and worms, said Fars.
Experts have raised concerns that the flight, and Iran's space programme in general, is being used as a cover to develop long-range missile technology which could be used to fire nuclear warheads.
US State Department spokeswoman Victoria Nuland told reporters that if the launched had taken place it would be viewed as "a serious concern", according to Reuters.
That concern may arise because the launch probably violated UN Security Council Resolution 1929, which bans "any activity related to ballistic missiles capable of delivering nuclear weapons, including launches using ballistic missile technology". ®
Sponsored: Minds Mastering Machines - Call for papers now open