Dead Steve Jobs tried to KILL Ashton Kutcher from beyond the grave
Method acting lands hunk in hospital, cracking whip at real startups
Hollywood heartthrob Ashton Kutcher was "terrified" and spent time in hospital after trying too hard to achieve authenticity in his depiction of the late Apple co-founder Steve Jobs in a new film.
The actor - who stars as Jobs in the new movie jOBS - used method acting to get inside the head of the great entrepreneur who built the world's most valuable tech company out of his parents' garage. But deciding to follow the Apple Inc founder's fruitarian diet for two days was too much for Kutcher, putting the actor's pancreas "out of of whack" and putting him in hospital.
"It was honestly one of the most terrifying things I've ever tried to do in my life," the actor said of his two days eating fruit, in an interview with the Associated Press.
"I was like doubled over in pain, and my pancreas levels were completely out of whack, which was completely terrifying, considering everything."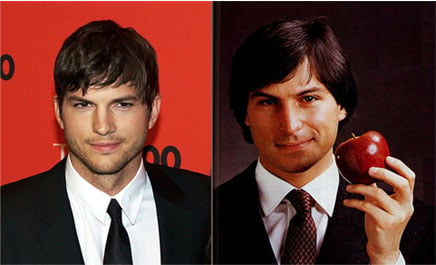 Kutcher, left, stars as Steve Jobs in jOBS
According to the Walter Isaacson biography, Jobs would spend weeks mainly eating one food - for example carrots. Jobs died of pancreatic cancer aged 56 in 2011.
But though Kutcher couldn't hack the fruit and nut diet, he could empathise with the technological genius that motivated Jobs. Kutcher runs a venture capital fund in Silicon Valley called A-Grade investments:
What was nice was when I was preparing for the character, I could still work on product development for technology companies, and I would sort of stay in character, in the mode of the character.

But I didn't feel like I was compromising the work on the film by working on technology stuff because it was pretty much in the same field.
No mention of the health effects of running around screaming at people, another salient characteristic of the great tech CEO.
Kutcher's performance has been praised, though the film itself received a mixed reaction at the Sundance Film Festival, where it premiered last week. ®
Sponsored: Minds Mastering Machines - Call for papers now open