NBN Co trials migration incentives
$AU108 to encourage customer adoption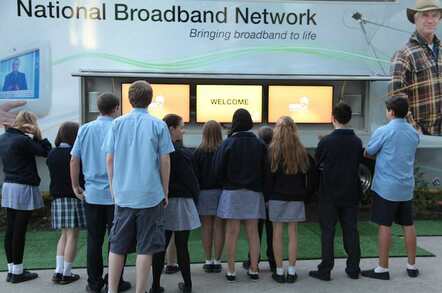 Last week, NBN Co – the company building Australia's National Broadband Network – announced trials of a $AU108 migration incentive for retailers.
The payment is made to retail service providers in selected NBN-ready areas to encourage them to move customers off their own infrastructure (such as ADSL) to the NBN fibre.
Described as a "bounty" by The Australian, NBN Co confirmed to The Register that the migration incentives were recommended in 2010 by the government's $AU25 million implementation study for the network.
In fact, that study recommended a migration payment which, at around $AU300, is far higher than the incentive NBN Co is now trialling.
NBN Co spokesperson Andrew Sholl told The Register in an e-mail that the $AU108 incentive is "one of a number of standard promotional activities" the organisation is testing. The aim, he said, is to identify what types of promotions work best, so while this offer is open to all retailers, it is currently restricted to "a handful of FSAMs [El Reg: Fibre Service Access Modules – a geographical unit of NBN end-user services.]"
The incentive is aimed not at end users – since NBN Co has no direct relationship with the consumer or business – but at the retailers. As a result, he told The Register, the impact the incentive has on end user pricing will depend on individual retailers.
Speaking to Communications Day, iiNet CTO said the migration offer is "no different" to other wholesaler incentives offered over the years, and said that by encouraging the shift, NBN Co was ensuring that its revenue from an end user starts as soon as possible.
The incentives come as NBN Co announced that it has now connected more than 34,500 premises out of nearly 340,000 premises passed. Satellite services to the most remote premises still dominate the connections at more than 23,000, but there are now more than 10,000 fibre users connected to the network.
Mike Quigley, CEO of NBN Co, said the connection rate is now entering a rapid ramp-up, and committed the company to adding more construction resources to meet its 2012-13 target of more than 661,000 premises passed by June 2013. ®
Sponsored: Minds Mastering Machines - Call for papers now open