Waiter! There's a phone in my soup
'iBowl' makes lunch less lonely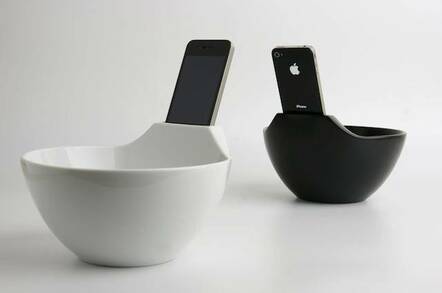 Salvation is in sight for iPhone addicts who find they can't put their handsets down long enough to eat lunch, thanks to New York company Miso Soup Designs' "Anti-Loneliness Ramen Bowl."
The bowl's design is simple: a slot in rim is just the right size for an iPhone and hides its button but leaves the screen free for swiping. The phone sits nicely above the rim of the bowl, so the soup and ramen noodles within won't be in danger of a delicious death.
Miso Soup Designs seems to have come up with the bowl as a nice design, rather than as something it intended to commercialise. News of the bowl has, however, done the rounds of the internet and the company has now started taking orders for the real thing through its Facebook page.
A venn diagram describing the population sharing an iPhone and ramen obsession probably has only a slim oval at its centre, but ramen devotees ardour may be comparable to that expressed by Apple fanbois. To understand why, consider Sydney restaurant Gumshara Ramen where Chef Mori daily boils down 120kgs of pork bones until the marrow seeps out to create a gluggy soup containing nought but pork and water. Mori trained in almost monastic manner at a Kyoto ramen restaurant rated Japan's second finest. Top chefs now consider his unglamorous eatery a minor pilgrimage site.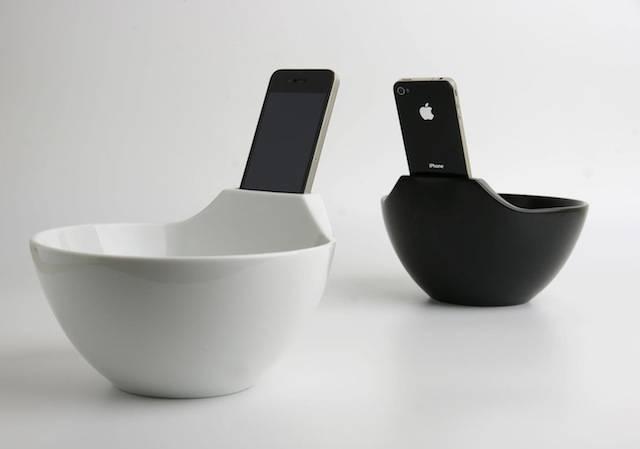 The 'Anti-Loneliness Ramen Bowl', which we like to call the iBowl
Devotees of the dish may not be able to lift their eyes far from their soup bowls, but even the experience of a top ramen may not be enough to make a little entertainment along the way desirable. Or perhaps the angle the phone stands at makes FaceTime possible, for some realtime ramen sharing.
Prices for the receptacle, which we like to think of as the iBowl, haven't been announced. ®
Sponsored: Minds Mastering Machines - Call for papers now open