Samsung beat Apple for most chip purchases in 2012
Meanwhile, PC and notebook makers cut back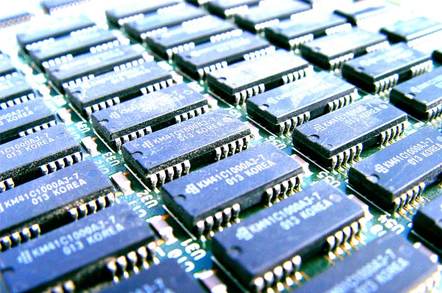 Samsung surpassed Apple as the leading consumer of semiconductors worldwide in 2012, while slumping demand for traditional PCs and notebooks caused several other competitors to reduce their demand, according to the latest figures from research firm Gartner.
"The PC market still represented the largest sector for chip demand, but desktop and mobile PCs did not sell well, as consumers' interest shifted to new mobile computing devices like smartphones and media tablets," Gartner principal research analyst Masatsune Yamaji said in a statement on Wednesday.
Samsung bought a total of $23.9bn worth of chips during calendar year 2012, an increase of 23.9 per cent. Apple – which held the top spot in 2011 – spent $21.4bn, a 21.4 per cent hike. Together, the two companies accounted for 15.2 per cent of the total market.
Those figures jibe with sales estimates from other sources. While Samsung and Apple have been competing fiercely for share of the connected device market, the South Korean firm managed to beat Cupertino's sales volume in early 2012 and maintained its lead throughout the year, according to research from IDC – although Apple's devices were more profitable.
Meanwhile, companies that relied more heavily on sales of traditional desktop and notebook PCs scaled back their chip purchases for the year, with several reducing their demand by double-digit percentages.
HP spent $14bn on chips in 2012, a reduction of 12.7 per cent from the previous year, while Dell cut its demand to a mere $8.6bn, which was 13.4 per cent less than it spent in 2011. Toshiba reduced its spending by 17.1 per cent, to a total of just $6.5bn. Spending by Cisco and Lenovo remained essentially flat.
But just being in the smartphone and tablet markets was no guarantee of success last year. While Lenovo is primarily known as a PC maker in the West, its smartphones sell well in Asia, yet it experienced nothing like Samsung's growth. Similarly, Sony only upped its budget for chips by a modest 1.9 per cent, to $7.9bn.
Meanwhile, other mobile makers took a beating as Apple and Samsung increased their dominance in the space. Struggling LG, which spent half of 2012 in the red, cut its chip purchases to $6bn, a reduction of 6.7 per cent.
The company that scaled back its semiconductor demand the most, however, was Nokia. The Finnish firm, which for years was the world's leading handset manufacturer – a title now held by Samsung – cut its chip spending to $5bn in 2012, a whopping 42.6 per cent reduction.
Nokia has seen its sales volume decline in successive quarters, and in the fourth quarter of 2012 it shifted 24 per cent fewer units than it did in the same quarter the previous year.
But all is not lost. According to Gartner's Yamaji, price competition in the smartphone and fondleslab markets was "severe" and it was hard for competitors to differentiate their offerings, which could yet leave an opening for a smaller player to gain a foothold.
"Innovations in device hardware will soon be copied by competitors, as semiconductor vendors will soon provide commercial SoC (system-on-chip), software and reference designs to hardware vendors needing to catch up with innovative market leaders," Yamaji said.
In other words, Samsung and Apple might lead the pack now, but in a market that moves as swiftly as theirs, they'll do well not to rest on their laurels. ®
Sponsored: Minds Mastering Machines - Call for papers now open