Review: Infiniti M35h hybrid sports saloon
To infinity and... er... Skelmersdale
Speed merchants and tree huggers apply here
The last is for treacherous conditions, while Eco provides the best fuel economy by dialing the throttle response so far back it makes you want to self-harm. Acceleration response sharpens considerably in Normal, while Sport takes things one step further and gingers things up significantly.
Assuming you can live with Eco mode, you can cover around 30 per cent of your distance under electric power. Ater an 18-mile dawdle around Skelmersdale, the EV distance covered showed as 5.6 miles. In Sport mode that figure drops to around 20 per cent, which still isn't too shabby.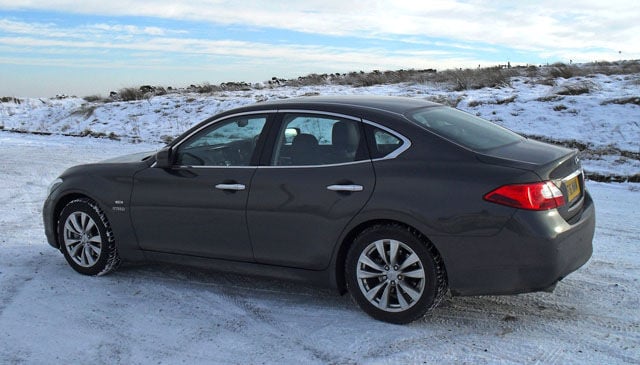 Out on t' moors in Snow mode
Once in Sport, the M35h is a licence-endangeringly fast car. The engine, electric motor and gearbox work in perfect harmony when you put your foot down and conspire to hurl you at the horizon.
Infiniti doesn't quote any performance numbers other than 0-62 and top speed - a limited 155mph - but by my rough measurements the 50-70 sprint was dispatched in four seconds. Even a Jaguar XFR takes 1.9. That's the advantage of all that torque the electric motor can dump onto the rear wheels in the blink of an eye.
Performance doesn't come at the expense of civilised behaviour either. The M35h goes about its accelerative feats in an impressively fuss-free way. The seven-speed box moves up and down the gears as smoothly as you could wish for. Even at high revs, the V6 never emits more than a growl.
Get to a corner and an XF will disappear in a cloud of superior handling, but that doesn't automatically mean I'm saying that the M35h is bad, or even poor in this department.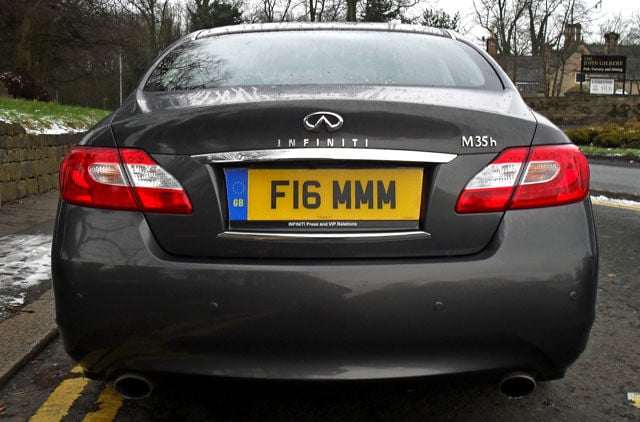 The back end is a bit bulbous
The electro-hydraulic steering certainly delivered more feedback than I expected and even on bumpy rural B-roads everything felt balanced and composed, even when shod with knobbly winter tyres. It was helped, I suspect, by the battery pack sitting over the rear axle. As per many hybrids, the brakes have a slightly unnatural feel to them but it's nothing you can't learn to live with.
The chassis can't quite match the best from the Germans, let alone Jaguar, but the M35h rides better than any 5 Series I've been in. Given the state of the roads in Britain, that's arguably a more important consideration.
Where the Infiniti scores over the Europeans is with kit and fittings. The well-appointed cabin is mostly made from bits of what used to be a tree and a cow, and you get all the modern toys: electric just-about-everything and an excellent 7-inch touchscreen satnav and infotainment system.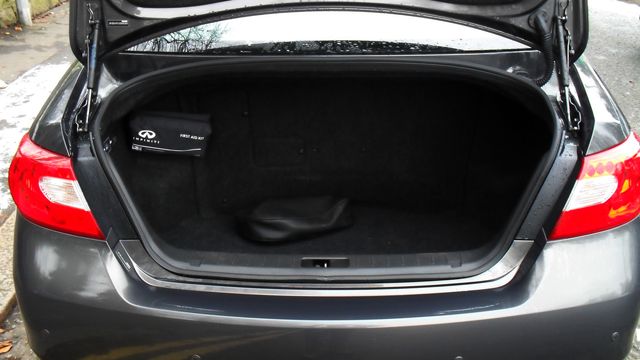 The lithium-ion battery eats into the boot space - but not in a Dreamliner fashion...
It all proved remarkably easy to use too: I only had recourse to the massive handbook once, to try to find out how to permanently disable the forward proximity alert. Sadly, it seems you can't.
The Reg Verdict
Forty-grand hybrid sports saloons are never likely to be more than rare beasts on our roads, but that doesn't detract from the Infiniti M35h's appeal. Even when driven inconsiderately, it's decently economical. But put your foot down and it shows a very impressive turn of acceleration. It's cheaper than the direct competition too, and you get more standard kit for your money. ®
Sponsored: Minds Mastering Machines - Call for papers now open

Review: Infiniti M35h hybrid sports saloon
A four-door, hybrid saloon for both the speed demon and the tree hugger in you. The Infiniti is fast, frugal, comfortable and just a little bit different.
Price:
From £42,020 OTR RRP