Smarm-bot Siri seeks side-splitting script-writer for charm transplant
Forget an Oscar or Bafta, Apple's offering the hottest writing gig in town
A witty writer is being sought to make Apple's voice-activated personal assistant software Siri spout super-scintillating backchat. The chatty iOS app, which attempts to answer any questions and obey commands spoken into Cupertino's latest iThings, is famous for its whimsical responses to fanbois.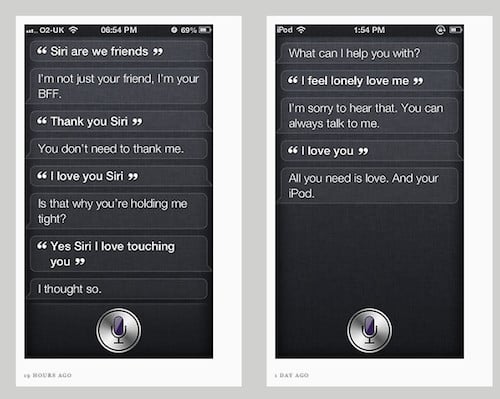 Examples of that sparkling dialogue, from the Shit Siri Says blog
Whoever lands the role of "Writer/Editor" for the software will help "evolve Siri as a distinct, recognisable character", according a newly posted job advert. Apple described the Siri character thus:
Siri's known for 'her' wit, cultural knowledge, and zeal to explain things in engaging, funny, and practical ways.
Apple wants a writer capable of churning out "character-driven dialogue" and who will be able to help designers in "formulating utterances":
The ideal candidate is someone who combines a love for language, wordplay, and conversation with demonstrated experience in bringing creative content to life within an intense technical environment.
The full-time Cupertino-based job, posted on 9 January, was spotted by MIT's Technology Review, but it is not visible on Apple's careers page.
Siri's backchat has been a source of internet delight, although the voice-activated answers-engine has been more of a novelty than a game-changer in search. So far, anyway.
The focus on Siri's character, the development of its quirks, and the fact that the voice-recognition system isn't completely reliable yet, is the sort of thing expected from Apple of the 1990s rather than the shiny monolithic monster it is today.
As Technology Review points out, engineers and academics who focus on humour, mimicry and other conversational strategies - rather than building a computer system that can simply retrieve general knowledge - produce the biggest advances in developing human-like artificial intelligence. The yearly Loebner Prize tests put chatbots through the Turing Test - to see if their conversation partners can distinguish them from humans. ®
Sponsored: RAID: End of an era?