NASA aims Curiosity's percussive drill at pink, veiny target
It's hammer time for first Mars drilling mission
NASA has selected the first site for the Curiosity rover to drill into, the first time a man-made object has penetrated the bedrock of the Red Planet.
"Drilling into a rock to collect a sample will be this mission's most challenging activity since the landing. It has never been done on Mars," said Mars Science Laboratory project manager Richard Cook of NASA's Jet Propulsion Laboratory when announcing the drilling plan.
"The drill hardware interacts energetically with Martian material we don't control," he said. "We won't be surprised if some steps in the process don't go exactly as planned the first time through."
The drilling site is a flat area of the surface that's riddled with veins of rock, which the agency has named "John Klein" in tribute to the Mars Science Laboratory deputy project manager who died in 2011. Scientists are particularly interested in these veins, since they could tell us a lot about the early history of Mars.
"These veins are likely composed of hydrated calcium sulfate, such as bassinite or gypsum," said ChemCam team member Nicolas Mangold of the Laboratoire de Planétologie et Géodynamique de Nantes in France. "On Earth, forming veins like these requires water circulating in fractures."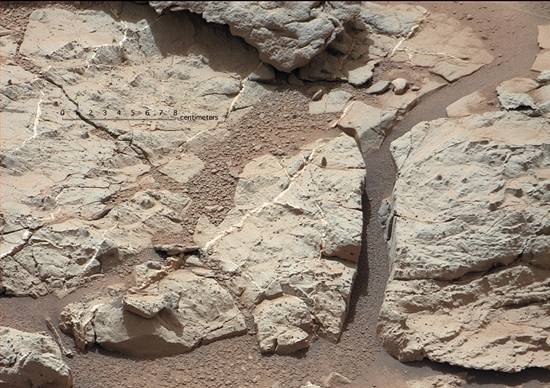 Let's drill, baby, drill!
Curiosity's percussive drill is capable of hammering down five centimeters into Martian bedrock with a bore width of 1.6 centimeters. The rock samples will be analyzed using the rover's on-board laboratory.
The rover should start drilling in the next couple of weeks and has spare drill bits on board in case of problems. NASA said the results from the drilling would be released once they have been analyzed. ®
Sponsored: Fast data protection ROI?