Climate watch: 2012 figures confirm global warming still stalled
'One more year of numbers not significant', says NASA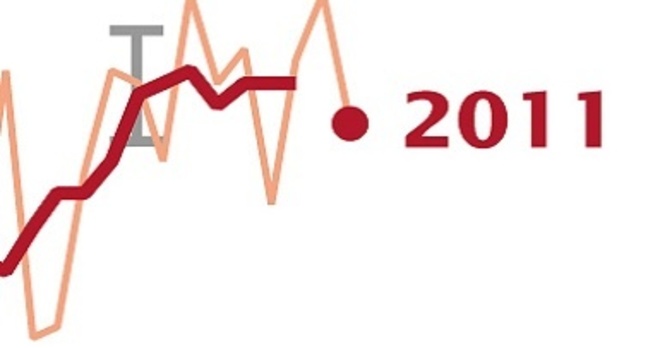 The two major US temperature databases have released their consolidated results for 2012, and as had been expected, global warming has failed to occur for approximately the fourteenth year running. One of the US agencies downgraded 2012 to tenth-hottest ever: it had been on track to rank as 9th hottest.
The tenth-hottest result comes from the US National Oceanic and Atmospheric Administration (NOAA), one of the three main global databases used to assess planetary temperatures and the only one of the three not so far linked to political climate activism*.
The NOAA says that the 2012 average was 14.47±0.08°C, which makes it the tenth hottest in its records. Preliminary figures released last November ahead of the Doha carbon talks by the World Meteorological Organisation, which averages all three datasets, suggested that the year would be ninth hottest and NASA agrees. However the difference is not a big one: the projected WMO figure was 14.45°C.
However one slices it, the world has not warmed up noticeably since 1998 or so, though all three datasets show noticeable warming in the two decades prior to that. The UK's Met Office acknowledged this fact in November, with the Office's Dr Peter Stott saying:
"We are investigating why the temperature rise at the surface has slowed in recent years, including how ocean heat content changes and the effects of aerosols from atmospheric pollution may have influenced global climate."
Since then the Met Office has radically amended its warming forecast for the coming decade, such that if the forecast is right there will have been essentially level temperatures for two decades or more - a fact which has caused much comment in climate-sceptic circles.
Nonetheless a majority of academic climate scientists still contend that global warming will definitely resume in the near future.
"One more year of numbers isn't in itself significant," said NASA climatologist Gavin Schmidt, in tinned quotes. "What matters is this decade is warmer than the last decade, and that decade was warmer than the decade before. The planet is warming. The reason it's warming is because we are pumping increasing amounts of carbon dioxide into the atmosphere." ®
Bootnote
*The other two are the UK's Met Office Hadley Centre/University of East Anglia Climate Research Unit HadCRUT dataset - of "Climategate" infamy - and the NASA GISS database supervised by Dr James Hansen, well known for his attendance at various climate/energy protests around the world (and being arrested by police for his behaviour at some of them).