Titsup Windows Phone 8 orders user to cram 'boot disc' in mobe
Baffling 'black touchscreen of death' emerges on web
Pic A Windows Phone 8-using wag claims he provoked his Microsoft handset into asking for an installation DISC - with a boot manager error message familiar to anyone who's wrestled with Windows NT.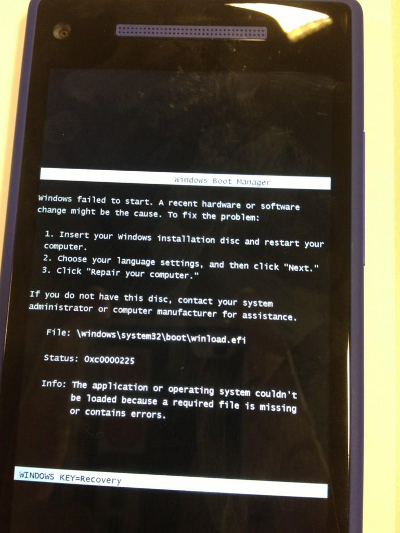 At least it didn't do a blue screen of death
The error is by no means standard and - we're told - only generated by mucking about with the flash ROM image, perhaps in an attempt to bypass the secure booting process. But the message, which has apparently been replicated on Nokia and HTC devices also powered by WP8, graphically demonstrates that Windows NT code still lurks under the surface of Windows Phone 8.
The error code shown means STATUS_NOT_FOUND, or a file needed by the booting process was missing. The user is also invited to click on various buttons, a somewhat difficult task for a touchscreen phone user on a packed train.
The crash was originally engineered by Johnny Ruukokoski who admitted, "I just played with flashing a little bit" and that in normal use the crash should never appear. One Nokia Lumia user, spotted by WMPoweruser, reported the same error popping up from nowhere and required a flash ROM rewrite for the "computer".
Even so, the appearance of this boot manager is rare, so Windows Phone 8 users don't need to start carrying an installation disc around with them, at least not yet. ®
Sponsored: Minds Mastering Machines - Call for papers now open