Live blog: Facebook's 'screw you' to Google revealed at last
Zuckerberg's big unveil as it happens. And, no, it's not a phone
Facebook has called the world's press down to its headquarters in Menlo Park, and El Reg has braved the Death Race 2000 zone that is California's freeway system at commute time to be here.
Speculation has been running wild about what the Behoodied One will announce. Theories have included a Facebook smartphone or tablet, an attack on Google in the search arena, or just a reworking of Facebook's existing social network services. We shall find out shortly.
---
Updates are shown in chronological order
---
9:50am We're settling into the press room, which thankfully has a decent Wi-Fi connection. Not quite so sure about the wall art, however.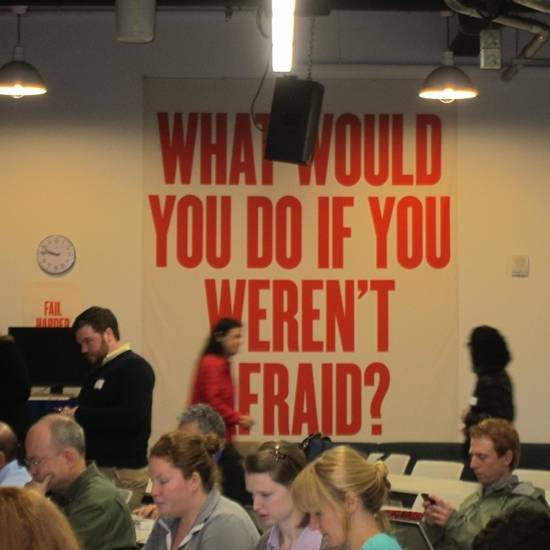 An oddish motivational poster
10:00am The music fades. Thankfully, no one's playing "Let's get it started" by The Black Eyed Peas, probably the most overused press conference music on the planet.
It's standing-room only, but a lot of the people at the back seem to be Facebook employees. Hope they don't copy Apple, which is notorious for stuffing the audience with staff who whoop like loons on cue.
10:04am Zuckerberg wanders in and kicks off. He says Facebook is introducing new tools to map out the world's Social Graph, called Graph Search. Looks like no phone, then...
Graph search is not web search, he says, but for searching a billion people, 240 billion photos, and one trillion connections.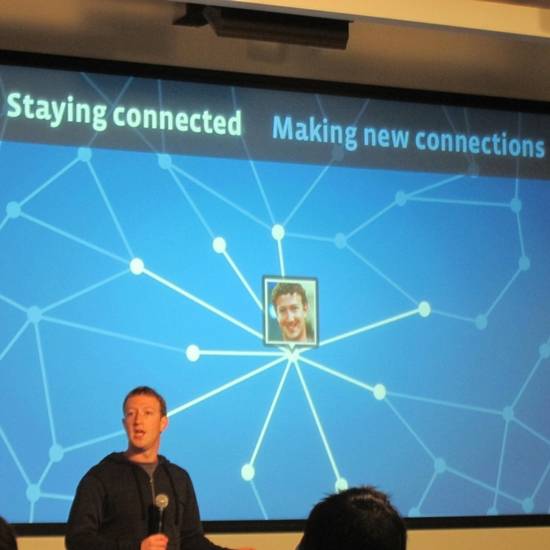 The future of social searching?
10:09am Privacy is vital for this. Over 3 per cent of Facebook's CPU time is spent on sorting out privacy, Zuckerberg says.
10:10am Graph Search is different from web search in that it doesn't link to the answer to a search, it just gives it, he claims.
10:15am The first beta version of Graph Search will focus on four use cases: people, photos, places, and interests. Results are ranked based on how important the person is to you. It's a "warm and engaging experience and you can't do it anywhere else."
10:18am Tom Stocky and Lars Rasmussen come on stage to demo the search tool. Graph Search lets you search for people who like certain things or locations. The search box fills in suggestions and lists people with their basic information. All results are unique, because they are based on an individual's profile rather than general search.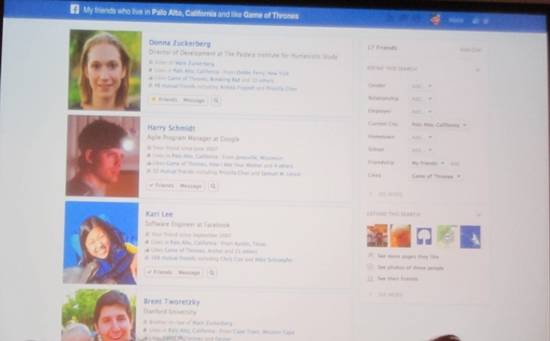 Social search window
10:22am A couple of use cases: you can search for friends of friends using just a first name and filter the results. Stocky also shows how he can find single friends who were born in India so he can set up his sister-in-law. Slightly stalky, but interesting.
10:27am Lars now explains about photos. You can find photos of multiple people, photos of friends (sorted by closeness), and where the photo was taken – for example, holiday snaps searched by location or activity. "This is simple, but no one's doing it," he says. You can also search by date to get childhood photos.
10:29am You can only search public information, Lars stresses. Privacy will be key, and you can only see stuff you could otherwise find. That's good as far as it goes, but too many people are slack about privacy in El Reg's experience.
10:34am Movie searching: you can search for films that your friends like, and then get directed to videos available online for the film in question. You can also do more general searches, such as for TV shows liked by software engineers. Unsurprisingly, The Big Bang Theory tops the list.
Music search is also included. The musicians most liked by Romney supporters were Johnny Cash and Metallica. I suspect some tuning is needed – we can't see Romney rocking out to "Creeping Death" by the permed rockers.
10:39am Service searching – this could hit Yelp hard. You can search for services that your friends like, and rate and refine down further. You can also widen the search to include recommendations from non-friends, and sort by menu, price range, etc. The advertising-sales people will love this.
10:42am Privacy tools: last year Facebook changed its privacy tools, partly with search in mind. With Graph Search you can find photos in which you've been tagged, and can filter them to show which ones are public and which you have hidden. This can be handy for editing your personal information, Stocky says. You can also untag yourself and let the poster know that you've done it.
10:45am Zuckerberg's back. "Graph Search is one of the coolest things we've ever done," he boasts. He's stressing the privacy tools that are out there. Facebook will post a reminder about privacy and tools before Graph Search is rolled out widely.
Now there's "one more thing" (Steve Jobs will always be with us). Facebook has a partnership with Bing to add in general search results. In other words, "Screw you, Google."
10:49am Graph Search is a really big project, Zuckerberg says. It's going to take years to map all Facebook content. There's more content still to come. Facebook wants to get to mobile, incorporate all languages (although 40 per cent of Facebookers speak English), and take it to an open service.
A limited beta starts today and will roll out very slowly. We want data on how people use it before rolling it out widely, Zuckerberg says. They should also keep an eye on how creeped out people are by this.
10:51am Graph Search is a big technology problem and a social problem, Zuckerberg says. It's the kind of service that Facebook is uniquely suited to build, he opines.
Now the Q&A.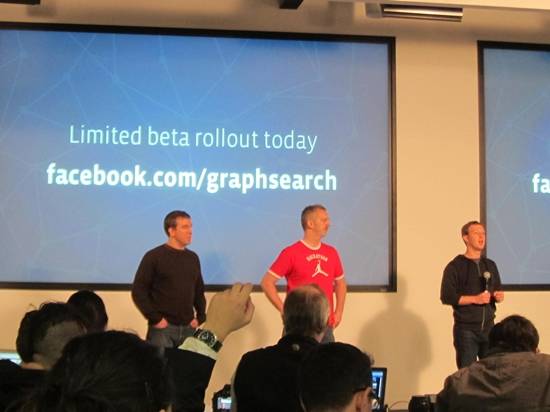 Time for questions
10:53am Privacy is going to be one of the biggest issues, Zuckerberg says. The new tools should help, and he wants people to use them. Nothing will be visible to Graph Search that isn't already public, he confirms.
10:55am We would like this to be available to developers, but it's still in its very early days, Zuckerberg says. It's pre-beta at the moment.
As for the money, this has potential, he says – but it's all about being a better service. Before we think of it as a business, he says, it needs to be higher quality.
The initial rollout will be to only a few thousand users. Feedback to Facebook will determine how fast it can be rolled out. Mobile is the next goal, but he gives no timeline.
11:00am "What was Microsoft's role?" El Reg asks. Lars says they worked closely with the Bing team. Zuckerberg says Facebook has a great partnership with Redmond – but Graph Search is not web search, and he wants to do more.
Zuckerberg says he'd love to work with Google. Facebook wants to make search social in general, and he says that Facebook would work with anyone. The APIs are available as long as people's privacy is respected, which is something Google hasn't done yet.
11:03am Indexing the data is a big challenge due to the volume of stuff – it's taken a year to get this far. The hardest part was finding out where to draw the line in Graph Search. It has to be useful, but not too big a project. Facebook's roadmap for the next few years is set, Zuckerberg says.
11:05am On the Google situation: it's vital that if someone takes information down, it comes down instantly. That was the biggest problem with Google, Zuckerberg says. Microsoft was more willing to play ball, he says, while conversations with Mountain View "crashed."
11:08am There has been testing in a user-experience lab, and that led to a lot of changes. Stocky suggests that people will "Like" things a lot more to give weight to their profile. Based on the feedback Facebook is getting, people will in fact Like fewer things to stay off search lists.
11:12am Instagram data is on the list of things to add, Zuckerberg says. It's coming, but this is a beta program and there are years of work ahead.
And that's all, folks. ®
Sponsored: Minds Mastering Machines - Call for papers now open