Xyratex bleeds money, flogs HPC and Big Data arrays to survive
But major OEM wants 'traditional' storage, insists hard-pressed firm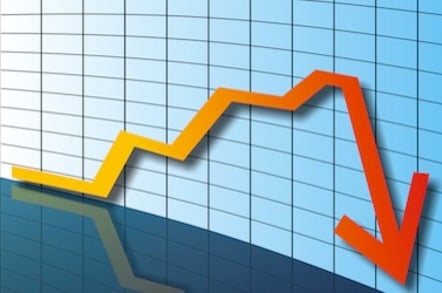 DataDirect Networks and Panasas, watch out: disk enclosure and test equipment supplier Xyratex has swung into a loss due to reduced demand from NetApp for Xyratex enclosures and the contraction of the HDD industry to just three manufacturers. Xyratex is climbing out of this revenue fall by selling HPC and Big Data arrays to OEMs and public cloud service providers. It also appears to have won EMC as a new OEM customer, although this has not been confirmed.
Recently Xyratex paid a special shareholder dividend and set up a poison pill defence against unwanted takeover attempts, so we expected the fourth quarter and full year 2012 results to be bad and so they were.
Richard Pearce, Xyratex's CFO, stated the results highlights simply in the earnings call: "Revenue for the full year was $1.16 billion, down 20 per cent compared to fiscal year 2011. Revenue for the fourth quarter was $265 million, down 32 per cent as compared to the fourth quarter of last year and down 4 per cent from our prior fiscal quarter."
The chart below shows Xyratex's quarterly revenue and profit/loss history: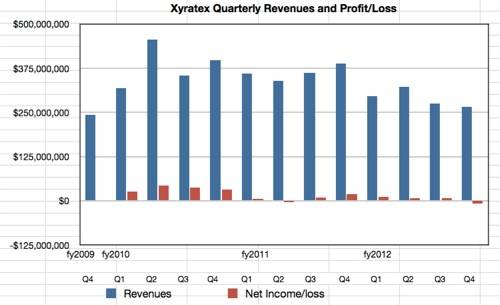 Click on image for larger version
To see the loss more clearly, here's a chart just showing Xyratex's recent profit and loss history by quarter: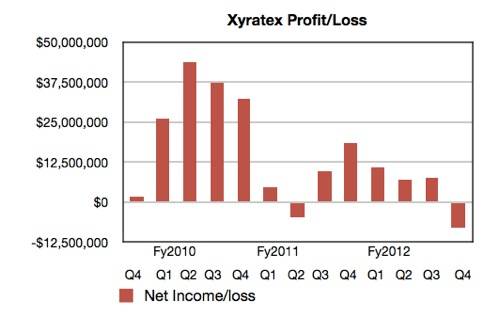 Storage product sales in the fourth quarter were $200 million, a decrease of $152 million or 43 per cent compared to a year ago and down 10 per cent sequentially. Ouch.
A new major Tier 1 storage OEM meaning new to Xyratex. Could this be EMC with a new VNX model?
The full year number decreased 26 per cent to $974m in 2012 compared to $1.32bn in 2011. This is where the damage was done, as Pearce confirmed: "These products accounted for 84 per cent of total revenue and 79 per cent of gross margin in 2012." The fall was attributed to weaker demand and "our largest customer, NetApp, as well as certain other customers moving to in-house solutions for next-generation products."
In the fourth quarter, NetApp represented approximately 45 per cent of Xyratex's revenues in the Enterprise Storage segment, with IBM representing 22 per cent. Xyratex accounted for 50 per cent of that NetApp product's manufacture in November 2012 but then output was halved to 25 per cent. The NetApp business could fall to zero in 2014. Obviously there is no ClusterStor opening at NetApp as it has its own E-Series for HPC-style business.
Revenue from the testing gear or Capital Equipment products in the fourth quarter was $65m, up 87 per vent compared to the fourth quarter of last year and up 25 per cent sequentially - good show. The full year numbers here were good too: revenue of $185m, up 49 per cent compared to $124m in 2011. But as these products accounted for only 16 per cent of total revenue and 21 per cent of gross margin they didn't offset the fall in storage product sales.
Also, even with increased revenues, this product sector was not profitable in 2012 but it is expected to be profitable in 2013.
Xyratex is trying to reduce fixed costs to increase its profit margin on sales. For example, its headcount at the end of fourth quarter was 1,931 permanent employees, a reduction of 101 or 5 per cent over the previous quarter.
CEO Steve Barber summed it all up neatly: "The second half of the year was clearly challenging for us. We experienced a material softening in Enterprise Storage Demand across our OEM customer base, coupled with continued demand softness in the disk drive market and the resulting cautionary capital spending by our 2 major customers. In response, we took decisive steps to reduce cost, reducing headcount by 5 per cent as well as driving process efficiencies in many areas of the business."
He said the HPC and Big Data areas, serviced by Xyratex ClusterStor arrays, were doing well: "We have recently entered into partnerships with both Dell and HP to serve the High Performance data storage and Big Data markets. We've had early success working with HP to install our ClusterStor data storage solution at a US federal government site."
He sees disk demand rising, particularly in the bulk storage area: "While disk drive unit shipments declined through 2012 as PCs and laptops see the effects of the growth in flash-based memory devices, including smartphones and tablets, data storage is still growing at a compounded annual growth rate in excess of 40 per vent and is being serviced increasingly by higher-capacity 3.5-inch disk drives. More terabyte devices are now shipping in volume to cloud storage applications. The manufacturing process time for these devices are significant, with the need for incremental production test capacity resulting in demand for our products."
OEM customers
HP is looking good as a customer: "Our hardware technology platforms now support HP's recently announced 3PAR Storeserv 7000 series storage solutions." Avid has also signed up to be a Xyratex OEM.
And then there's this: "We've been working throughout 2012 to support a new major Tier 1 storage OEM on a new storage product release scheduled for this month. Who is that then?
A new major Tier 1 storage OEM meaning new to Xyratex. Could this be EMC with a new VNX model? Barber conformed it was a new customer for Xyratex in response to a question: "New customer … We've been working on that product though the whole course of 2012 in parallel with the platform that we were developing for HP. HP launched that product [3PAR Storeserv 7000] just prior to the holidays. This new Tier 1 we anticipated is going to launch in January." He said it wasn't HPC storage but "traditional OEM storage."
And then there's this: "We are now partnered with Microsoft through their recent acquisition of StorSimple and to support the supplier of their future cloud gateway." So Microsoft has a cloud gateway coming.
HPC, Big Data and the public cloud
Xyratex has moved into HPC, Big Data and public cloud storage arrays because it thinks these markets are under-served. Barber said: "The data explosion is demanding more storage performance. The storage IO's scalability now is the primary reason behind most enterprise system architectures running with less than optimum utilisation. This problem equally affects all data-intensive applications across High Performance Computing, Big Data analytics and cloud applications."
He bragged that Xyratex's "ClusterStor now leads the market in storage IO performance, enabling higher efficiency and reduced overall compute system costs with regard to CPUs, memory and interconnect." OEM partners and customers for this include Cray, Bull, Dell and HP: "We are highly focused on accelerating the growth of this business through 2013 and into 2014 [and] we're expanding the ClusterStor business footprint to address the adjacent and growing market of Big Data infrastructure [where there is a] need to migrate vast demands of data in and out of High Performance Computing environment for data analysis processed seamlessly in a shared environment." It's looking good.
In the public cloud market the "[e]mergence of new service providers outside the existing Big 4 seeking to provide storage as a service and related offerings is creating demand for configured ready-to-use solutions."
Enter Xyratex with CluserStor: "Our OEM business model with its low gross margin structure provides a compelling capability for these public cloud data storage providers who are competing against the established Big 4."
The company's outlook for the first quarter of 2013 is total revenue of $159m to $189m, a fall compared to the just-reported quarter and also compared to the year-ago quarter - things are going to get worse before they get better. ®
Sponsored: Learn how to transform your data into a strategic asset for your business by using the cloud to accelerate innovation with NetApp