Stroppy investor to Xyratex: Pah... research! Who spends money on THAT?
Insists storage firm's strategy is 'flawed', board changes needed
So that's why Xyratex management erected a poison pill defence against hostile take-over attempts. The company's largest shareholder, activist investor Baker Street, which owns 23 per cent of the common stock, wants board changes to correct Xyratex's "flawed" HPC and Big Data array strategy.
Xyratex makes disk drive drawers for OEMs, a business that's shrinking, and test equipment for disk drive manufacturers, a business that's unprofitable. Its strategy to get out of these holes is to build ClusterStor storage arrays for the high-performance computing (HPC), Big Data and public cloud markets.
Baker Street Capital Management LLC holds 23 per cent of Xyratex's outstanding common shares and has just blasted the top management in an open letter to the board and CEO Steve Barber.
Baker Street began to aggressively acquire Xyratex shares in early October 2012 and opens its letter by stating:
Xyratex is significantly undervalued by the market and faces serious self-inflicted issues that are depriving shareholders of the full value of their investment.

The most important issue facing Xyratex is excessive and unnecessary research and development ("R&D") spending on speculative non-core initiatives that have failed to generate positive returns and have severely hurt the Company's profitability.
Translation: stop wasting money developing ClusterStor and pay dividends to shareholders - or buy back shares to raise their value.
The chart shows Xyratex's share price history since the start of 2009.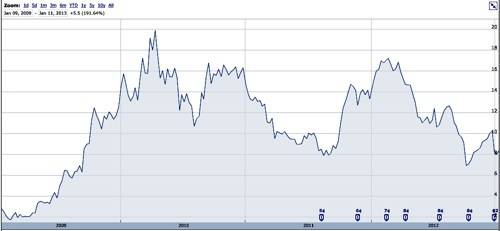 Xyratex share price history from Jan 2009 to Jan 2013
Short-sighted strategy
Baker Street says the board's strategy is "short-sighted" and "flawed". The letter continues:
Xyratex' Board is in critical and urgent need of new directors with a fresh perspective who will be dedicated to unlocking the significant upside embedded in Xyratex shares. We believe the Board should immediately appoint [the] three new directors we have identified, who are committed to working with the Board to rigorously re-examine the current capital allocation and R&D strategy, aggressively focus on maximizing profitability, and engage a reputable investment bank to explore strategic alternatives.
What it means is that the board really must stop wasting money on ClusterStor and be ready to sell the company. This is a raising of the stakes in what is clearly an ongoing dispute. Baker Street wants the board to pay cash to shareholders, while the board wants Xyratex to develop new products because the existing ones are fading and have lower growth and profitability prospects.
The board, meanwhile, wants to safeguard Xyratex's long-term future as a storage product supplier - and by extension, its own future.
The Baker Street letter is fairly lengthy, so here are the highlights:
"The performance of Xyratex stock has been extremely disappointing over almost any time frame."
DESPITE LARGE LOSSES FROM NON-CORE GROWTH INITIATIVES XYRATEX HAS VALUABLE CORE ASSETS PRODUCING SIGNIFICANT PROFITS AND FREE CASH FLOWS" (Baker Street's capitalisation)
"The Company is worth less as a going concern than its net current assets"
"Steve Barber, the Company's Chief Executive Officer, indicated in our November 2012 meeting that the R&D required to fully support Xyratex' core business is between $40 to $50 million, and Xyratex 'would generate a huge amount of cash' if the Company did not invest in these non-core HPC and Cloud initiatives."
It then makes an interim conclusion in bold and underlined print: "The Company's current strategy is to reinvest the substantial profits from its mature core businesses in loss-making and unproven investments in HPC and Cloud initiatives with little chance of generating the returns that such risky investments require."
But how does Baker Street know there is "little chance of generating the returns that such risky investments require" - or that the investments are "risky" at all? One might argue that Xyratex has won Cray as an OEM; that it has the Blue Waters supercomputer as a marquee customer account with Cray; and also has Avid as a second ClusterStor OEM - so the HPC stategy isn't entirely failing.
Undervalued
Meanwhile, Xyratex's disk drive enclosure business, the Network Storage Solutions unit, is said by Baker Street to be earning $52m before tax and other costs - which it argues is lower than its intrinsic value:
Based on various valuation metrics for this business, we believe it is worth between $210 and $270 million. This range of values is conservative as it assumes only a small premium to our estimate of the working capital employed in the segment. Furthermore, this valuation gives no credit to the Company's patent portfolio and ignores the meaningful optionality of cost structure rationalisation as well as strategic acquisition interest.
On the disk drive manufacturer test business, the Storage Infrastructure unit, Baker Street says:
[W]hile cyclical, [the Storage Infrastructure unit] is attractively positioned in the marketplace with only one primary competitor and has significant opportunities for operational improvement. We think it is conservatively worth between $50 and $70 million. Based on the competitive dynamics of the disk drive testing equipment market and the significant strategic advantages of the SI business, we believe that SI would be valuable to a number of strategic players.
Smash the board
Baker Street argues that Xyratex's "core profitability, solid reputation in storage hardware, established long-term relationships and intellectual property make it an attractive asset both strategically and financially."
It claims that Xyratex needs a reconfigured board "which includes significant shareholder representation" so that the board could carry out "a thorough review of strategic options and value-maximising opportunities."
It adds:
Management has to focus immediately on boosting employee morale by inspiring a customer-centric culture of high productivity, cost leadership and efficient innovation.
After holding forth about boosting employee morale, Baker Street goes on to suggest tightening the belt a bit:
A prudent course of action ... would require the Company to aggressively right-size the business and focus on generating significant amounts of cash. The resulting profits, coupled with the excess capital on the balance sheet today, should be returned to shareholders by aggressively repurchasing Xyratex shares.
It also has quite a lot to say on the storage firm's R&D spending, which it describes as "non-core":
We vehemently disagree with Mr. Barber's assertion that the best way to enhance value is to "change market perception by presenting Xyratex as a growth company" through an increasingly costly pursuit of non-core R&D projects. To be clear, we reiterate the point that we have made to the Board privately: we would very strongly oppose any attempt by the Company to "buy" growth through acquisition or significant capital expenditure.
The signatory of the letter, Vadim Perelman, a managing member of Baker Street, wraps up with:
The owners of Xyratex cannot afford to wait until the next annual general meeting to effect real and much needed change... Rather than stalling and continuing to make excuses, we urge the Board to immediately engage with us and look forward to a constructive dialogue to reconstitute the Board.
El Reg has been in touch with Xyratex, which said it is unable to immediately comment on the Baker Street letter.
The full letter (via Reuters press release) is here. ®
Sponsored: Minds Mastering Machines - Call for papers now open