HP maintains seat atop wheezing, spavined PC market
Windows 8 whip fails to get weary donkey galloping
Posted in Management, 14th January 2013 17:26 GMT
Watch Now : Virtual Machine Movement with Hyper-V
Hewlett-Packard has stayed at the top of the PC industry, fending off competition from Lenovo to remain the biggest PC vendor in the world with 16.2 percent market share. But the industry as a whole is shrinking, and new stats from research firm Gartner confirm the gloomy prognosis from IHS last week.
Dell performed badly, with global market share dipping from 12.2 percent to 10.2 percent in the last year - a slump in overall shipments of 20.9 percent. Chinese giant Lenovo made ground, growing sales by 8.2 percent and overleaping Dell to take second place for Q4.
Apple doesn't figure in the top five globally, or in Europe and the Middle East, but clocks in at third in the US, with a 12.3 percent market share of PCs sold there. That's a slight increase from the same period a year ago - just over 5 percent.
Don't get the champagne out yet Meg
But though HP is still top of the pile, the picture isn't a reassuring one for Meg Whitman. Or - Lenovo aside - for anyone else in the PC game. The market is shrinking, it appears that people are buying tablets instead of replacing their PCs and that lower end netbooks are slowly dying out as a form factor.
Globally shipments in Q4 2012 were 4.9 percent down in total compared to the same three months in 2011. In the year as a whole Europe, the Middle East and Africa saw a big slump with shipments to that area down 9.4 percent compared to the same time in 2011.
One bright spot for the vendors is that it's the high priced, higher spec'ed PCs that are in demand. Simple email and browsing tasks are now being done on tablets, phablets or phones so when customers do buy PCs, they tend to buy more expensive PCs with more processing muscle for heavier tasks. That should mean a little more cash trickling in.
Tablets are eating out the PC market, Mikako Kitagawa, principal analyst at Gartner explained:
Whereas as once we imagined a world in which individual users would have both a PC and a tablet as personal devices, we increasingly suspect that most individuals will shift consumption activity to a personal tablet, and perform creative and administrative tasks on a shared PC.
Windows 8? What, we didn't even notice it
In a damning indictment of Microsoft's latest operating system, Gartner analysts claimed that the launch of the new OS had had next to no impact on sales of Personal Computers.
"The PC market continues to face many headwinds," said Ranjit Atwal, research director at Gartner.
The launch of Windows 8 had no impact on PC demand, especially as Ultramobile products were both limited in supply, as well as being priced too high.
Though they did suggest that the arrival of more adventurous, glamorous devices that incorporated Windows 8, making use of its touch capabilities, would spark new interest in the system. All-in-one detachable tablet gadgets seemed to be doing reasonably well.
Global stats below, fuller detail on Gartner's preliminary results for PC sales in Q4 2012 here.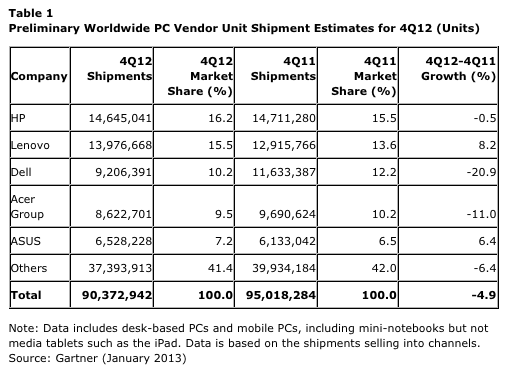 ®
Watch Now : Virtual Machine Movement with Hyper-V
COMMENTS
Re: Excuse me Reg - your talking cr4p
> In a recession, what are you going to buy - a £250 tablet, or a £500-£1000 PC?
Neither if it's just a plaything. Otherwise I'll buy the one that does the job I need it to. Why, what do you buy in a recession?
360M is still a lot of PC's
90 million PCs per quarter works out to 360 million per year. I already have two of them, so I don't need to buy another until my second one gets so old it's useless, and the new models are enough better than my quad core i7 to be worth an upgrade.
The point is, they are still selling a lot of PCs, and the market is getting saturated. Unless the hardware makes a great leap forward, existing models are good enough for many people.
Re: windows 8 came out, sales fell 26%
Why spend thousands on a Rolls Royce when all you need is a bicycle?
For a lot of home consumers, they just want to be able to read the odd email, browse the web and do a few other, basic, tasks. Maybe some games, which there are plenty for tablets. A tablet does this job fine, and with the advent of smartphones, a lot are now used to typing on a touchscreen.
Not everybody is a touch typist, and seek-and-peck typing isn't impaired greatly by an on-screen keyboard.
So I think it's less to do with Windows 8 per se, and more to do with people actually finding what they need in a computer. The netbook was just part of this transition — people didn't want a big monstrosity, and these smaller computers, both cheaper and smaller, did the job.
That said, I do think Microsoft have somewhat lost the plot with each new release of Windows. The Windows 95/NT4 UI to my mind was fine. Windows 2000/ME stuffed up what was known as Network Neighbourhood with the, IMO, less usable, "My Network Places". Windows XP stuffed up the Start menu with this monstrosity that hides most of your applications in this little submenu called "All Applications", then Windows Vista made it worse by compacting that menu into this little clostrophobic scrolling menu that doesn't open out. Windows 7 layed down the lid on the coffin by throwing out the classic mode start menu, and Windows 8 nails the coffin shut with its rather confused not-quite-mobile-but-not-quite-desktop user experience.
It's been one retrograde step after another as they re-arrange the deckchairs on this titanic of a platform.
It seems Microsoft was responsible for putting a PC on everybody's desk. It seems Microsoft will soon be responsible for taking the PC *off* everybody's desk.
Re: Excuse me Reg - your talking cr4p
I'm not being obtuse, you're just saying exactly what I did. If you only need a £250 tablet, why buy a £1000 computer, recession or not? Likewise, if you need £1500 of twin-head processing power then buying a £250 tablet because you've tightened your belt is just £250 wasted, since it won't do the job.
The only difference the recession makes is that people might buy fewer gadgets just for fun. That's going to affect sales of everything.
Re: windows 8 came out, sales fell 26%
Exactly, the desktop OS is irrelevant. What do people use on the local OS? Office, maybe. Everything is online. If you have an OS that can open a browser and the occasional local file, you are good. XP is good enough for everyone.