Wet'n'wild smartphone: Sony Xperia Z

It's not the first waterproof Android smartphone, but Sony's latest handset impresses with its spec - quad-core 1.5GHz Qualcomm Snapdragon S4 Pro chip, 4G LTE connectivity, 2GB Ram, Micro SD storage, NFC, HDMI via MHL, 7.9mmm thickness and 13Mp camera with high dynamic range video shooting, a "world's first" - and a rather gorgeous 5in, 1080 x 1920, 440ppi display. It will run Android 4.1 Jelly Bean.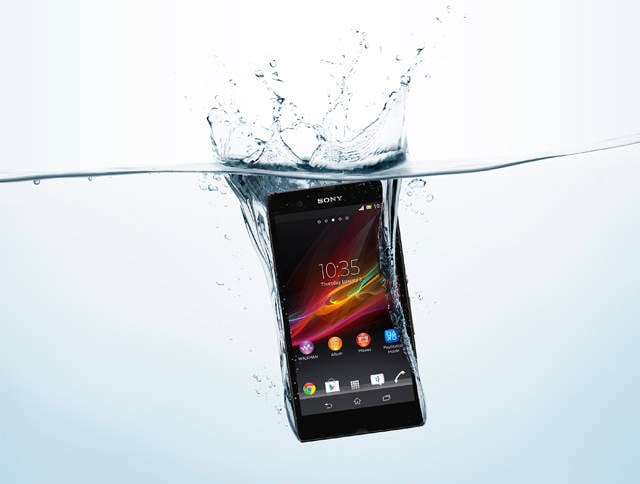 If you're worried - not unreasonably - that the 4G support means the Z's battery life will suck, Sony insisted you shouldn't be concerned: the phone has a Stamina mode that cleverly freezes battery-sapping apps when the screen is turned off and automatically revives them when the backlight comes back on. This trick, the company claimed, "improves your standby time by at least four times". Sony quotes a standby life of between 510 and 550 hours, depending on the kind of cellular network the phone's attached to.
The Xperia Z will go on sale worldwide later this quarter.
Incidentally, a special mention should also go to Huawei's Ascend Mate, a 6.in, 1280 x 800 'phablet' intended to bridge the gap between 5-inch smartphones and devices like the Samsung Galaxy Note II, and 7-inch tablets like the Nexus 7.
Pin-sharp viewing: Ultra HD TVs

The world's TV makers were expected to make a big deal of 4K x 2K resolution Ultra HD at CES, and indeed they did. Most showed off LCD panels running to 3840 x 2160, but Sony and Panasonic both demo'd OLED UHDTVs of 56 inches in size. Of course, Ultra HD is ridiculously expensive right now and likely to remain so for some years yet, not least because it's arguably pointless on tellies that are smaller than 50 inches in the diagonal - or you want to sit really close to your screen. But it's impressive technology nonetheless.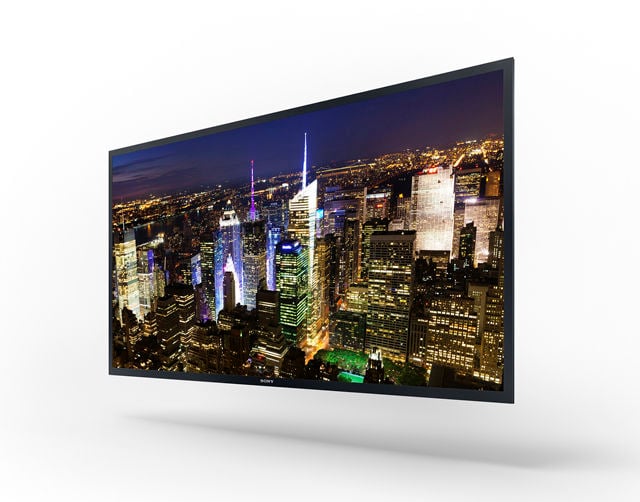 Native content will only be available in limited quantities for some time, but don't discount these sets' ability to upscale 1080p imagery to 4K. And don't forget that even if upscaling video doesn't improve it, that much higher resolution is going to make these sets' UIs, apps and associated applications - web browsing, say - so much crisper. Even on a 1080p set, text can look fuzzy - Ultra HD should give you a hi-res monitor experience. Imagine the detail in next-gen games... ®
COMMENTS
Re: Waterproof means no user changeable battery.
2013 marks 20 years of mobile ownership for me. In that time I've had over a dozen devices from Ericsson, Nokia, Samsung, Sony Ericsson, HTC and Apple, and yet I've *never* had to replace a mobile phone battery, despite having owned some phones for well over the realistic nominal phone lifespan of two years.
I'm amazed that people are still hung up on the fact that batteries need to be user-replaceable.
Sure, failure etc. (thanksfully rare) will necessitate a service call, but to me the convenience, packaging and cost advantages hugely outweigh this.
Apple and their iPhones have their faults, but chief among the things they're got right is proving the fact that factory-sealed batteries are not an impediment to adoption by most users. Before the iPhone there were few if any phones that didn't have replaceable batteries. It was just one of those accepted norms that were blown away.
Yes, there will be some users that demand flexibility (and I'm sure people will pipe up to say they absolutely definitely cannot live without n batteries to run their always-on,mission-critical cellular lifestyle), but much like rugged or dual-SIM devices, time has proved these are not really concerns that the majority share.
I'm willing to bet that the vast majority of people only take the battery out when they get the phone to install the SIM, or to do a hard reset if advised by mobile forum/customer service rep, not mentioning any names... /cough/Blackberry/cough/
The rise of practically onmipresent chargers (thanks to standardisation of connectors to two types- Micro USB and Apple) means that judidious topping up at home, work and in the car is all that is required for most people.
Flame away, desperately important multi-battery types :)
Re: Waterproof means no user changeable battery.
"...standardisation of connectors to two types- Micro USB and Apple" - the standard here is Micro USB !
The typo in the article made me laugh though...
"If you're worried - not unreasonably - that the 4G support means the Z's battery life will suck, Sony insisted you should be concerned"
I think you'll find
That Apple are the ones waiting eagerly to see what everybody else is doing. How else will they come up with new features and then claim they invented them?
Re: ASUS have a winner for me anyway ...
If the windows can be replaced with a linux distro I'll be all over that thing like a rash.