Review: Lenovo IdeaPad Yoga 13 Windows 8 convertible Ultrabook
A meditation on the portable PC
Out to launch
The only significant disappointment in the keyboard department is that it's not backlit. That said, if you really were having difficulty seeing it, there is always the touchscreen typing option. While the keys can remain fairly clean, the same can't be said of the 1600 x 900 resolution 13.3in IPS touchscreen.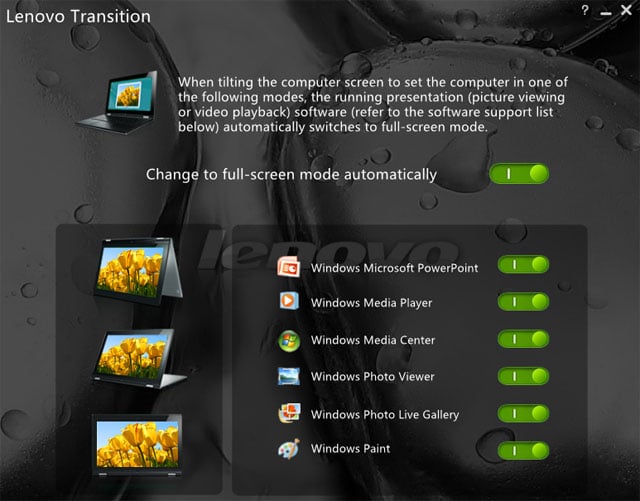 Lenovo's Transition utility
Admittedly, the Yoga 13 did the rounds of twentysomething nephews during the festivities and suffered some serious foodie fingering. The evidence has been hard to shift, as the grease just seems to smear from one corner of the screen to the next. As I type on it now, the grubby black margins of the display give a shoddy demeanour to an otherwise clean machine. It's like this snappy dresser ends up wearing an unironed shirt. Such is the lot of the touchscreen laptop user or 'convertible' I should say. The screen itself is bright, crisp albeit a bit on the shiny side, sticky mits notwithstanding.
Here in traditional desktop mode, the Windows 8 quirks are at their least intrusive although the missing Start bar appeared to have a reprieve of sorts, courtesy of Lenovo's QuickLaunch. It looks like a great idea when you read about it in the Lenovo Companion app that tells you all about the various features available for 'Those who DO...' And yet those who do on an IdeaPad, have to do without QuickLaunch by the looks of things.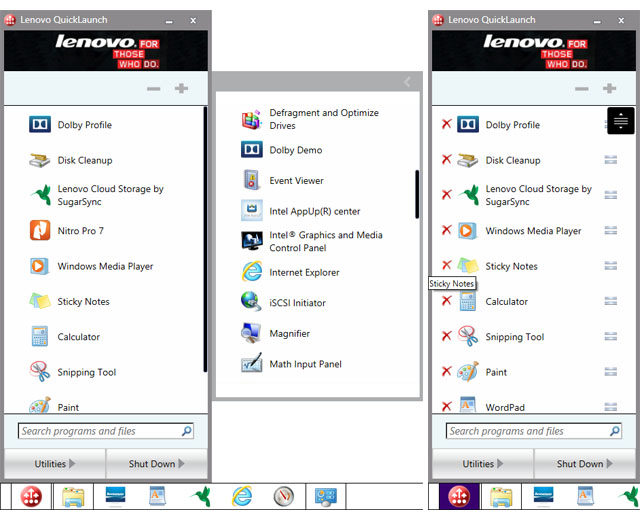 QuickLaunch set-ups: add to the menu (left columns) or remove from the menu (right column)
It's not installed even though the Lenovo Innovation apps video says it is and it doesn't appear in the Store either. After a bit of nosing around, I found a download for ThinkPad, ThinkCentre and ThinkStation, but not IdeaPad. Still, I ran it and it works. If you miss the Start bar, QuickLaunch will offer some welcome relief. Another alternative is to populate the Task bar by pinning apps to it when viewing All Apps in Metro mode, but it's all a bit of a faff really.
Also missing from the Store is Dropbox. Of course, you can instal a desktop version, but it's not the pretty way now is it? An alternative is Lenovo Cloud by SugarSync – a Win8 app that provides 5GB of storage for free enabling folder syncing and access to documents online and from other devices, including mobiles. Setting up worked quickly and easily, stacking up the screen grabs and this very article, among other things, on the cloud.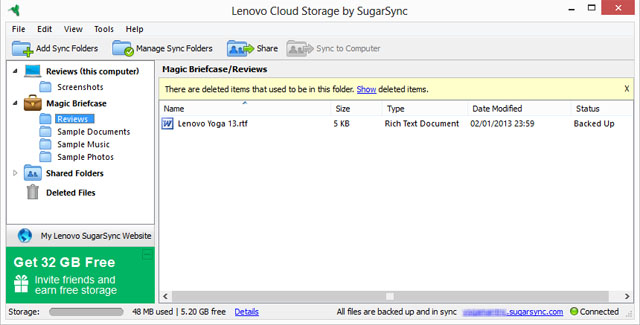 Lenovo's Cloud Storage offering is delivered by SugarSync
There's a revised beta version too, if you're feeling brave. I checked out the mobile sync on an iPhone, as the only Windows Mobile support dates back to version 5 or 6. As you're on Windows 8, you might want to give Skydrive a try anyway, which offers 7GB of storage and sync on most mobile platforms.
All this talk of storage reminds me that, besides the lack of optical drive, there's no Ethernet port on this convertible to access the precious cloud, just 2.4GHz 802.11n Wi-Fi. Unlike Samsung's Series 9, you'll find there's no Ethernet adapter in the box so you'll be looking at a cost of around £30 if you want one that supports USB 3.0 and Gigabit Ethernet speeds. If you need it, Bluetooth 4 is on-board too. Back in the wired world, there are two USB ports – the one next to the power port is USB 2.0, while USB 3.0 sits next to the mini HDMI interface. A media card slot – blanked off with a plastic insert – is also included.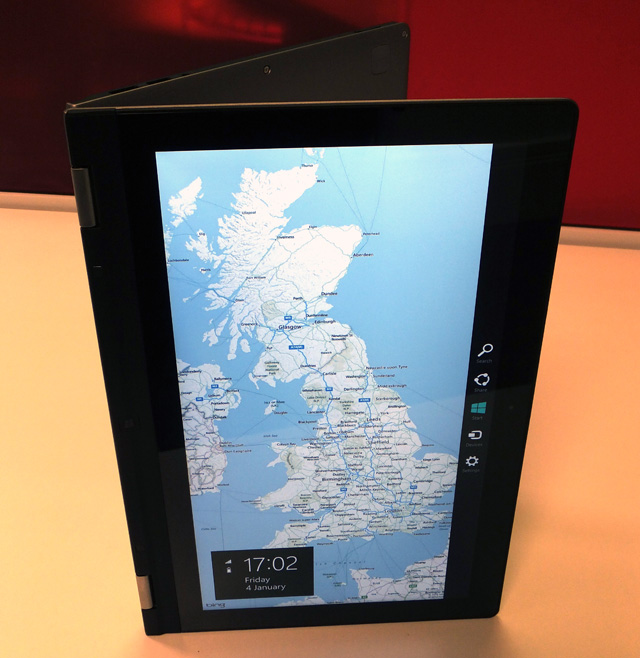 Reorientation isn't always instant, but it gets there soon enough
Lenovo indulges its tablet mode state by positioning various buttons along the edges. There's a volume rocker, an orientation lock and the power switch is positioned along the front edge, which had me fooled for a second when hunting around the keyboard to fire it up. Alongside it is the recessed Novo button which initiates a system restore (OneKey Recovery) and access to the boot menu options which enabled me to run a Ubuntu 12.10 live CD.
Sponsored: Minds Mastering Machines - Call for papers now open