Razzies set to torpedo Rihanna's Battleship
Twilight also in crap movie awards' sights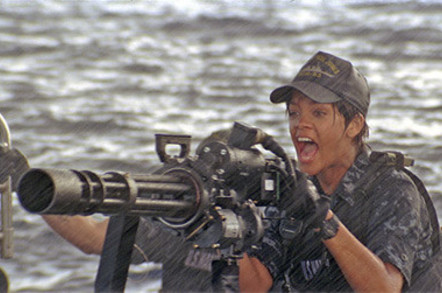 This year's Razzies look set to be a head-to-head between Battleship and Twilight: Breaking Dawn Part 2 to see which movie can walk away with the most gongs for serious celluloid undertainment.
The annual celebration of the cinematically dire sees seven nominations for Battleship, including Worst Picture and a well-deserved Worst Supporting Actress nod for Bajan warbler Rihanna.
The latest outing in the teen bloodsucker Twilight franchise, meanwhile, is up for Worst Picture, Worst Actress (Kristen Stewart), Worst Actor (Robert Pattinson), Worst Supporting Actress (Ashley Green), Worst Supporting Actor (Taylor Lautner), Worst Screen Couple (you guessed it, Robert Pattinson and Kristen Stewart, or Mackenzie Foy and Taylor Lautner, if you prefer), Worst Director (Bill Condon), Worst Screen Ensemble ("The Entire Cast"), Worst Remake, Rip-Off, or Sequel, and Worst Screenplay.
Adam Sandler, who already has a rack of Razzies on his mantlepiece thanks to picking up Worst Actor and Worst Actress awards last year for Jack and Jill, will complete a double-whammy of shame if the jury considers That's My Boy worthy of honour. The "comedy" is up for eight awards.
As predicted, Eddie Murphy is also in with a shout for A Thousand Words, nominated in the Worst Picture, Worst Actor and Worst Screenplay categories.
Film fans who consider the inclusion of Twilight: Breaking Dawn Part 2 alongside the "bazillion-dollar board-game-based box office blunder" Battleship a tad unjust may have a point. According to the BBC, the Razzies' organisers have been waiting for the series to wrap "to heap its scorn on the franchise - as a parallel to the way the Oscars waited for the final Lord Of The Rings film before awarding it Best Picture".
Razzies founder John Wilson admitted: "This is our equivalent to The Lord of the Rings. It's our members' last chance to razz Twilight."
We'll have to wait until 23 February to see just which emotional Hollywood luminaries will take to the stage to accept their Razzies, when the results are announced the day before the Oscars. ®
Worst Picture
Battleship
The Oogieloves in Big Balloon Adventure
That's My Boy
A Thousand Words
The Twilight Saga: Breaking Dawn Part 2
Worst Director
Sean Anders - That's My Boy
Peter Berg - Battleship
Bill Condon - The Twilight Saga: Breaking Dawn Part 2
Tyler Perry - Good Deeds or Madea's Witness Protection
John Putch - Atlas Shrugged: Part II
Worst Actress
Katherine Heigl - One for the Money
Milla Jovovich - Resident Evil: Retribution
Tyler Perry - Madea's Witness Protection
Kristen Stewart - The Twilight Saga: Breaking Dawn Part 2 or Snow White and the Huntsman
Barbra Streisand - The Guilt Trip
Worst Actor
Nicolas Cage - Ghost Rider 2: Spirit of Vengeance or Seeking Justice
Eddie Murphy - A Thousand Words
Robert Pattinson - The Twilight Saga: Breaking Dawn Part 2
Tyler Perry - Alex Cross or Good Deeds
Adam Sandler - That's My Boy
Worst Supporting Actress
Jessica Biel - Playing For Keeps or Total Recall
Brooklyn Decker - Battleship or What to Expect When You're Expecting
Ashley Greene - The Twilight Saga: Breaking Dawn Part 2
Jennifer Lopez - What to Expect When You're Expecting
Rihanna - Battleship
Worst Supporting Actor
David Hasselhoff - Pirannha 3-DD
Taylor Lautner - The Twilight Saga: Breaking Dawn Part 2
Liam Neeson - Battleship or Wrath of the Titans
Nick Swardson - That's My Boy
Vanilla Ice - That's My Boy
Worst Screen Ensemble
Battleship
The Oogieloves in Big Balloon Adventure
That's My Boy
The Twilight Saga: Breaking Dawn Part 2
Madea's Witness Protection
Worst Screenplay
Atlas Shrugged Part II
Battleship
That's My Boy
A Thousand Words
The Twilight Saga: Breaking Dawn Part 2
Worst Remake, Rip-Off, or Sequel
Ghost Rider 2: Spirit of Vengeance
Pirannha 3-DD
Red Dawn
The Twilight Saga: Breaking Dawn Part 2
Madea's Witness Protection
Worst Screen Couple
Any two cast members from Jersey Shore in The Three Stooges
Mackenzie Foy and Taylor Lautner in The Twilight Saga: Breaking Dawn Part 2
Robert Pattinson and Kristen Stewart in The Twilight Saga: Breaking Dawn Part 2
Tyler Perry and his drag in Madea's Witness Protection
Adam Sandler and Andy Samberg, Leighton Meester, or Susan Sarandon in That's My Boy
Sponsored: Minds Mastering Machines - Call for papers now open