Boffins develop microwave weed-zapper
Backyard Triffid exterminator could be yours in five years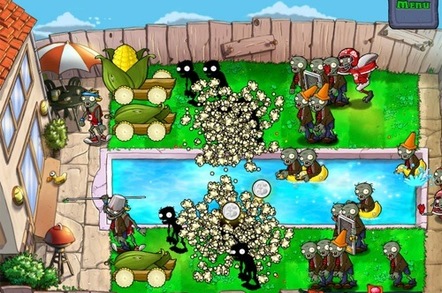 Reg readers frustrated by the never-ending presence of weeds in their veggie patches may find salvation in the next few years in the form of a microwave device that can pick out garden invaders and blast them into mulch.
The device is the brainchild of Australia's Rural Industries Research and Development Corporation , which runs a Weeds Research and Productivity Program. Dr Graeme Brodie from Melbourne University, who works on the program, has led a team that created a trailer on which four horn antennas are mounted. Those antennas beam out microwaves into the rows of dirt between crops.
When the beams – each of which emit two kilowatts of power, thanks to the presence of a generator – strike a plant for as little as one second Brodie says the effect is akin to placing an egg in a domestic microwave oven.
"The microwaves superheat the water inside the plant, which explodes the leaves and stem," he says. "In our experiments that was always fatal, because it damages the mechanism that gets nutrients around the plant and if a plant can't process food it won't be very happy."
Far happier are those who worry about the prevalence of pesticides, with such folk expected to be happy given the zappers' potential to keep fields tidy without the need for chemicals.
Brodie admits the prototype is currently a blunt instrument, as it is aimed at the rows of dirt between crops, a zone in which any plant is obviously not welcome. But he says the team is aware of technologies that can differentiate weeds from crops and hopes to enhance the system so it can detect and destroy only undesirables.
"We know there are already cameras on spray equipment that can recognise a weed in a fallow paddock," Brodie says. "They detect green in among stubble." Brodie imagines using similar technologies to detect a plant, zap it for the requisite second, then move on, all in a unit capable of being towed behind a tractor. Combined with better targeting, he hopes it will also become possible to look beyond inter-crop rows to aim at weeds closer to plants' bases.
There's even the prospect of a unit for home gardeners, as Brodie told The Reg his team is looking at commercialisation possibilities for a unit the size of a domestic lawn mower. While he thinks it will prove too hard to deliver a machine capable of differentiating grass from weeds, he said the microwaves also kill seeds, making the home unit a terrific way to prepare a veggie patch before planting. And also a mighty handy tool should Triffids invade.
Hopefully the killer plants will hold off for their assault for a while, as Brodie believes it will take three to five years to get such a machine into production. ®
Sponsored: Minds Mastering Machines - Call for papers now open