Review: Vodafone Smart Tab II 7 budget 3G tablet
Mobile broadband capability at a lower price than the Nexus 7 - surely not?
Last year's tablet, today's price
Where things start to go more pear shaped is with the storage layout. The 4GB limit is not the problem, rather the way it's divided. So, 1.86GB is available for files but only 503MB is free for apps. The balance is taken up by the operating system, in this case stock Android 4.0.4 Ice Cream Sandwich.
That's an annoyingly old school way of doing things. If all the 2.4GB was free for apps life would be much simpler. Yes, you can move apps to the SD card, but in this day and age you really shouldn't have to be doing this sort of thing.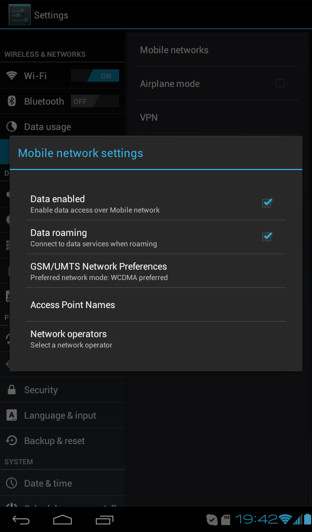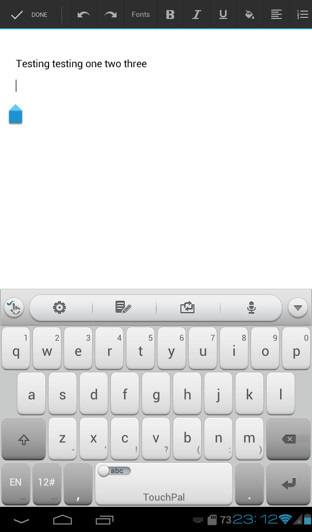 Mobile data (left) is the key feature of the Smart Tab II,
but it also comes with a nice TouchPad keyboard (right)
Another issue is that the Tab II7 lacks the usual Google synchronisation facility with Picasa. Granted, you can access your Picasa account through the Google+ app, but the Tab II7 still lacks a cornerstone piece of Android functionality.
Of course, ICS is now two rungs down the Android evolutionary ladder, and I rather doubt the Tab II7 will ever see Jelly Bean. This is a device you buy for what it is today, not what it may be tomorrow.
The Tab II7's strength is, of course, that cellular modem. Pop a standard SIM card in it and if all you want is an always-connected tablet to serve as an e-book reader, social network portal and communications device - it supports SMS though not voice calls - then the Tab II isn't a bad old Hector.
And don't forget, having cellular data means that Google Navigation can turn the Tab II7 into a fully functioning on-the-hoof aGPS satnav, a feature helped by the usefully loud mono speaker.
Handily, the Tab II7 ships without a network lock so if you don't like the cut of Vodafone's data tariff gib, you can swap to Three (generally faster) or Giffgaff (certainly cheaper). I tested my review device with both and it worked a treat in each case.
The settings menu has an idiot-proof list of options for new mobile broadband APNs and controls for 3G connectivity, including a data cut-off switch to prevent the device chewing through your allowance when you don't want it to. Switch to Wi-Fi at other times: the Smart Tab II7 has 802.11n, but only in the 2.4GHz band.
The Smart Tab II7's battery life is not at all bad. The built-in battery has a 3550mAh rating. When I looped a 720p HD video, the lights stayed on for five hours. That's well shy of what the Nexus 7 can manage but half an hour better than the Acer Aspire A110. Leaving the 3G radio on didn't seem to do much damage either, a full charge regularly getting me through three days' general use.
The Reg Verdict
In many ways the Tab II7 is last year's tech, but it is still perfectly capable of doing most of the things that most of us use our tablets for most of the time. And for under £150, you can't ask for much more. The key feature for me is that unlocked cellular modem, which makes the Tab II7 very attractive at the price. But a Nexus 7 is still your best bet if you're happy to pay just a little extra and you don't care about storage expansion or mobile broadband connectivity. ®
Sponsored: Minds Mastering Machines - Call for papers now open

Review: Vodafone Smart Tab II 7 budget 3G tablet
Seven-inch Android Ice Cream Sandwich tablet with a behind-the-curve spec - 1GHz, one-core CPU; 4GB of storage; 600 x 1024 LCD - but a very low price and - crucially - mobile broadband connectivity.
Price:
£149 (PAYG) £29 (two-year, £20pcm contract) RRP