Dell dangles dongle PC at enormo-display-desiring road warriors
USB stick-sized Android mini computer, anyone?
CES 2013 Dell, is that a memory stick-sized Android computer in your pocket or are you just pleased to see me? The former, it turns out.
Dell's Wyse subsidiary - the thin-client computing pioneer the PC giant acquired in April 2012 - will today show off 'Project Ophelia' at the Consumer Electronics Show (CES) in Las Vegas/ Ophelia is a tiny Android machine that plugs into a monitor or TV to provide "instant" access to its owner's cloud content, the web and apps running on remote systems.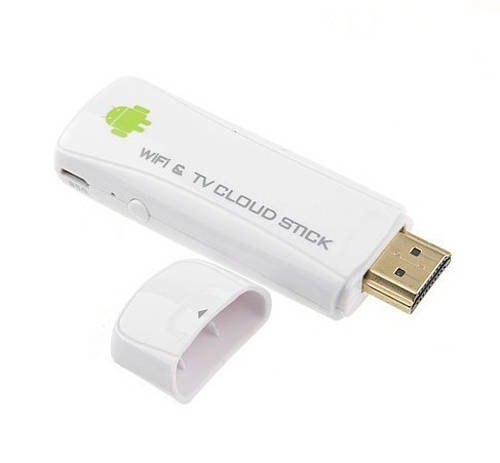 Not Ophelia, but something like it
Internet connectivity comes courtesy of on-board Wi-Fi, peripheral linkage through Bluetooth. The doohickey also has a USB port.
Ophelia lacks a battery - power comes through its MHL connector, a Micro USB-style jack that also feeds out video signals. MHL supports 1080p video and HDCP content protection. Many TVs and monitors have MHL, and there are plenty of MHL-HDMI adaptors out there too. It's a technology widely used in HTC, LG and Samsung phones.
This being a Wyse device, the gadget is ready to run as a thin-client to tap into applications hosted on servers and desktops running Citrix, Microsoft or VMware.
Dell's notion is that office drones on the road and folk away from home will want to access their files remotely but don't necessarily have access to carry a laptop or a tablet around, or need to make use of a large display. It's pitching Ophelia as a handy-to-stow alternative ready to be hooked up to a big screen, although the user will still need to find a Bluetooth mouse at the very least to be able to operate the gadget.
"Project Ophelia transforms ordinary displays into a window to entertainment, communications and a person's own personal cloud," puffs the company. "Mobile devices have small screens, tablets and PCs aren't always convenient to haul around, and all these devices require batteries that can run down."
Ophelia - the go-to-market name is TBD - will be out sometime before July, Dell said. Or you can get something similar from a dozen or so Chinese suppliers for 40 quid via eBay. ®
Sponsored: RAID: End of an era?