Hitachi GST rummages in pocket, pulls out lint-covered storage Tardis
Benchmark-setting pocket drive debuts at CES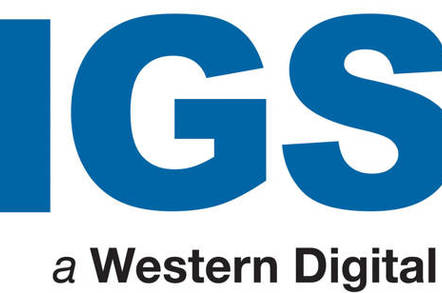 CES 2013 WD sub Hitachi GST is showing a fast, high capacity pocket disk drive at CES that sets a new product benchmark: a G-DRIVE with a 7,200rpm, 1TB Travelstar drive inside it.
This a brand new Travelstar drive. Mike Williams, the VP and general manager for G-Technology in the HGST Branded Business, said: "The new Travelstar drive is the first and only 7,200 RPM, 1TB, 9.5mm 2.5-inch drive, and delivers the highest 7,200 RPM performance in PCMark Vantage testing."
It will be called a Z7K1000 if Hitachi GST uses its existing naming scheme; the CES demo and release has come out before Hitachi GST's website is updated and before Hitachi GST offices are open, meaning there's no one we can ask until later today.
The previous highest-capacity 7.2K Travelstar was the 7K750, topping out at 750GB, with two platters. The Z7K500 is a 1-platter 500GB Travelstar that spins at 7,200rpm and has a 7mm depth measurement. We reckon the 1TB, 7,200rpm Travelstar is two of these ganged together, meaning it's a 2-platter drive. Hitachi GST has an existing 1TB 2.5-inch Travelstar, the 5K1000, which is slower, spinning at 5,400rpm.
The 1TB 7,200rpm Travelstar has a 32MB cache and uses the 6Gbit/s SATA interface.
Hitachi GST supplies even faster 10,000rpm enterprise 2.5-inch disk drives in its Ultrastar range but these are not available in the G-Technology branded range of products.
What portable 2.5-inch disk drive users with a need for speed are really looking forward to are hybrid portables - ones with a flash cache like Seagate's Momentus XT internal notebook unit. We're guessing this will be a 2014 product story sadly...
Hitachi GST is putting its new speedy little Travelstar number inside its G-RAID small external storage box as well as inside the G-Drive mini portable unit. The disk delivers up to 137B/sec bandwidth and has both USB 3.0 and Firewire 800 connectivity, but not Thunderbolt. It's pre-formatted for Mac users, and is Time Machine-ready, but needs initialising before it can be used by Windows systems. It has a 2.5-inch form factor, and is 9.5mm deep.
The 1TB, 7,200rpm Travelstar is also available in the HGST Hard Drive Retail Kit, for Apple, Linux and Windows users, as well as in the Touro Mobile Pro USB 3.0 external storage Product providing add-on storage and backup.
The all-aluminium enclosed G-DRIVE mini is available now for a suggested retail price (MSRP) of $199.95 for 1TB. The 1TB, 2.5-inch, 7200RPM HGST Hard Drive Retail Kit has an MSRP of $99.99. The 1TB Touro Mobile Pro is shipping today with a MSRP of $109.99. ®
Sponsored: Minds Mastering Machines - Call for papers now open