Review: Dell XPS 12 Windows 8 tablet-cum-Ultrabook
The convertible computer with the swivel screen
Spin doctor
The screen itself a lovely looking, though glossy, 1920 x 1080 affair - a decent resolution for such a relatively small notebook screen. Crisp as a new ten pound note, with excellent colour representation and plenty of brightness: 400 nits, since you ask. It is also superbly reactive to the touch, ranking along with with the Apple iPad 4 and Google Nexus 10 tablets in the pantheon of quality touchscreens currently on the market.
With a Core i7 chip, 8GB of 1333MHz RAM - not standard; the baseline is 4GB - and a 256GB solid-state drive - which is standard - the XPS 12 I have here goes like stink. The only downside to the spec is the integrated Intel HD 4000 graphics, but you don't buy an Ultrabook if you want a gaming machine. To put some numbers to that statement the PCMark 7 test suite returned a more-than-decent score of 4965, largely thanks to the SSD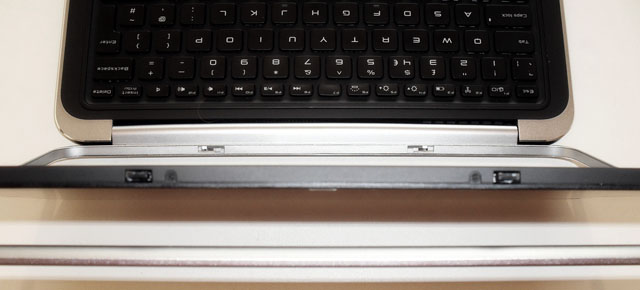 The screen locks into place with latches
Another useful side effect of the SSD and Windows 8 combination is a prompt start up time: 14 seconds dead from cold to fully up and running.
On the other hand, this being an Ultrabook, wired connectivity is pretty poor: two USB 3.0 ports, one mini DisplayPort, 3.5mm audio and that's your lot. No Ethernet, no SD slot and, of course, no optical drive. I blame Apple for the spread of this sort of idiocy but at least the Intel-made 2.4GHz and 5GHz two-antenna 802.11n Wi-Fi card is up to snuff.
I didn't have much luck on the DIY front. Despite removing all ten torx screws, I couldn't get the back off so I can't tell you how easy it is to swap out the SSD or the battery. Yes, the battery is built in; another thing to blame Apple for - and Dell for following it.
Trying to boot Ubuntu off a USB stick proved equally fruitless. In short, this is not a machine for the home tinkerer or the more casual Linux buff.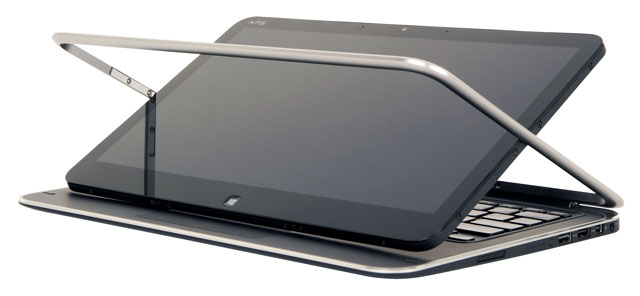 Convertible
The 47Wh battery ponied up 4 hours 45 when looping a HD video with the screen at 80 per cent brightness, while the unreasonably brutal Powermark 1.2 test drained it in three hours and five minutes. In everyday use, I got between five and and six-and-a-half hours, which is a decent score for such a skinny laptop.
When Dell released the Inspiron Duo, no one else of any note was offering anything similar. Not so now, as a number of Intel's Ultrabook have tried to tap into the public's demand for tablets to sell more laptops. The XPS 12 is case in point, but it's not the only one. Toshiba has the Satellite U925t, Sony the Vaio Duo 11 Hybrid and Lenovo the IdeaPad Yoga, to name but three.
The Duo 11 and the Satellite are the closest to the XPS 12: both have clever, but intricate, fussy mechanisms to allow the screen to slide face up over the keyboard. I don't think these will stand up as well to regular usage, not to mention the knocks and bumps all working laptops take, as the XPS 12's simple swivel-in-the-frame system.

From laptop to thick-ish tablet
But even that isn't as robust as the double-jointed hinges Lenovo has put on the Yoga. You literally fold the screen back and round. Easy. A downside is that the keyboard isn't covered, but it is disabled in tablet mode, and the keys are recessed so they don't press against whatever the tablet is laid upon. The only problem: the 11in Yoga is a Windows 8 RT device, so it's limited by the range of apps you can run on it. The bigger Yoga has a third-generation Core i for a full Windows 8 experience, but 13.3in is getting a bit large, in my view, for a tablet.
The Reg Verdict
Dell has really hit on something with this spinning screen convertible notebook malarkey. Rotate the XPS 12's display one one way and you have an no-compromise Ultrabook - though as an Ultrabook, it is a compromised notebook: no optical drive or Ethernet, for starters. Flip the screen in the other direction and you have an excellent if slightly heavy Windows 8 tablet. Granted, it's not cheap, but I defy anyone to buy one and not think it money well spent. ®
Sponsored: Minds Mastering Machines - Call for papers now open

Review: Dell XPS 12 Windows 8 tablet-cum-Ultrabook
A slimline Windows 8 Ultrabook with a 12.5in, 1920 x 1080 swivel touchscreen that - da-da - spins round in its frame to turn the machine into a large tablet.
Price:
From £999. As tested: £1299 RRP