Sinofsky's new blogski: Windows 8 king reborn as management guru
Ex-Microsoft exec knows all about 'bringing products to market'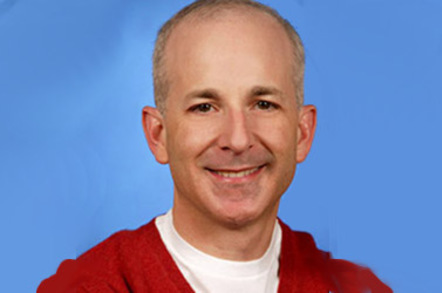 What next for the technology executive who saddled his previous employer with a controversial flagship operating system, polarised management and swiftly left under a cloud? Telling others how to build successful products, of course.
Former Windows chief Steve Sinofsky has launched himself as a product development expert with a blog titled Learning by Shipping, which he describes as "thoughts and perspectives on product development, management and the process of bringing new products to market".
The ex-exec said his website is a continuation of writing and blogging he did while at Microsoft on the development of Office, Windows 7 and Windows 8. The blog's title is similar to the late Apple co-founder Steve Jobs' quip about artists and shipping products.
Sinofsky has already written a whole book on product development strategy, One Strategy: Organization Planning and Decision Making, with Harvard Business School Prof Marco Iansiti.
In December the former Microsoftie tweeted he will be teaching at Harvard as an executive in residence while also writing and conducting research. Sinofsky said he won't go into "the past regarding Microsoft" for his new blog and promised that he "will work to keep posts free of snark and ad hoc criticisms in hopes that the comments and back and forth will be the same".
During his time Sinofsky successfully got the Office and Windows teams shipping code to deadline and helped lift Microsoft out of what he now calls "post-Vista recovery".
However, Sinofsky left the software giant rather suddenly in November, and without adequate explanation, just three weeks after the launch of Windows 8 and its Surface hardware. His rapid exit led to the surprise promotion of underling Julie Larson Green, who now heads the $14bn Windows division.
There were rumours of a clash between Sinofsky and Microsoft boss Steve Ballmer, who wrote a brief farewell to his Windows chief in a memo to staff. The normally reserved Sinofsky has denied he was forced out as the result of a failed power play to run other groups inside Microsoft beyond the Windows family.
Sinofsky was also a polarising figure who failed to win over fellow executives; his management philosophy led to a reorganisation of Microsoft's product structure during with a cast of middle-ranking execs were sidelined or forced out.
As for Windows 8, Sinofsky has given Microsoft an operating system whose success is far from guaranteed and that, at last count in the fourth quarter of 2012, was not selling in the kinds of numbers Microsoft had hoped for.
The new operating system has divided the industry and users in its attempt to marry a touchscreen user interface with the classic mouse-driven Windows design. Meanwhile, its Surface laptop-cum-tablet competes with loyal PC dealers and distribution channel partners who've helped drive Windows' success in the past.
Perhaps Sinofsky's forthcoming advice will include the following top tip: always have an escape plan. ®
Sponsored: Minds Mastering Machines - Call for papers now open