UK games market clutches chest, bleeds out sales in 2012
'Developers need to do better'
Retailers have blamed a lack of good video games in the summer of 2012 along with a patchy, uneven release schedule for the 17 per cent shrinkage in the value of the UK games market last year. Worth £1.9bn in 2011, the sector brought in £1.6bn in 2012 according to stats released today by the Entertainment Retailers Association (ERA).
UK entertainment sales as a whole fell 12 per cent last year - video was down 10 per cent and UK music sales were down 5.5 per cent.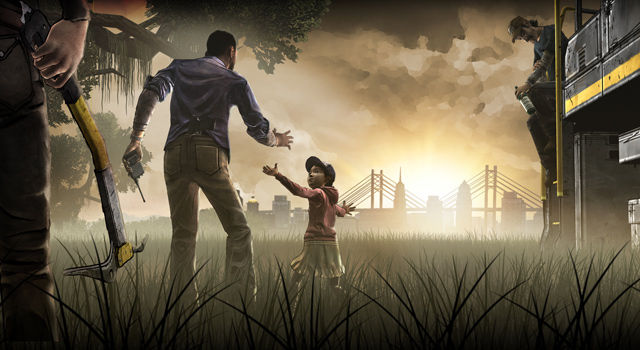 Scene from The Walking Dead. The UK's games market is not looking particluarly lively either
The report from the retailers organisation described the year in video games as "lacklustre" and said that the Olympics had depressed releases in the summer. Head of the ERA Kim Bayley suggested that bricks-and-mortar stores could be forced into opening their doors only during the "release season" rather than year-round if games makers continued to distort retail calendars with the timing of their releases.
The dearth of attractive releases during summer 2012 was clearly a significant factor. Suppliers need to do more to rebalance their release schedules and improve the quality of their releases.

No retailer can afford to pay overheads on a store for 52 weeks of the year if all the key releases are going to be concentrated in the last quarter.
Digital sales were a bright spot - rising for all three entertainment types - and increasing 11 per cent to £1bn a year - but that didn't make up for the 17.6 per cent fall in physical disc sales.
The trend away from hard copy sales was most pronounced for video games, where 34.6 per cent of money was spent on digital downloads.
Online spend on gaming largely went on Massive Multiplayer Online Games, social gaming and online console transactions - which at £552.2m were worth more than digital sales of music and video combined.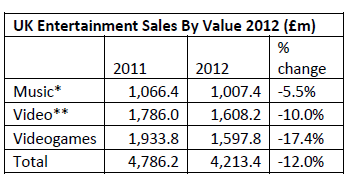 ERA statistics
The ERA drew its figures from the Official Charts Company, which monitors music and game sales and from IHS Screen Digest, which measures sales of video and video games. Figures included sales to big US firms such as Apple and Amazon, but the ERA was unable to provide figures on the market share of specific companies. The figures don't include music streaming services like Spotify, Deezer, We7 and Rdio, where full market value data is not yet available. ®
Sponsored: Minds Mastering Machines - Call for papers now open