2012 in tech: Apple up the Cook without a paddle, ARM, slab wars... and MORE
Navigate the year safely, without Google Maps
Eject the exec
Yet, with Surface Microsoft was going head to head with the PC makers and channel suppliers who it had relied upon for more than three decades to sell Windows and help make it the world's largest software company.
It seemed a vote against the competence of PC partners' design skills. What of the channel? Microsoft said it would sell Surface through its own online and retail stores and online. Did Redmond also lack confidence in this this veteran institution to sell Surface?
Microsoft certainly caused consternation, with Acer urging the world's largest software maker to re-think Surface. Hewlett-Packard, like Acer selling Windows 8, called Surface "kludgey."
Microsoft CEO Steve Ballmer was bullish. "What we have with the Surface is the greatest example of the PC meets the tablet," Ballmer claimed at launch. "I think we're going to see a lot of growth and vitality and explosion in the PC market."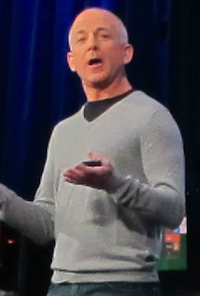 Windows 8 chief Sinofsky:
committed right up until exit
Still, the reasons for Surface weren't entirely clear. Speaking to partners, Ballmer called Surface a "design point" and claimed, "We may sell a few million, I don't know how many." So, move along, nothing to see. But in Microsoft's 10K SEC filing, Ballmer told Wall St money men Surface would compete with PC makers.
What has now became clear is that Microsoft took a lead because while companies like Acer and HP are selling Windows 8 PCs and hybrids that convert into tabs, the normally loyal partners just aren't convinced about either Windows 8 touch, the ARM architecture or Surface.
Sales of the ARM-based Surfaces have been disappointing with a fourth quarter shaping up to be below expectations and with production of Surface units reportedly getting cut. Windows 8, meanwhile, is not selling as fast as its predecessor operating system, Windows 7.
The most worrying development was the Sinofsky exit. The exec who since 2009 has served as president of Microsoft's Windows and Windows Live divisions, quit less than three weeks after the Windows 8 launch. No clear explanation was provided while Ballmer gave Sinofsky a simple farewell "thank you" - two indicators to veteran corporate-watchers that whatever had happened was sudden and unpleasant for all concerned and not part of an orderly transition.
Sinofsky broke his silence to deny he'd gone as the result of a failed power grab to combine his Windows unit with other Microsoft operations and has since popped up to reveal he'll be teaching at Harvard on "sabbatical".
The narrative of 2012 for Microsoft was the coming of Windows 8 and the surprise of Surface in answering the iPad. 2012 was to be Microsoft's comeback year, as it escaped the shadow of Google, Facebook and Amazon and finally gave employees and bloggers something to throw back at Apple and its fanbois.
By year's end however, Microsoft appeared on the verge of pushing victory back down the jaws of defeat. Pressure for a price cut, disappointing sales first hinted at by Ballmer, PR gaffs, a rising tide of niggling complaints about Surface, and a key exec loss all helped tarnish the glory.
As 2013 looms, the story will be how many PCs sell loaded with Windows 8. Microsoft, meanwhile, is mobilising a network of third-party suppliers to sell Surface in a massive retail push outside its own online and retail outlets. This comes ahead of the launch of the Intel-based Surfaces in January. Yet Microsoft handicapped the new machines' chances of success by doubling the price and cutting battery life of the new Surface machines.
As Microsoft takes a second bite at Windows 8 and Surface the experience of 2012 suggests the future could be just as hard as the recent past.
Otellini ARM-wrestled out of Intel top job
It's the little things that can trip you as Intel CEO Paul Otellini discovered.
Otellini announced his plans to take early retirement as Intel CEO in May 2013, after just eight years in charge and 40 years at Intel. Transition will take six months, with a CEO search now underway; Otellini took over from Craig Barrett and was Intel's fifth CEO. Neither Otellini nor Intel gave a reason, but they didn't have to.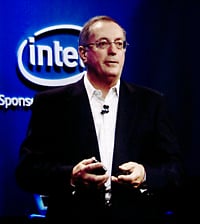 Otellini working on an orderly exit
The problem? In a word: ARM. And in two words: mobile computing, as Intel under Otellini not only failed to squash ARM but ARM prepared to come after Intel with high-density, low-power ARM servers started. Otellini said simply it was time to "move on" – in other words: fresh ideas were required.
Otellini grappled unsuccessfully with mobile from the start. In 2006 he promoted the first the Ultra-Mobile PC (UMPC), a Celeron-based low-end PC in a thick tablet form-factor but this failed to win traction; then he pushed netbooks instead of laptops initially on Celerons and then Atom – Intel's ultra-mobile x86 processors. He predicted Atom would become the foundation for the Mobile Internet Device (MID), a smaller and thinner tablet than the UMPC. In 2009 Otellini would be selling more Atom system-on-chips (SoCs) than regular CPUs by 2014.
The underlying theme was x86, for reasons of history, manufacturing process and compatibility. While Intel was promoting x86, though, Google's was developing Android primarily on ARM while Apple picked ARM for the iPhone and iOS for reasons of device size, performance, battery life and low heat. By 2011, even Microsoft was putting Windows on ARM, breaking decades of x86 fidelity.
Sponsored: Minds Mastering Machines - Call for papers now open